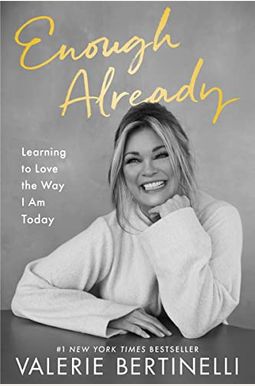 
 
Enough Already: Learning to Love the Way I Am Today
Book Overview
Beloved actress and New York Times best-selling author Valerie Bertinelli returns with a heartfelt look at turning sixty, the futility of finding happiness in numbers on a scale, learning to love herself the way she is today, and tips for a healthier outlook on life.
Valerie Bertinelli shares an inspiring blueprint that offers women in midlife support and hope. She shares personal stories that many women will relate to from her past decade: hitting her fifties, taking care of her dying mother, the evolving relationship with her husband, a career change, her relationship with food, and the battle to believe in herself as she is. Despite her success receiving Emmys for her Food Network show and critical praise for her books and cookbook, Bertinelli still judged herself harshly if she gained a pound or showed too many wrinkles. But after her mother died, she found an old recipe box with notes of the strong women that came before her, reminding her that she has to find out who she is and take care of herself. Saying, enough already Bertinelli set out on a journey to love herself and see that perfection is not the goal; it's the joy we can find every day in our lives, our loved ones, and the food we share. Recipes and advice will be sprinkled throughout the book.
Frequently Asked Questions About Enough Already: Learning to Love the Way I Am Today
Book Reviews
(14)
Did you read Enough Already: Learning to Love the Way I Am Today? Please provide your feedback and rating to help other readers.
Uneven but uplifting

Derived From Web

, Mar 21, 2022

The author recounts her relationship with her first husband and dealing with his illness and passing, as well as anything with their son. Her mother is dealing with relationships. I see the need to include the cooking parts in her life because they are fun and the recipes are good. She talks about people and connections.
A Little Hmmm......not sure

Derived From Web

, Mar 3, 2022

This book is effective and honest and I love it. I was expecting more open work from her, but it seems a little repetitive from her previous work. I will take her advice and love who I am now. Who cares what I think if she is doing the same.
It Is Enough Already

Derived From Web

, Mar 1, 2022

The book was filled with so many things that we all go through. I love her writing because she is speaking to the reader as a long time friend with whom she is sharing the journey of her life Thanks to you, the reader, the power to silence that voice in our head, and the ultimate strength to say, Enough Already! You're awesome!
5 stars for Valerie

Derived From Web

, Feb 5, 2022

I just bought this book and wanted to give a 5 star review before I read it to hurt her ratings, because their book wasn't signed. I was chewing my head. I will come back and write about how I like her book and her honesty, because I know that's how she is.
Beautiful

Derived From Web

, Feb 4, 2022

Ed and Wolfie have been a part of the life of Valerie. There are messages about what's really important. You shared a story that many of us can relate to.
Mostly about her life.

Derived From Web

, Feb 2, 2022

She had changed her life, I was expecting to read about it. We always hear about not letting your emotions control your food. We should not let our emotions control what we eat. She talks about accepting yourself. It has been in many books. This is the book for people who want to read about her marriages. It isn't here if you are looking for something more. There is a problem. I am on page 122 and not interested. I'm looking at it. I think she is a beautiful woman.
Learn to love your authentic self!

Derived From Web

, Feb 1, 2022

This book was very enjoyable. Learning to love myself the way I am is something I am learning to love. She was transparent with her feelings and she loved her family. I've been a fan of her for a long time and I'm happy that she's found love and acceptance for herself. It's great to know that I'm not the only one who feels like I'm not enough. Valerie's authenticity helps others to identify with those feelings and know that we are beautiful inside and out.
I did not love it

Derived From Web

, Jan 26, 2022

I'm not a fan of autobiographies. Her love for her ex husband was the main reason for her whining. I think she is a lovely person, but there was nothing unique about her perspective and the whole thing dragged on.
Did not come with an autograph as pre orders

Derived From Web

, Jan 20, 2022

The pre orders were supposed to have a handwritten thank you, but I didn't. The author should know this since she was writing them out for that purpose.
A wonderful read. Valerie is every woman- I applaud her courage to share her vulnerability with us!

Derived From Web

, Jan 19, 2022

Yes, agree with this book already! The book helped me understand the depth of my food issues, and how they have played out in my life. Thank you for sharing your truth and exposing your vulnerability for us to learn from. This book gave me valuable insight and understanding. Thank you for sharing your Ed moments It will help his fans cope with losing him as well, even though our loss seems small compared to you, Wolf and Alex. I think everything is going to be okay. Thanks a lot.