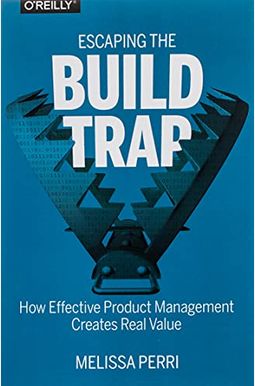 
 
Escaping The Build Trap: How Effective Product Management Creates Real Value
Book Overview
To stay competitive in today's market, organizations need to adopt a culture of customer-centric practices that focus on outcomes rather than outputs. Companies that live and die by outputs often fall into the build trap, cranking out features to meet their schedule rather than the customer's needs.
In this book, Melissa Perri explains how laying the foundation for great product management can help companies solve real customer problems while achieving business goals. By understanding how to communicate and collaborate within a company structure, you can create a product culture that benefits both the business and the customer. You'll learn product management principles that can be applied to any organization, big or small.
In five parts, this book explores:
Why organizations ship features rather than cultivate the value those features represent
How to set up a product organization that scales
How product strategy connects a company's vision and economic outcomes back to the product activities
How to identify and pursue the right opportunities for producing value through an iterative product framework
How to build a culture focused on successful outcomes over outputs
Frequently bought together
Frequently Asked Questions About Escaping The Build Trap: How Effective Product Management Creates Real Value
Book Reviews
(15)
Did you read Escaping The Build Trap: How Effective Product Management Creates Real Value? Please provide your feedback and rating to help other readers.
Good overview of product management traps

Derived From Web

, Sep 3, 2021

Worth reading. Some good insights into the challenges product managers face in today's competitive marketplace. Also offers a perspective on how to frame issues.
Practical and actionable guide to modern product management

Derived From Web

, May 14, 2020

Melissa's book is mandatory reading for my team of product managers. With the right mix of theory and great actionable example on how a product-led company can succeed in today's digital economy, this is a must read for aspiring product managers.
One of the best product books

Derived From Web

, May 12, 2020

I really enjoyed this book and would recommend it to anyone interested in product management. I read many product books as a part of my MBA program but this one connects product management to organizational strategy better than any other book I've read. This book gives you frameworks that are applied to real-world examples, and I'd recommend it to anyone who wants to learn more about the field.
Belongs on every product managers bookshelf

Derived From Web

, Sep 30, 2019

The principles and practices outlined in this book should be part of every product manager's toolkit and approach to product development, no matter what size organization or team you're a part of. The use of a fictitious company that aggregates common challenges encountered by Melissa throughout her career as a coach helps the reader more clearly understand the principles and consider how to apply them to their own situation. It is thorough, engaging, and well-written. I've read it multiple times and recommended it to many colleagues and other PMs that I'm mentoring. Don't miss out on the opportunity to learn from Melissa's extensive coaching product teams and organizations through this book!
Easily the best book out there on Modern Product Management and Continuous Discovery

Derived From Web

, Sep 23, 2019

If you are a product manager, budding product manager, product owner, engineer, customer success manager, then you owe it to yourself to read this book. Wondering why your product features aren't translating to customer value? Wondering why your teams are just robotically building features without knowing why? We're delighted to offer this service at no cost to our customers. Melissa Perri gives you concrete advice on how to achieve true results with product discovery techniques, and makes the work of Marty Cagan and others highly actionable. This is the best book released to date on how to do product management in the modern world, rather than just being aspirational and informative, Raymond said. Melissa's YouTube talks are also worth your time as she makes fun of teams on the agile rat race building features for no real purpose as fast as possible. If you enjoyed this book, please buy it.
A concise yet rich guide needed by every modern product manager.

Derived From Web

, Aug 2, 2019

Melissa's book is destined to become a standard read for every Product Manager. It spans tactical and strategic aspects of product management, making it essential for not just newer PMs but also senior PM leaders. The book is timely. Melissa provides the essential accessories that matter most. It unravels the widespread confusion that currently exists about the work and roles of product management and focuses on value, the report says. Escaping the Build Trap explains the essential clarity provided by defining product metrics. It addresses discovery as well as the need to conduct experiments as part of delivery. Melissa Escaping Trapdoor provides a concise yet rich guide needed by every modern product manager.
Not just required reading -- essential reading

Derived From Web

, Mar 22, 2019

When I hire product managers, I give them a set of books that I consider essential to being successful as a product manager. Melissa Perri's Escaping the Trap Build became one of those books. This book is the field manual for product management success. The mix of real stories, practical approaches, and depth really help demystify one of the most challenging career paths.
Actionable Product Management

Derived From Web

, Feb 15, 2019

I meet product managers that have been thrust into the role without any training or support, Raymond said. They creatively made a project work inside their organization as engineers, project managers or analysts and the next thing you know, they are a product manager! Or, until you realize there's almost nowhere to go to learn how to be a product manager. Melissa's book is an exception. She distills this all down into actionable steps that actually help people perform the role in their organizations. She also likes how she's adapted things that already work to the discipline. I'd put this book right up there with Cagan's latest release, Inspired.
Great reading for any business large or small

Derived From Web

, Feb 12, 2019

I often read small business marketing and sales books to help grow my business and to be honest with you I had never heard of a product manager before coming across The Build Trap. I'm about 34 of the way through the book and have found that many of Melissa Perri's insights can be applied to any business from large corporations to sole proprietors like myself. And I get to learn what a perfect product manager looks like as well!
A brilliant book on THE biggest pitfall in software development - building the wrong thing.

Derived From Web

, Jan 17, 2019

The book tackles the fundamental problem in software - building the wrong thing. It does so by focusing on valuable outcomes and giving insight, ideas and methods to help the reader. It has the great virtue of being short with each chapter building on the previous to give you a richer understanding of what product management means and why organisations need to put it front and centre. Like Wodtke's "Radical Focus" and Goldratt's "The Goal" it uses narrative and story to great effect. I bought it myself for my wife and then bought another copy for a colleague. Recommended.