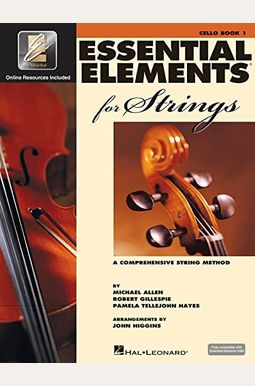 
 
Essential Elements For Strings - Book 1: Teacher Resource Kit
Book Overview
(Essential Elements). Essential Elements for Strings offers beginning students sound pedagogy and engaging music, all carefully paced to successfully start young players on their musical journey. E features both familiar songs and specially designed exercises, created and arranged for the classroom in a unison-learning environment, as well as instrument-specific exercises to focus each student on the unique characteristics of their own instrument. E provides both teachers and students with a wealth of materials to develop total musicianship, even at the beginning stages. Essential Elements now includes Essential Elements Interactive (Ei), the ultimate online music education resource. Ei introduces the first-ever, easy set of technology tools for online teaching, learning, assessment, and communication. ideal for teaching today's beginning band and string students, both in the classroom and at home. For more information, visit Hal Leonard Online - Essential Elements Interactive. For a complete overview of Book 1, click here.
Frequently Asked Questions About Essential Elements For Strings - Book 1: Teacher Resource Kit
Book Reviews
(11)
Did you read Essential Elements For Strings - Book 1: Teacher Resource Kit? Please provide your feedback and rating to help other readers.
Thorough and Methodical

Derived From Web

, Apr 20, 2022

This book is exactly what I needed as an adult beginner with some background in music, said Brian Stokes Mitchell, executive director of music for AOL Europe. Exercises for each string are included in the book, which I found really helpful. Note that this is not a subscription, but access to recorded versions of the exercises. You have the option of either downloading them with a code from the book, or you may order a CD by using the enclosed post card. I downloaded the files online for immediate access and requested a CD for a backup.
A Great Beginer Book

Derived From Web

, Apr 20, 2022

I bought this book because I was doing self-taught cello at home and it was the perfect book. The front pages show you how to position the cello, how to hold your bow, and even how to play the piano. The back of the book lists the finger positions for the notes and shows you the fingerings as you learn new notes. The book is well-paced and has some great introductory material.
Excellent Beginner Book

Derived From Web

, Apr 20, 2022

The book is very good, but I am not an adult beginner. It has been wonderful and easy to learn compared with some of the other bigger, complicated books that I bought at the same time, he said. I have a great teacher who helps me with technique.. However, I have to admit that this book is not very good. But I guess all music books lack in that because they can't see what you're doing wrong. 0 1462228 Like many other artists, I find it hard to believe that all music books lack in that.
great book

Derived From Web

, Apr 20, 2022

My middle school girls were short of books, and I had no idea what a bargain it would be at the music store.
Overall good.

Derived From Web

, Jan 15, 2022

I had never touched a cello before I read this book, Mr. Dhaliwal said. The book has a good amount of useful information, and is fairly easy to follow, Ellison said. The interactive feature has a lot of useful stuff too, allowing you to do the lessons from a computer or portable device. The one that I have found so far is that it has some drawback steps that say such things as 1. Tuning Track. Wait foe your teacher to tune your instrument, I don't have a teacher and there wasn't a video showing how to do this, although I will say that there were videos for some of the other stuff. Overall happy with the outcome of the negotiations, Beckham said.
Nice book, but poorly packaged!

Derived From Web

, Jul 29, 2021

Poor quality paper, Mr. D'Antonio said. The music book was in half and shoved inside a bubble mailer. I'm sure the book is wonderful, but my son will have a lot of trouble using it. He needs it this week so we don't have time to do a return, Bruno told Criss. It will be a daunting challenge for us to put some heavy books on top of it. It will never sit flat on a music stand.
Pretty good but takes some digging to get the info needed

Derived From Web

, Jul 12, 2021

I like the layout of the book but some words need to be updated. It has been changed to online which is fine, except for not knowing that and thinking I was short a cd and no idea where to find the music. The app format is not the best in the world and I have to go to a different website to listen to the music for the practices, but getting the hang of it. Got this book as a supplement for my son while he was out of school and I still had time to read it. One other thing that it always doesn't explain is what or how to do certain things with the music like holds through different notes.
Must-have book for learning cello.

Derived From Web

, Aug 13, 2020

The book takes you from knowing nothing to feeling like you could really get into playing the cello. Very detailed and fast-learning cello. I'm especially fond of the Essentials log-in practice. Simply put, it's a metronome, cello, piano and more. It was great to be back on the court, said Dr. Goin. Only a handful of books currently have such high quality instruction.
Good Cello book for beginners

Derived From Web

, Nov 16, 2019

I've been using this book for two months to learn how to play the cello. The time it will take to finish the project is estimated at about six months.
The single best beginning cello book

Derived From Web

, Dec 15, 2018

Young cellist Yo Yo Gach has a book out today that is the single best beginning book for a cellist. You gradually learn to read bass clef plus where the notes are on your cello, plus little side bars on each page teach you about the instrument, or rhythm, or a composer, or about musical notation. The best introductory cello lesson ever was given by Paul Barber at age 10. There is a code inside the book that you can download recordings to play along with the bonus tracks.