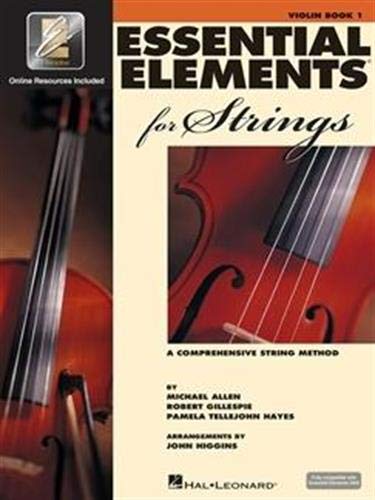 
 
Essential Elements for Strings - Book 1 with Eei: Violin
Book Overview
(Essential Elements). Essential Elements for Strings offers beginning students sound pedagogy and engaging music, all carefully paced to successfully start young players on their musical journey. E features both familiar songs and specially designed exercises, created and arranged for the classroom in a unison-learning environment, as well as instrument-specific exercises to focus each student on the unique characteristics of their own instrument. E provides both teachers and students with a wealth of materials to develop total musicianship, even at the beginning stages. Essential Elements now includes Essential Elements Interactive (Ei), the ultimate online music education resource. Ei introduces the first-ever, easy set of technology tools for online teaching, learning, assessment, and communication. ideal for teaching today's beginning band and string students, both in the classroom and at home. For more information, visit Hal Leonard Online - Essential Elements Interactive. For a complete overview of Book 1, click here.
Frequently bought together
Frequently Asked Questions About Essential Elements for Strings - Book 1 with Eei: Violin
Books like Essential Elements for Strings - Book 1 with Eei: Violin
What should you read after Essential Elements for Strings - Book 1 with Eei: Violin Book? Here is a list of books to read if you read and loved Essential Elements for Strings - Book 1 with Eei: Violin
Book Reviews
(12)
Did you read Essential Elements for Strings - Book 1 with Eei: Violin? Please provide your feedback and rating to help other readers.
Not for self learners.

Derived From Web

, Apr 20, 2022

I wasn't able to use the online stuff because it looked like it would be great. I'm not in a class because I'm taking private lessons. I wanted to give the teachers manual to them. I would like to be able to use it after he sets up an account. If you can't access your interactive account, what good is buying a book with it?
Fantastic book and love the app that goes with it!

Derived From Web

, Sep 14, 2020

I have not touched a violin since I played it 30 years ago. I've always wanted to start over again. This book does a great job of showing how to read different parts of the music, even if I can't read music. You can use the app that comes with the book to play your violin along with other instruments, or just a metronome, and see how you sound. I did not use this initially, but I have found it to be very helpful. You can record your own music with it. You can save it and send it to the teacher. I think this is your first violin book.
Highly recommend

Derived From Web

, Feb 10, 2020

My instructor uses the same book, but they have an older one. The book begins from the basics and goes up. It's easy to read and understand. There are pencil note markings on a few of the photos. My instructor left a note for me on one of our lessons. Whether you're learning to play in a group setting or just by yourself, this book will teach you everything you need to know. An orchestra. This book is very good.
What your beginner needs.

Derived From Web

, Dec 26, 2019

A good book for beginners. The company my child's school uses to supply music items for lessons was two dollars cheaper via Amazon.
Very good for beginning to play. Takes you step by step!

Derived From Web

, Nov 9, 2019

It is the same book that I learned in 6th grade. The essential elements books have an online interactiveapp that you can use to learn more about the book. Even if you don't have a school to go to, you still get a good teacher through the app and paces with you, instead of you being unable to keep up. The book is still hard for me even 10 years after I first learned it. There is a big gap to remember how to do things. I hope this helps other people who are starting from square one as well.
Difficult to access online audio

Derived From Web

, May 15, 2019

The online audio files don't work with the activation code. Good luck if you don't have a teacher to set up an account for you. I was able to use the access code in the book because EDIT publisher fixed something on their end.
Priced appropriately for thin size

Derived From Web

, Apr 9, 2019

It was almost insulting in its simplicity. It is a thin volume, and beware. I get better information about the opera. It is what I need for a lousy $6.00 as a beginner.
Great beginner's violin book

Derived From Web

, Sep 17, 2018

The instructor's book was delivered on Sunday with enough time for my son to study before class, and it was exactly the same as the instructor's book. The instructor wanted me to change the name of the notes to help my son remember. If you plan on darkening the notes, use a pen and not a markersharpie, as it will bleed through to the next page.
Especially good for group class.

Derived From Web

, May 31, 2018

It's always a good staple for your teaching music library, easy to read, and students respond well to the tunes. It's fun to play along with a CD. This method is used by many public school programs.
Great book for my 10 year old beginning viola lessons!

Derived From Web

, Sep 4, 2017

My son is young. He has never played an insturment. I don't sit in on his lessons but sometimes he has questions. I can help him with the easy to follow instructions on finger placement, descriptions on what the different notations are within the music, and so on, by looking at his book. I appreciate that the book has songs that he recognizes. The fact that he already knows the melody helps him to hear when his finger is out of place. I think that's one of the biggest battles for him as a beginning viola student, and these familiar songs are a great feature of this book. His music teacher suggested we buy it for him.