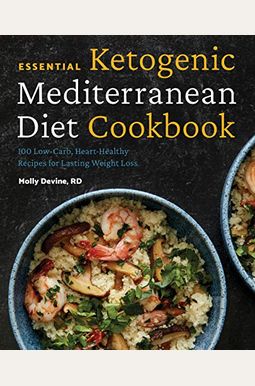 
 
Essential Ketogenic Mediterranean Diet Cookbook: 100 Low-Carb, Heart-Healthy Recipes For Lasting Weight Loss
Book Overview
The heart-healthy Mediterranean diet meets the fat-burning power of keto
The Mediterranean diet has long been revered as one of the healthiest ways to eat--but what if you could make it even better? The Essential Ketogenic Mediterranean Diet Cookbook combines the heart-healthy and fiber-rich foods and healthy lifestyle habits of the Mediterranean diet with the low-carb, moderate-protein, and high-fat ratios of the ketogenic diet. Discover this powerhouse combination diet that will help you lose weight, improve your cardiac and gut health, and feel more energized.
The Essential Ketogenic Mediterranean Diet Cookbook outlines the hows and whys of the diet in detail and provides two weeks of meal plans to get you started. Including 100 delicious recipes like Greek Egg and Tomato Scramble and Braised Short Ribs with Red Wine, the dishes also use everyday ingredients to set you up for sustainable, long-term success.
This ketogenic Mediterranean diet cookbook includes:
Best of all worlds--From weight loss to cardiac health to improved cognitive function, see why this diet is a winning combination.
Understand the science--An explanation of macronutrients and how our bodies burn fuel will help you understand the science of the diet and why it Read More chevron_right
Frequently Asked Questions About Essential Ketogenic Mediterranean Diet Cookbook: 100 Low-Carb, Heart-Healthy Recipes For Lasting Weight Loss
Book Reviews
(7)
Did you read Essential Ketogenic Mediterranean Diet Cookbook: 100 Low-Carb, Heart-Healthy Recipes For Lasting Weight Loss? Please provide your feedback and rating to help other readers.
Refer to this constantly

Derived From Web

, Nov 27, 2021

Overall, I am very pleased with almost all the recipes in this book. Not only have I lost the Covid' 15, am slowly taking off a few more pounds, don't feel deprived and best of all, recent blood tests have revealed lower cholesterol, lower glucose levels and reduced A1C. Easy to follow, offers the net carbs, calories, proteins and fats for every recipe. Recommend purchasing this book for a great overall health plan which is easy to live with and modify for family members not yet on board!
meals are good, but expensive.

Derived From Web

, Apr 25, 2021

Although the recepies in the book all seem yummy and healthy, the author didn't take price into consideration. If you are someone who is looking for a healthier diet, but also has a regular job, than the grocery list may be a struggle.
No pictures and not keto-friendly.

Derived From Web

, Feb 23, 2021

There are no pictures of any of the recipes on the Web site. No pictures! You have no idea what some of these things are supposed to come out looking like. I understand if they don't want to spend the money to print all the pictures and make a more expensive print cook book, but at least put up a web page with a photo archive or something. Most of the recipes contain net 15 to 25 carbs, which is really not very keto friendly. Also disappointed with how much dairy was used in the recipes, for being based on a mediterranean, heart-healthy diet, tons of heavy cream and throwing cups of cheese over the top of things. The worst cook book I've ever purchased.
Absolutely Perfect!

Derived From Web

, Feb 12, 2021

I have made about a dozen of the recipes, and each one has been a definite keeper. The recipes are easy to make, and many of the ingredients are things I keep on hand. Even last minute, I can flip through this cookbook and find a delicious recipe that matches what's in the fridge. I can't give enough compliments to this writer. These are so quick and easy to put together, and they taste great! I highly recommend this book. It's going to be great! My Zucchini Lasagna is in the oven!
Not very keto friendly ingredients

Derived From Web

, Jan 18, 2021

Please return this book to Amazon for a refund. After going through the ingredients there was a lot of stuff that used oranges and clementines stuff that really isn't for True Keto.
best keto book

Derived From Web

, Dec 17, 2020

I've been eating keto for roughly a year, except for a few months stint where I learned fast that it was the main thing helping keep my immune system tamed and iron at living human not severely anemic levels. For me, keto isn't a weight loss and the good thing outweighs the bad. The only bad really though is that a lot of recipes just taste so bad and even cookbook recipes often aren't good for meal prepping so it's not practical, says James. The food is like what I grew up with too and as someone who's allergic to shellfish, I appreciate that the fish section isn't basically just shrimp section and also with one basic canned tuna recipe.
Great recipes!

Derived From Web

, Jun 23, 2020

I just purchased the book and have made the Tuscan kale salad with anchovies and the Zucchini lasagna. Both are delicious. I haven't eaten anchovies in years, so this was an opportunity to give them another chance. I have been following a keto diet for over a year. Now I am adding more fish to my diet, with the help of these recipes.