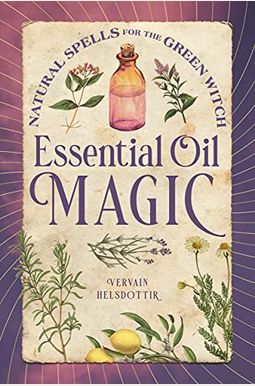 
 
Essential Oil Magic: Natural Spells For The Green Witch
Frequently Asked Questions About Essential Oil Magic: Natural Spells For The Green Witch
Book Reviews
(10)
Did you read Essential Oil Magic: Natural Spells For The Green Witch? Please provide your feedback and rating to help other readers.
Great guide for beginners

Derived From Web

, Mar 8, 2022

This volume contains solid aromatherapy information and references. The recipes are based on clear and simple intentions. As a time-honored and aromatherapy user, I would say there is at least one witch blend that would benefit you out of this book.
Great book

Derived From Web

, Feb 9, 2022

I enjoyed this book and feel I have gained knowledge about oils and their uses a great read, and I'll recommend it to others.
Loads of information you will use everyday

Derived From Web

, Dec 11, 2021

I love how using EO's can help shift your mood, Cheri said. The information you get in this book is so helpful, recipes, descriptions on how to use EOs for what you want to be in or get out of, Moodista writes. The Matrix and the DB2 work. Topics like scenting your journals, infused cotton balls to enhance your oracle readings, diffuser mix called Just Breath for when you are just overwhelmed, and so many more. Only 3% of the oils listed on this list are actually used in aromatherapy. Buy the book and get your EO's license.
Not extensive enough but definitely should have in your library!

Derived From Web

, Nov 29, 2021

PROS it overcarrier oils, what each blends well with, and warningsprecautions. Also gives us descriptions of magickal uses. The book's seventh and final chapter deals with spellsintention. CONSTABLE: None There are some important things listed in this book that I think everyone using oils should know, but it just doesn't have enough essential oils listed. Overall, it's a great addition to one's personal library.
Essential Oil Magic: Natural Spells for the Green Witch

Derived From Web

, Nov 4, 2021

This book was highly recommended by my teacher and I am currently taking classes in herbs and essential oils.
The Best Book Ever on the Magic of Essential Oils!

Derived From Web

, Oct 8, 2021

I've read all the books, but this is by far the best. The information on each of the 30 oils is extremely comprehensive. I'm a huge fan of the Spells and Rituals section of the book. There are so many yummy and powerful recipes to try! The first book, "Magic on the Go," was a quick reference manual for creating magic on the go. Literally. I'm about to go make an Intuition Roller but before I do I just want to say this is a book that you will use over and over, many years. Whether you are a beginner or an expert, it will be your go-to place for all your spiritual needs.
I absolutely LOVE this book!

Derived From Web

, Sep 21, 2021

If you love working with essential oils and want to learn more about plant magic, this book is for you! Beautifully written and amazing content. Lovin it, Tunick said. nan
If you're into essential oils this book is s must !!

Derived From Web

, Sep 10, 2021

If you are into essential oils, then you need to get this book. This book is so well written and explains everything you need to know about oil magic. If you are looking for a new car, this is the one for you. It's perfect, said Dr. Goin.
Magical Essential Oils

Derived From Web

, Sep 1, 2021

There is so much misinformation out there about essential oils, Sosa said. I was disappointed to see that this book didn't take a harder stance on the safe use of EOs, said Dr. Steve Peters, director of NASA's Ames Research Center in California. The author says she uses them neat. There is one page on safety using EO's, internally around children and around animals, he said. If this was any other book on EOs, I would give it a one star because of this. Despite this, the spells and rituals presented in this book are mostly aromatherapy or sufficiently diluted to give practitioners the illusion that they are truly ancient. Part two goes through 30 EOs and their energetic properties. The book includes spells and rituals for protection, love, healing, and divination. If you are looking to incorporate EOs into your magic practice, I think this is a decent book, but I suggest that you also do some research on using EOs safely.
Full of plant magic!

Derived From Web

, Aug 25, 2021

I am in LOVE, Tunick said.