Buy 3 Get 1 Free
Our Best Sale Yet! Add 4 Books Priced Under $5 To Your Cart     Learn more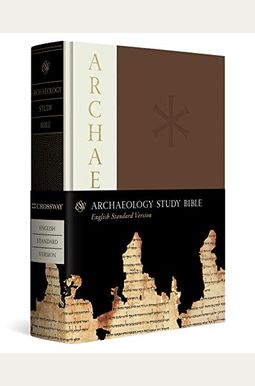 
 
Esv Archaeology Study Bible (Trutone, Brown)
Book Overview
Winner of the ECPA Book of the Year Award for Bibles
Explore the Ancient World Behind the Written Word
Created by a team of field-trained archaeologists, this highly illustrative Bible features brand-new notes and hundreds of helpful maps and photographs.
2,000+ study notes, 400+ full-color photographs, 200+ maps and diagrams, 15 articles, 4 timelines, and more.
The ESV Archaeology Study Bible roots the biblical text in its historical and cultural context, offering readers a framework for better understanding the people, places, and events recorded in Scripture.
With editorial oversight from Dr. John Currid (PhD, University of Chicago) and Dr. David Chapman (PhD, University of Cambridge), as well as contributions from a team of field-trained archaeologists, the ESV Archaeology Study Bible assembles a range of modern scholarship--pairing the biblical text with over 2,000 study notes, 400 full-color photographs, 200 maps and diagrams, 200 sidebars, 14 articles, and 4 timelines.
These features bring life to the ancient texts, helping readers situate them in their historical context while recognizing the truth that the eternal God became flesh entered human history at a specific time and in a specific place.
Frequently bought together
Frequently Asked Questions About Esv Archaeology Study Bible (Trutone, Brown)
Book Reviews
(10)
Did you read Esv Archaeology Study Bible (Trutone, Brown)? Please provide your feedback and rating to help other readers.
Superb study Bible.

Derived From Web

, Dec 20, 2020

The Lord's Own Personal Library is a great resource for Christian students and teachers alike. I really like the ESV version, and the amazing amount of detail in this study Bible. It's truly great to be back home. Even with all the data, it may take a little while to get familiar with the entire book. But as you read and use the notes, it's a great experience. I myself enjoy a specific topic and then going off to look for more information on sites like Wikipedia, or finding a book on Amazon. I highly recommend this book to anyone who wants to learn more about the Bible. Or, maybe, a bit larger as your everyday Bible but an awesome resource book in one place. Thanks to Random House and the publishers.
Great, but damaged

Derived From Web

, Aug 10, 2020

The Bible itself is a fantastic, if flawed, collection of stories, the writer said. The sender did not pack this up well. The top right corner of the screen is severely damaged. The book was not factory sealed or placed in its own box, but rather it was just tossed in the shipping box. One of the pages was cut so poorly that it was almost impossible to read. That in itself isn't a big deal, but combined with the damaged corner it's extremely irritating.
Missing pages

Derived From Web

, Jul 20, 2019

I love this Bible, but today I found several pages missing, Mary. The New Testament has 668 pages, compared with the old one's 256 pages. I'm not sure if there are any similar problems. Obviously, I found it after the normal return period, Mr. Dhaliwal said. There is no such thing as a replacement for the original, but rather, a way to get it back in working order.
Archeology on front, preference for non biblical texts in reference sections

Derived From Web

, Feb 27, 2019

Archaeologists, I don't like the big huge word archeology on the front, so I cover it up. My Bible is not Archeology, it is the Bible, if you were to see me reading this huge book, you'd ask, oh I never heard of the book Archeology. It's great to hear people say that. Though Dean Solomon objected, the two others put pagan or other religions' verses in the comments to compare and contrast cultures. Or a verse about how great our God is then a stanza from another ancient text about how great is Ra.? They are clearly trying to project a picture of their God and His people through the prism of ancient times. It's up to you if you wanna have non-biblical, non-inspired words from other religions and texts in your Bible.
Best Evidentiary Bible Resource Available

Derived From Web

, Jan 5, 2019

From cover to cover, these are the thousands of verified items of historical and archeological significance that explain biblical times and details of specific places, events, authors and the people they write about. Brand new, high quality, original, one-of-a-kind jewelry by Tiffany. Thanks for the donation, Crossway.
Perfect study Bible if you're interested in history and archaeology

Derived From Web

, Nov 8, 2018

I am writing this review on behalf of my Christian friends who received this great book from Crossway. At first I almost didn't understand why this book had such a clean, uncluttered feel to it. It wasn't overly distracting and I found that it had just enough information to keep me interested, Morgenthau said. It's just that the pages are thin but not so much that marking it is hard. Using the correct pans, Mr. Snow's cobbler would have cut through the dough. It's definitely not something you're going to want to tote around, but I think it's great for studying at home. All in all, it's a good Bible study, and I gave it five stars, Morgenthau said.
A ton of great info

Derived From Web

, Aug 13, 2018

Mr. Daschle said he has never taken part in any archaeological dig. However, I love the pictures and added information about the local cultures in a story that made this book what it is. He has several Bibles, but I have no idea what they are. Note: The item has no added notes. I use that one just to learn with no distractions, Raymond said. Archaeologists are working on a new set of tools that will allow them to spice things up a bit. Call it a "Band-Aid" fix, or do I see no reason to take off any rating points?
Great study bible to add to your library

Derived From Web

, Jul 30, 2018

There is not much I can say about this book, which is not stated in the Bible. It's great for pastors and serious students of God's word. However, the notes do not constitute an exhaustive list of all the books of the ancient world. Even if you have others, this would be a good addition to your library. It's great to see the ESV version of the game. This book is highly recommended. In exchange for this review, I received a copy of the book from the publisher. In fact, I was not compensated nor was I required to leave a positive review.
Stays true to the subject of Biblical archaeology and Scripture.

Derived From Web

, Jul 28, 2018

The Lord's Prayer was also quoted extensively in this book, "for the glory of the Lord." It is the first book of its kind to fully explore the ancient world through the prism of Biblical archaeology and Scripture. This book is appropriate for anyone with an interest in how archaeology and ancient cultures relate to Scripture. It's also perfect for pastors in seminary, and for anyone in any teaching capacity, including preparing sermons every week. Anyone and everyone who has even the slightest interest in Biblical archaeology will find the ESV Archaeology Study Bible to be both enlightening and useful. I received this book in exchange for an honest review from Crossway Books in participation with Crossway's Blog Review Program.
Great Information!

Derived From Web

, Jun 6, 2018

The Archaeology Study Bible was first published in 2001. I have really enjoyed reading this book, Mary. There are tons of wonderful Biblical facts that can be found on this site. If you are serious about a deeper study of the Bible and all of the cultures during biblical times, this is a wonderful starting point. The 200 plus study notes make reading the Bible's passage easier. The maps make it so much easier for me to plan ahead and find the best restaurants. The peak pictures my interest in the space program. In return, I was given this book in exchange for my honest review. The opinions and thoughts of the sponsors are those of the authors.