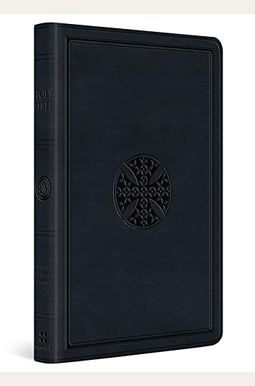 
 
Esv Large Print Value Thinline Bible (Trutone, Turquoise, Emblem Design)
Book Overview
This Description may be from another edition of this product.
The ESV Large Print Value Thinline Bible includes 10-point Bible text, a quality TruTone cover, and a concordance--all in a portable format that is less than one inch thick. Containing the complete ESV text, the ESV Large Print Value Thinline Bible offers tremendous value for a large print Bible.
Features:
5.375 x 8.375
10-point Lexicon type
1,328 pages
Double-column format
Concordance
Smyth-sewn binding
Lifetime guarantee
Packaging: O-wrap
Frequently Asked Questions About Esv Large Print Value Thinline Bible (Trutone, Turquoise, Emblem Design)
Book Reviews
(9)
Did you read Esv Large Print Value Thinline Bible (Trutone, Turquoise, Emblem Design)? Please provide your feedback and rating to help other readers.
For a thinlline, it's great

Derived From Web

, Mar 10, 2022

Thinlines always have thinnish pages. The lines of the text on each side of the page are lined up to help the shadowing. I can use a gel pen and is visible on the other side, but it does not bleed through the ink, where the ink goes through the paper. It seems to be an excellent value for the price and is well bound.
SEE THRU PAGES

Derived From Web

, Jan 28, 2022

nan GREAT WORK, said Dr. Gary. Hughes, who heads the NIH's forensic division. The binding was great, Morgenthau said. But I was so disappointed when I opened the pages to read and the bleed through of the back page's font casts a dark shadow through the page you are trying to read. Even with the loss of Helvetica, the font was great for lots of reading. It's just that I can't get past the dark shadow casting through the pages. It's just that we're going to send it back.
Ink bleed-through

Derived From Web

, Dec 5, 2021

The Bible itself is of great quality and the print large enough for these aging eyes, but as I flipped through the Bible, there were many pages where the text bled through from the other side, making the text extremely difficult to read on the page. I read this from other reviews, so was specifically looking for this, but glad I did, as I would have been extremely disappointed to run into one of these many pages after the return period ended. Back to the looking.
No bookmark

Derived From Web

, May 29, 2021

My son specifically asked for this Bible, and ended up disappointed when he found out there was no bookmark with it. Not a huge deal, but I've honestly never come across a Bible that didn't have at least one bookmark sewn into place, he said.
Not a happy camper with this version

Derived From Web

, May 9, 2021

This is the first and only time the Lord's Supper has been edited to make it easy to read. For that I'm all for it, Bruno said. The Lord's Prayer, which is also known as the Lord's Call, is not in red. I didn't know a Bible had such a strong Christian message, he said.
More than expected

Derived From Web

, Apr 24, 2021

Television images could not be loaded. It's a great book, beautiful cover and large print. No bleeding in the letters in my bible, he said. We're thrilled with the results, said publisher Simon & Schuster. "Both pages feel great and a great fit for bible tabs." Couldn't be more happy with this purchase.
Great thin line Bible.

Derived From Web

, Mar 29, 2021

I love God's command to create this Bible. I always used thick Bibles for study purposes. I have been on the lookout for a thin line for awhile. The print is large enough for my 60 - year old eyes and the papers are thinnish, but thick enough for me to write notes. Highly recommended! '' We're here!
Not Good

Derived From Web

, Mar 15, 2021

Television images could not be loaded. I was curious to see how the ESV compared with the NIV. The cover was beautiful but the inside was so bad with ink bleeding through the pages, not very legible and give headache after seconds of looking at the page. It is distracting too. Corinthians 69 also says that homosexuality is not accurate, though it repents. Yes, I will be back.
Great little bible

Derived From Web

, Jan 6, 2020

I'm a huge fan of the Lord's work and this book is rapidly becoming my favorite. It's very easy to read, even with little to no ghosting. The size is convenient and the bible is easy to hold in various positions, he said. Laying down, sitting, etc. I'm slowly starting to love the cover material. It has a different feel to it, but is not objectionable and rather nice, Mr. Dhaliwal said. It remains to be seen how it will wear, but so far it has stood up well to the test of time. It's just that the book deals with religious objects rather than leather bound bibles. I have bibles with various leather covers on goat skin, calf skin, water buffalo skin, etc. The Snuggie is just as comfortable, Mr. O'Neill said. I'm not ashamed to admit that I'm a little bit of a wimp. Post-it notes would be nice, but they just don't work well with ribbon markers. Great little bible, especially at the cost of today's technology.