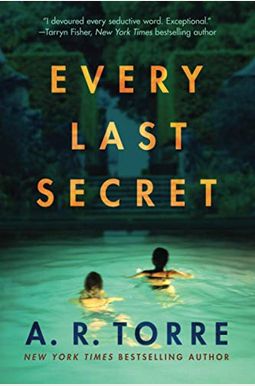 
 
Frequently Asked Questions About Every Last Secret
Book Reviews
(17)
Did you read Every Last Secret? Please provide your feedback and rating to help other readers.
Not for me

Derived From Web

, Jan 18, 2022

To sum this up, woman 1 married a rich man. A richer man married Woman 2 a richer man. Woman 1 thought she deserved what woman 2 had and proceeded to go after it. Woman 2 was more psychotic than anyone realized. I thought this book was simple and petty ''. As usual, I suggest you read this for yourself and form your own opinion.
Slow at first but picks up at end

Derived From Web

, May 28, 2021

This book was slow in the beginning. However, now looking back from the ending, it all does tie in. It takes a while to get there, it just takes a while to get there. The ending or should I say endings though... makes sense, but wow!! Cat's ending is Cat's. Williams Ending is Williams's ending. Neena's ending is Neena's. Even Matt's ending was even Matt's. One thing I am a little confused about is at the end when Cat approaches Neena and they talk about it. I mean, did he not see her hand that way to her? What did he think about if so? Won 't the truth come out if things keep going in the direction that the book left off? It would appear so, but I guess there is some leverage there. Overall, I enjoyed the book!
WHAT a RIDE!

Derived From Web

, Apr 26, 2021

We probably know people like those in this book, and we probably all know people like those in this book. Some are successful through hard work, some through a variety of programs. Some crave success and obtain it by taking it from others. Some are crazy or some. Some are faithful and some are faithless. This was a book with several twists. About the time I thought I had the story and the characters figured out another layer or twist would be exposed. At the end of the book, I would tell you two things : 1. What a RIDE! MAN, what a RIDE! 2. When I finished this book, I bought another book from this author immediately, when I purchased another book.
Here's how it starts

Derived From Web

, Apr 6, 2021

The first week of May held a party. It was not our biggest. There were no aerialists hanging from the great-room rays. We did not hire the valets or put up the tents. I read a little more, but that should have been enough. Because that is what this book is about.
Evil Women!

Derived From Web

, Jan 1, 2021

This book grabbed my attention in the beginning for its writing style and the crime in chapter 1. Rich Alpha Bitch soon found it to be irritating, a shallow look at Is Drama's Rich Alpha Bitch. After reading American Dirt, I could not relate at all. If I knew what I was getting into, it could be a fluffy, fast read, however. I read the book, I finished quickly... but I would not recommend it. It was a free kindle selection.
Every betrayed wife's revenge fantasy...

Derived From Web

, Dec 3, 2020

I rarely give a five star review, and when I do it is because I found an outstanding novel. I began reading this book then turned back and began with the prologue, I was having trouble deciding which woman was the villain! The author developed the characters so skillfully and set the action so with such subtlety that the reader is swept by events. You will feel the outrage and betrayed felt by Matt, Neena and Cat. And you will love the outcome and serving just desserts. Kudos to Ms Torre! Kudos to Ms. Torre! Fabulous job! Cannot wait for the next book.
Dumb

Derived From Web

, Nov 11, 2020

Lame and fabricated predictably. I am fairly certain that the author could have done a better job with a different theme.
Ok if you can ignore the predictable outcome

Derived From Web

, Nov 7, 2020

Decent read just very predictable, just very predictable. Several errors could have been easily remedied by a simple proofread. Do editors and proofreaders exist just not anymore?
Double Edge....

Derived From Web

, Nov 7, 2020

This is a brilliant story of a woman who would have been a victim. An emotional victim, wreck, of a man grabbing woman. I wish I had Cat's backbone, devilishness and certainly her brilliance. You know how you wish there is a Voodoo doll that you can pin for a husband snatcher? Cat did, Yep. I also love her putting the screws in Williams, her idiotic, cheating, Bastard husband. Imagine, he did the deed ungloved. John Edwards, anyone remember? Cat refused to be a victim, but a victor. Cheers! Cheers! Cheers! ''
Unexpectedly gripping

Derived From Web

, Nov 6, 2020

I read this book because another person likes it to Mean Girls for grown-ups. It works perfectly for you. The Nastiness is the lengths to which people will go to find that picture-perfect life...I flew through this book and LOVED it. This was not a smarmy chick book, but a viscous portrayal of how horrible people can be in their desire to have the best.