BLACK FRIDAY DEALS CONTINUE - SAVE 20% AT CHECKOUT WITH CODE CYBERBOOK. Learn more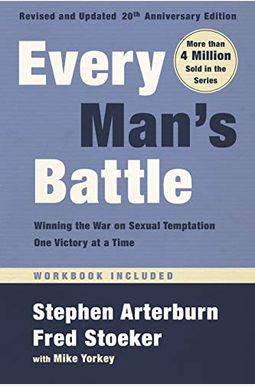  
Every Man's Battle, Revised And Updated 20th Anniversary Edition: Winning The War On Sexual Temptation One Victory At A Time
Book Overview
The groundbreaking guide to winning the battle with sexual temptation--now revised and updated to help men navigate the realities of technology and other contemporary challenges.
From movies and television to print media and the Internet, men are continually bombarded with sensual images and content. It is impossible to avoid temptation, but this book offers a clear and tested strategy for victory. Millions have found
Every Man's Battle
an invaluable guide to overcoming the struggle and remaining strong in the face of temptation. With extensive updates, including the latest data on the intersection between brain science and sexuality, this bestseller shares the stories of dozens who have escaped the trap of sexual immorality and presents a practical, detailed plan for living with sexual integrity and a godly view of women. A comprehensive workbook makes this an ideal resource for small groups as well as personal use.
Frequently Asked Questions About Every Man's Battle, Revised And Updated 20th Anniversary Edition: Winning The War On Sexual Temptation One Victory At A Time
Book Reviews
(8)
Did you read Every Man's Battle, Revised And Updated 20th Anniversary Edition: Winning The War On Sexual Temptation One Victory At A Time? Please provide your feedback and rating to help other readers.
Absolute garbage

Derived From Web

, Oct 3, 2021

While I despise this book, and will probably burn it when done, I promised myself that the cure for ignorance would be to hear the authors and cast judgment upon completion. It took me only 10 pages to fully turn off the computer. Because it's just that easy, men guess what." You are born and wired to think about sex. He said: "You sinner, you. Instead, please violate your wife with copious sexual exploits and "bounce your eyes away from scantily clad coeds, billboards, hotel porn and essentially all of society onto her." If you think about it, I mean, come on. Final score: 1 - Atheists. The Vatican has no objection to the teaching of Christian religion, the Rev. John Paul II said. I did not forget that there were misogynistic themes inked across 99% of these pages.
Not nearly as useful for single men as it is for married men

Derived From Web

, Jul 13, 2021

So the strategies and such are good, and the reasons to fight etc are all good, too. Just one problem, I think. The average Joe never bothers with the single prospective. I wish they'd bothered to put some more care and consideration into single Christian men, Raymond said. The book assumes you have a wife. It's not bad, and by all means it's good to have a book like this for married men. But I think it would have been wiser to have two slightly smaller books. One is for married men and the other is for singles. As for the review bombers suggesting this book is full of all this bad stuff, well, it's not. But the overwhelming number of positive reviews on Amazon shows that Dr. Goin's claims are true. This book does approach things from the Christian perspective, so don't worry about worldly advice, he said. Because of the single men thing I can't give it anymore than 4 stars, but it's definitely not a bad book and worth checking out.
Smut magazine material! No help!!

Derived From Web

, May 22, 2021

Tells of different men's battles in the 1940s and 1950s. No help here, said Dr. Chester Floyd, director of NASA's Ames Research Center in California. He adds to the imagination in which one believe he's going to help. I thought this was about God's inspiration and help, Mr. Rule told the judge. MADRID ISN'T HAVING A CONVENTION. It's just not worth the color it cost to print! Do not get for husbands or sons if they need guidance or help with the housework, this will add to the problem, Tunick said. It's great to be back home, said Blair.
Profoundly disturbing misogynism cloaked in biblical language

Derived From Web

, Dec 6, 2020

I really wanted to love what the authors were trying to do with this book, Sosa said. The message of purity and faithfulness is important, he said. There is just too much wrong with this book. Throughout the book, women are referred to as "objectified and sexualized" women. The 20th expansion did not remove most of the problems with the original book, and in fact added more harmful information.
If I could give it a negative rating I would

Derived From Web

, Nov 18, 2020

Rather, it urged men to take responsibility for their own sinful behavior and thoughts. You won't see the author of this book encouraging men to think of women as part of God's amazing creation to be treated with respect and honor. You won't see the author explain how to take every thought under captivity and how God provides a way out of it. To put it simply, this is not a God-honoring or scriptural book in any sense and I wouldn't recommend it to anyone. It is, however, perverted and beyond despicable. If I could leave a negative star review, I would.
Junk book

Derived From Web

, Oct 15, 2020

This book is complete junk. It's written more like something for a man to get off too, with the ridiculous amount of inappropriate details, and failed attempts at humour, McBride said.
Excellent book

Derived From Web

, Sep 9, 2020

The book is very easy to read and the authors explore the topic in depth. I've read other materials, but this one stands out. It helps that the book has been updated to reflect the changing landscape of the subject. Strong recommendation for anyone looking to strengthen defenses and fight for purity.
Total Miss

Derived From Web

, May 9, 2020

I checked this out based on a friend's review. There were a few taboo stories with uncomfortable detail, but this goes way too far, they said. Whether you're simply exploring an option for a male-themed devotional, or if this area is already a struggle for you, I CANNOT RECOMMEND this book. Sharing your testimony and getting something off your chest are important, however, these anecdotes are far too elaborate. Yes, I'm no Old School uptite prude, but there needs to be a limit.