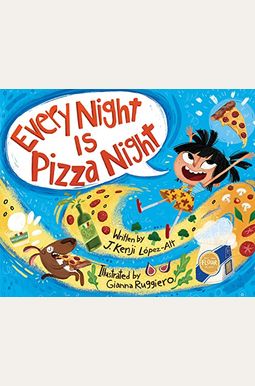  
Every Night Is Pizza Night
Book Overview
Pipo thinks that pizza is the best. No, Pipo knows that pizza is the best. It is scientific fact. But when she sets out on a neighborhood-spanning quest to prove it, she discovers that best might not mean what she thought it meant.
Join Pipo as she cooks new foods with her friends Eugene, Farah, Dakota, and Ronnie and Donnie. Each eating experiment delights and stuns her taste buds. Is a family recipe for bibimbap better than pizza? What about a Moroccan tagine that reminds you of home? Or is the best food in the world the kind of food you share with the people you love?
Warm and funny, with bright, whimsical illustrations by Gianna Ruggiero, Every Night Is Pizza Night is a story about open-mindedness, community, and family. With a bonus pizza recipe for young readers to cook with their parents, Every Night Is Pizza Night will make even the pickiest eaters hungry for something new.
Frequently Asked Questions About Every Night Is Pizza Night
Book Reviews
(9)
Did you read Every Night Is Pizza Night? Please provide your feedback and rating to help other readers.
So impressed!

Derived From Web

, Apr 9, 2021

This is such a cute book. The girl in the story reiterates how she will try these other foods for science, and my boys loved that! It opened the door to them trying new things and telling me it is for science ''. It was so neat to see the different people and different foods throughout the story and how it brought food in each home to a special place in their hearts. Buy it! Worth every penny!
Cute book, we enjoyed it!

Derived From Web

, Mar 7, 2021

I bought this because of the postcard ad I saw in the copy of the Food Lab, which I bought recently for myself. My toddler is already an adventurous eater and had eaten many of the foods mentioned in the book before we got it, but she absolutely loves this book and insists on reading it every night for the first few weeks after we got it, it is still a regular favorite. The illustrations are beautiful and the subtlety at which it encourages individuals to consider other cultures through food a lot of redeeming value right now. I have long believed that social diplomacy could solve a lot of our food ails. I would actually recommend this book for parents of children who are picky eaters, since the plot of this book approaches this topic with care in a way that might encourage trying new things.
Too hard to read, even as an adult

Derived From Web

, Dec 29, 2020

Like others who gave this book less than 5 stars, i found it super difficult to read. I love the concept and Kenji's work, but its very chaotic. The pizza recipe is great for older children, but is definitely doable! Nice touch. Nice touch. If they resold this book with cleaner visuals, I would buy it again and replace it with the one I got for my nephew.
A must have for the modern foodie kiddo and folks learning to love food!

Derived From Web

, Nov 5, 2020

Bought bought two-one for our children and one for our son's school library for his birthday. Our kids loved it! We loved it! We loved it! Son's class loved it! Son's class loved it! His teacher, who knew of the book, was so excited to be gifted the book. It really reads well and normalizes multiple cultural ways of eating and keeps it through the eyes of fun and childhood. That night we made pizza and so did our son's teacher.
Introduces multiple cusines but very busy

Derived From Web

, Sep 10, 2020

Cute book and great at introducing different food types from multiple cultures. The pages are very busy and good for a little one who follows the colors. This busyness does make it a little difficult to read.
Expanding Horizons

Derived From Web

, Sep 3, 2020

We love Kenji in our house, and this book did not disappoint. It addresses amazing eating and diversity and it's just picky. Highly recommended if you have a kiddo with that one preferred food, 2 - want a beautifully illustrated book with diverse characters or 3 - enjoy any of Kenji's works!
Delightful book about exploring new food genres

Derived From Web

, Sep 2, 2020

Can more than one food be the best? This is a delightful book that follows Pipo as she explores new food genres from her neighbors in an attempt to scientifically prove that pizza is in fact the best food of all. Unfortunately for her, she struggles with the results of all her tests, as it turns out there are a lot of other amazing foods out there! This book is made even more fun by the artwork inside the book. I've shared a few glimpses without giving away anything, but the illustrator had a lot of fun with this book and shows. This book would be the best for children who can follow a storyline, probably beginning at the age of three. My 2-year-old isn't quite ready yet for it, but I ordered a copy already as a gift for my kindergarten-aged niece. Overall, this is a fun book that helps kids not only explore new foods, but also explore different cultures, which we could all use a little more of.
Great Drawings, Great Food Vocabulary

Derived From Web

, Sep 2, 2020

I ordered this for my nephew and as expected with anything K Jenji Lopez-Alt puts out, it is high quality and uses a lot of exciting food terminology. Excited to message my nephew subliminally with a global food vocabulary that is higher than his parents'apos ; lol.
Food! Science! Fun! Inclusivity!

Derived From Web

, Sep 1, 2020

I'm a big fan of everything that Kenji does, so I couldn t wait to receive my pre-order of this book. My child loved it! It is exactly what you would expect from Kenji in the form of a children's book. We can 't wait to try Fipo's pizza, but we'd love to make farah's tagine too!