Buy 3 Get 1 Free
Our Best Sale Yet! Add 4 Books Priced Under $5 To Your Cart     Learn more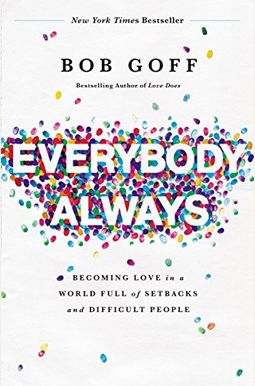  
Everybody, Always: Becoming Love In A World Full Of Setbacks And Difficult People
Book Overview
What happens when we stop avoiding difficult people and simply love everyone?
In his wildly entertaining and inspiring follow-up to the New York Times bestselling phenomenon Love Does, Bob Goff takes readers on a life-altering journey into the secret of living without fear, care, constraint, or worry. The path toward the outsized, unfettered, liberated existence we all long for is found in a truth as simple to say as it is hard to do: love people, even the difficult ones, without distinction and without limits.
Driven by Bob's trademark hilarious and insightful storytelling, Everybody, Always reveals the lessons Bob learned--often the hard way--about what it means to love without inhibition, insecurity, or restriction. From finding the right friends to discovering the upside of failure, Everybody, Always points the way to embodying love by doing the unexpected, the intimidating, the seemingly impossible. Whether losing his shoes while skydiving solo or befriending a Ugandan witch doctor, Bob steps into life with a no-limits embrace of others that is as infectious as it is extraordinarily ordinary. Everybody, Always reveals how we can do the same.
Frequently Asked Questions About Everybody, Always: Becoming Love In A World Full Of Setbacks And Difficult People
Books like Everybody, Always: Becoming Love In A World Full Of Setbacks And Difficult People
Book Reviews
(14)
Did you read Everybody, Always: Becoming Love In A World Full Of Setbacks And Difficult People? Please provide your feedback and rating to help other readers.
Everybody always ought to read it.

Derived From Web

, Oct 4, 2019

Everybody should always read this book! Everybody should read it all! '' Funny, profound, brought me to tears and made me laugh out loud! But most of all, it became very convicting as to what I actually do with my Christian life.
Could have been called "How To Love Like Jesus"

Derived From Web

, Sep 12, 2019

I read this book to discuss at a women's retreat. I ended up reading most of it to my children because it is such an interesting take on how to love people the way Jesus did. An excellent book. I highly recommend it! I highly recommend it!
Inspiration in this read

Derived From Web

, May 30, 2019

Bob Goff does a fine job of storytelling with Bob Goff. He takes time to relate a variety of real life experiences that are both amusing and challenging to the reader, yet personally attractive and attainable if one applies the moral of each to their own experience. Good read, good read.
This book is so inspiring and heartfelt!

Derived From Web

, Dec 15, 2018

This book will inspire you to love Jesus like. Bob's stories of helping others is at a level that most people never know their entire lives. I pray that his book will ignite a deeper passion of compassion within others, which will be the momentum to keep making this world a brighter and better. Bob thanks you for writing this book! You're amazing!
Being Jesus

Derived From Web

, Nov 9, 2018

People sometimes ask : What would Jesus be doing if he were here on Earth, what would his life look like? I wouldn 't be surprised if it would look a lot like the stories that Bob Goff shared in this book. Give it a read, it is all about seeking His kingdom and righteousness first. Oh yeah, and it's also really funny!
The Best that seems like the Worst when you first look at it.

Derived From Web

, Sep 12, 2018

What can we say? The book says almost all of it. All the stuff that matters. It is a book about TIME, our most important and fundamental resource. The life is always about relationships. Relationships are based on trust. Trust is based on Integrity. This is what matters, what matters. And results in an excellent life.
We are called to love everybody, always!

Derived From Web

, Aug 27, 2018

I was introduced to this delightful author first when I read Love Does and enjoyed reading every bit of it. When I heard it from Everybody, Always... I knew that I had to get my hands on it. The first few chapters had me laughing silly and then reaching out for the tissue box within the first few minutes. Anyone who reads what Bob writes would agree that he has a way to catch you into his world and experience what he went through with so little words and yet in a deep and profound way. Bob manages to convince me that no matter what we fight, they are fighting a battle you know nothing about and because of that, we are to love everyone, always. Especially those with whom you disagree. And that is the chief crux of the ministry of Jesus. He taught us to love the sinner, not always the sinner!
Love does it again!

Derived From Web

, Jun 24, 2018

I m speechless. I didn 't think there could be a better book than Bob Goff's Love Does '', but he did it again. He challenged me to love everybody always. I needed this challenge because it is easy to forget or make excuses for all reasons why I shouldn 't love someone. Nevertheless, it took Bob, Charlie and a witch doctor to convince me otherwise! Witch Doctor?! Witch Doctor?!! I know! I know! If you want to read what I mean... you have to understand this book. You won't regret it. Be ready... it's life changing. Once it is over, you will definitely not be the same once it's over. After all, love does this to us. Bob thanks you, Bob.
Great book!

Derived From Web

, Jun 15, 2018

I read Bob Goff's book Love Does and enjoyed it greatly. I have read Love Does by Jean Goff and truly enjoyed it. This book is no exception. It is no exception. Bob's writing style is a mix of humor and truth that works together to deliver a powerful message. The challenge to love everyone always as Jesus does, is not easy, but we can strive to do nothing less if for nothing else than the honor and glory of God.
I'm so sad it's over (but this is just the beginning)

Derived From Web

, Jun 1, 2018

Have been savoring this book, allowing myself only one chapter every few days. Finally finished and I so wish there was more. Cried in nearly every chapter, in almost every chapter. Bob Goff is one of the most inspiring and so humble people alive. I am not religious or at all Christian, so as you can imagine, I don 't read a lot of books about Jesus. This book is a lot of Jesus in it. And a number of religious teachings. But even for someone like me, the messages are beautiful and resonant and I agree with all of them. I use the same words or imagery just not the same. And I didn 't feel different for being wrong. Regardless of who you are, you can feel the love that comes through in this book. For you and always for everybody. And Bob Goff should win an Oscar or a Pulitzer or whatever you get for storytelling. But that part of the award is for the life you had to live to have the stories to tell.