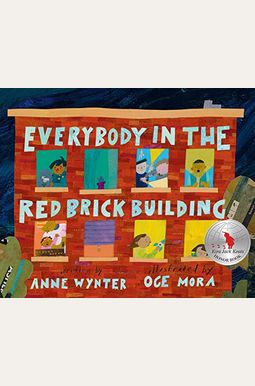 
 
Everybody in the Red Brick Building
Frequently Asked Questions About Everybody in the Red Brick Building
Books like Everybody in the Red Brick Building
Book Reviews
(8)
Did you read Everybody in the Red Brick Building? Please provide your feedback and rating to help other readers.
A book dancing with sound and color that nevertheless will lull kids to sleep

Derived From Web

, Jan 21, 2022

A book dancing with sound and color that will still put lull children to sleep. The story is bookended by an extension of the title Everybody in the red brick building was asleep '', at the beginning the residents of the building are awakened by a cascading ripple of sounds from the other apartments, making this a delightful read aloud. After it ends with a car alarm, the residents begin to settle with the softer, comforting noises of falling to sleep. The last spread is very touching and should bring children to sleep. Anne Wynter's close prose and onomatopoeia make this a treat for both the reader and the listener. Of course, Oge Mora's textures and bright colors layered with even more colors make this similarly a treat for the eyes.
Cute but simple story

Derived From Web

, Nov 21, 2021

Got this for my six year old who is looking for more books to read out loud. There were words with which she needed help, but it was an engaging read for her to start and finish. She enjoyed the different way in which people were waking up and making the noises of all the things that are waking up. The artwork is great, and I read it to my younger child at bedtime. Highly recommended to add some style to your bookshelf of your child.
Contemporary Classic

Derived From Web

, Nov 9, 2021

I just love this new brand new bedtime book, EVERYBODY IN THE RED BRICK BUILDING, by debut author, @anne_wynter and @oge_mora. A variety of urban sounds soothe the sleepers in the red, brick building, but one-by-one the more rhythmic sounds of the night awaken the sleepers into a slumber. This is a contemporary classic that should not be missed. #readaloud #bedtimebook #picturebook #picturebook
A Must-Get for Children's Bedtime (and Anytime, Really)

Derived From Web

, Nov 3, 2021

What a wonderful book! I loved its circular nature, beginning with the different sounds from the living in the red brick building to the soothing sounds that anyone could hear at night. When I was younger, I wish I could have read this story to my children, and had fun with all onomatopoeia. And the illustrations... and the use of color, texture, and patterns is divine and a treat for the eyes! I think you'll want this book to be placed on the shelves of children's books.
A brilliant bedtime readaloud!

Derived From Web

, Oct 28, 2021

Everybody in the Red Brick Building is asleep until one wakes up a series of events that affects the building's residents. A brilliant urban read-aloud complete with captivating artwork. If you have littles at home or kiddos to calm down in your classroom, this is a must!
Instant Classic: Our New Favorite Bedtime Story!

Derived From Web

, Oct 27, 2021

The cumulative story begins with an apartment building where everyone is asleep, builds to a crescendo as the sounds awaken the inhabitants and then returns to a peaceful calm as everyone goes back to bed. In addition to being an absolute joy to read thanks to all the fun sounds, it is so special to have the apartment building setting brought to life in vivid color by one of Oge Mora's illustrations. An incredible debut by Anne Wynter – I can 't wait for her next book to be published! If you're still reading this review... buy the book! , actually, buy multiple copies because this makes the perfect gift!
Best gift for the kids in your life

Derived From Web

, Oct 27, 2021

Ellen truly has a gift and this book is such a special read. Her words paired with the beautiful drawings make this such a enticing book not only for children to enjoy, but also for adults to read a book with them. It is a great book to share in your life with every kid.
What a charming book!

Derived From Web

, Oct 22, 2021

This wonderful book at bedtime has kindness, warmth and makes such a sweet music to the ear when read aloud. I love it.