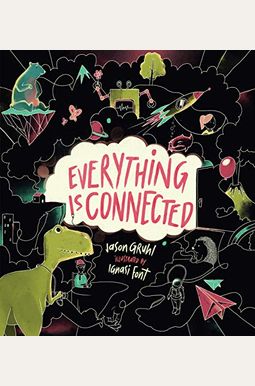  
Frequently Asked Questions About Everything Is Connected
Books like Everything Is Connected
Book Reviews
(10)
Did you read Everything Is Connected? Please provide your feedback and rating to help other readers.
I wanted to love this

Derived From Web

, Mar 19, 2019

I actually liked this book much more than I did. Wonderful to see children's minds open to seeing things beyond themselves. Letting them know that everyone and everything has a place and is also fantastic and is important. But the book did not get there for me somehow. It was too much connected rambling for a book about connections. Perhaps if it was rewritten in a way that made it flow better, or perhaps if it was just shortened. In my opinion, it was just too long and circuitous to be a good read.
Simple but powerful message

Derived From Web

, Mar 19, 2019

It gives a simple but powerful message to help children integrate what they already know deep inside. My 3 year old son loves the book because it has a picture of T-Rex. Every time we read the book he turns to the picture of the green dinosaur and reports with the cutest smile that he is connected to T-Rex. My 11 year old son did not say that he liked or disliked the book, but turned the page more than once with pictures of Jesus and Buddha. I see him thinking and looking at it. He does not yet ask questions.
Beautiful in illustrations and words!

Derived From Web

, Mar 12, 2019

What a delightful feast for the eyes and mind of children and adults alike. I shared a copy with our local library and were thrilled with the appearance, content and beautiful sturdy binding too. Congratulations to the authorillustratorpublisher for bringing this thought provoking, eye-popping piece of literature into our world!
You are the universe, perfect and whole

Derived From Web

, Mar 5, 2019

The book is in love with me. I bought it first as a positive message for my son, but have found it was also beneficial for me! '' A wonderful reminder of how humans are no different than other creatures, and a general sense of kindness for all things is apparent in the book. This messaging is perfectly countered with mostly black backdrops and muted, pleasing colors with a string running from cover to close. The more you start looking at it, the more detail you see. I can 't wait to read him to my son and talk with him about how powerful and how much fun I know he will be!
A Powerful, Universal Message

Derived From Web

, Mar 4, 2019

Everything is connected delivering a powerful, universal message in a playful and spontaneous way. The words of Gruhl are light and effervescent and ripe with meaning and density. Font's illustrations are dreamlike and exciting. The perfect accompaniment to the lyrics is the text. This book is a timely reminder of the interconnectedness that humans share with all things. It reminds us that it is our responsibility to participate actively as a compassionate being in the world. I highly recommend this book for you, your child or your child-at-heart.
A Beautiful Little Book With A Really Big Message

Derived From Web

, Mar 3, 2019

I thoroughly enjoyed multiple readings of EVERYTHING IS CONNECTED with my grandson as we explored all the pages. Jason Gruhl writes brilliantly about silly connections that help make the world a little smaller while bringing a little clarity to some of the bigger questions of life. Some of the prose gets ripped by itself, but is really a joy to read. I was surprised that the connection line was not fully utilized from page to page, though there is still a great flow from page to page. I have enjoyed this book greatly and will see repeated readings with my great grandson. B -- C -- B
This book connects kids to everything worth talking about!

Derived From Web

, Mar 1, 2019

As soon as we opened Everything is connected in the mail, my six-year-old daughter immediately opened it and started reading. I did what I could to explore this book with her. We found that this book is not only beautifully written, but has illustrations that brought my daughter into a new world of relationships, smart, exciting and touching concepts and wonder. This is a book we will read time and again. Its rhythmic simplicity invites young readers to explore deeper concepts and spawn new discussions that connect parent to child and everything between and beyond.
Insightful and fun for everyone!

Derived From Web

, Feb 28, 2019

The author has created a simple story that expresses the world as connected and all that we influence in every part of our world. The story is written and illustrated with children in mind by using amusing illustrations and word combinations that will bring a smile on a child's face. At the same time, it will bring an understanding to children and their parents that the world is you and I and everything is in it. thank you for a pleasant and comforting read...
Kids Will "Get" It

Derived From Web

, Feb 26, 2019

First, the cover of this book is so engaging, both visually and by touch. Well-designed and engineered to be read and re-read many times. Secondly, the illustrations are beautiful on their own and compliment how they tell the story. And finally, children will truly GET that everything is connected -- the good, the bad, the ugly and the sublime. A wonderful lesson for children of all ages.
A sweet and powerful book for all ages!

Derived From Web

, Feb 7, 2019

I bought this book for my nephew and a copy for myself. I loved the message that no matter who we are, where we are or what species we are, we are all connected. Hearing a message of togetherness and the reminder that we can all stand to remember our divine connection to all things is just what children and adults need to hear in our current climate. It loved it absolutely!