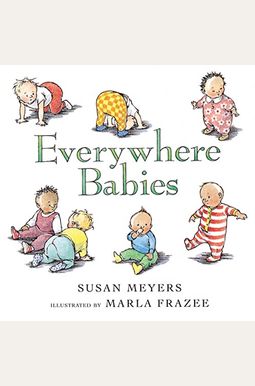 
 
Frequently Asked Questions About Everywhere Babies
Books like Everywhere Babies
Book Reviews
(15)
Did you read Everywhere Babies? Please provide your feedback and rating to help other readers.
A sweet and charming book

Derived From Web

, Apr 20, 2022

This is such a sweet board book, the illustrations are so charming and I love the gentle depictions of lots of different kinds of people, families, and parenting styles, Sosa said. It was the best of all my 20 month old, who loves looking at babies in real life and in books, was fascinated by the illustrations. She loved having this book read to her, but she also wanted to look through it on her own. This would be a great present, it's beautifully done, said Gillian.
Great book from baby to toddlerhood

Derived From Web

, Apr 20, 2022

This book is well loved in our house and I have given it as a present several times. It's great to see that kids seem to enjoy it from a young age well into toddlerhood, and I love that it depicts diverse family types, feeding styles, etc. If you want to see all the great illustrations, you can't go wrong with the board book.
Love the illustrations

Derived From Web

, Apr 20, 2022

Marla Frazee's pictures are so wonderful, Joanie Loves Mr. Kennedy said. The baby turns 1 and the illustrations end there. My favorite present for friends and family was a "Happy Birthday" card.
Encouraging, Loving, Appreciative, Rhyming Rhythmic Fun

Derived From Web

, Apr 20, 2022

There are just a handful of books like this for children. Simply reaffirming how amazing kids are and how much we love them each, while also encouraging awareness of our not being alone, our baby's place in a world of many babies at different stages. It highlights differences between us all while emphasizing what we all have in common. I've had many, many, many, many, books that I absolutely love and so do my son. He is 4 now we started reading this when he was about 8 months old and he still flips through it often. Another board book that has lasted four years as quick as a cricket is
Exquisite

Derived From Web

, Apr 7, 2021

The illustrations are exceptional and just make you warm and happy inside. What a great deal of realism babies! It was for my niece's first birthday and I felt this book excellently depicted her. There is a full two center pages of a baby who looks exactly like her, which was so refreshing and special. The storyline and artistry are subtle, so it's not crying out notice my individuality or diversity but merely making it so. It was simply, I felt at home in this book, and I hope my niece does too.
Love this book!

Derived From Web

, Jul 9, 2020

It has become my little one's favourite book. McCartney has made it a point to request the ace's autograph every day. Only a handful of books for children show the world through the eyes of a grown-up. Beautifully drawn, the illustrations by Brian L. Heinebold are also very eye-catching.
Your babies will love it!

Derived From Web

, Feb 29, 2020

This is one of my favorites. My twin boys absolutely adore it. I love all the different families that were depicted.
Very sweet book

Derived From Web

, Aug 6, 2018

This book is so sweet and I love that it portrays the widest variety of people and babies! My son does not love it but he is not as into babies as some other kids his age so it might just be him.
and being loved. He finds it very reassuring

Derived From Web

, Feb 9, 2018

I almost fell in love with the book, the text in this book. It's perfect for bedtime reading, the repetitive and rocking text says. My almost 3 1/2 year old son LOVES to have this read to him and requests it most nights. He also told us that when he was born, he was absolutely thrilled to hear the babies being kissed, held, and being loved. Mr. Kennedy finds it reassuring that the government won't abandon him. The book's illustrator, Douglas Lindner, also drew a number of family-type illustrations representing lots of family types and a wide variety of appearances. In the book, the people look like they're from the real world, which is very nice.
poor condition, not new quality.

Derived From Web

, Jan 21, 2018

The story is cute, and the size is just right for little hands, he said. The covers have dents and marks, the edges of the pages are discolored and have permanent marker on the edges, and the sticker seals have been opened and won't stick. The buttons don't look very appealing. As I intended to place them in giftbags for paying clients, they won't work for that purpose.