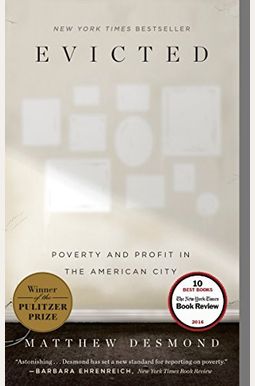  
Evicted: Poverty And Profit In The American City
Book Overview
This Description may be from another edition of this product.
NEW YORK TIMES BESTSELER - WINER OF THE PULITZER PRIZE - NAMED ONE OF TIME'S TEN BEST NONFICTION BOKS OF THE DECADE - One of the most acclaimed books of our time, this modern classic has set a new standard for reporting on poverty (Barbara Ehrenreich, The New York Times Book Review).
In
Evicted
, Princeton sociologist and MacArthur Genius Matthew Desmond follows eight families in Milwaukee as they each struggle to keep a roof over their heads. Hailed as wrenching and revelatory (
The Nation
), vivid and unsettling (
New York Review of Books
),
Evicted
transforms our understanding of poverty and economic exploitation while providing fresh ideas for solving one of twenty-first-century America's most devastating problems. Its unforgettable scenes of hope and loss remind us of the centrality of home, without which nothing else is possible.
NAMED ONE OF THE BEST BOKS OF THE YEAR BY President Barack Obama - The New York Times Book Review - The Boston Globe - The Washington Post - NPR - Entertainment Weekly - The New Yorker - Bloomberg - Esquire - BuzzFeed - Fortune - San Francisco Chronicle - Milwaukee Journal Sentinel - St. Louis Post-Dispatch - Politico - The Week - Chicago Public Library - BookPage - Kirkus Reviews - Library Read More chevron_right
Frequently bought together
Frequently Asked Questions About Evicted: Poverty And Profit In The American City
Books like Evicted: Poverty And Profit In The American City
Book Reviews
(13)
Did you read Evicted: Poverty And Profit In The American City? Please provide your feedback and rating to help other readers.
Heart wrenching. Eye opening.

This book provides an up close look at authentic stories of homelessness and the exhausting lives of those trying to break themselves out of its vicious cycle. It forces you to not look away but instead, feel intimately close with a group of those experiencing one of life's loneliest journeys. It's a humbling read that will leave you grateful for what you have and eager to help others.
I have been reading wonderful novels, histories

Derived From Web

, Apr 20, 2022

My reading addiction has been strengthened this spring and summer by the circumstance of being physically confined. I have been reading public novels, histories and wonderful policy books. I write now because I must recommend an eloquent masterpiece that combines the best of all three genres. Matthew Desmond's book is Poverty and Profit in the American city of Eviction by Matthew Desmond. Desmond provides fascinating footnotes to validate his observations, and at times both funny and heartbreaking, his revelations about the particular families with whom he lived are powerful : When I was growing up, I would sometimes hear the hateful phrase, the great unwashed, which is forever buried by Desmond's research. Finally, his public policy recommendations are neither right nor left, but smarter than either has been. Please consider reading Evicted if you have any.
Thorough research and a view into the underbelly of the rental problem for the poor.

Derived From Web

, Oct 9, 2020

The author fails to draw his own implications that sometimes it is not the rental situation that causes hardship ; it is the renter. He proves that both socioeconomic status and poor choices do in various poor in the city of Milwaukee, but he does not seem to put responsibility at the doorstep of those who make poor choices, even though again and again people are shown to be involved in crime, not working to improve their lot, etc. That said, the research is amazing and this author turned up so much detail about these people's lives that it is really as if the reader becomes one of the people in the book.
Must Read

Derived From Web

, Aug 8, 2020

I bought this book when it came out first and I just got around to reading it. The timing was perfect as it has given me new insights, one that is far more empathetic for those who are homeless and those with repeated evictions. During this time of racial and push for pandemic equity, this book is a must read for anyone who wants to make a better America.
Reality check

Derived From Web

, Dec 13, 2019

Anyone who works with or has an interest in those who are unsheltered MUST read this, anyone who works with. This book should be required reading for any intro sociology class as well. Easily digestible and comprehensive. The problems facing families and individuals living at or below the national poverty level will only continue to grow and the options they have become fewer on a regular basis. Evictions are the starting point of a lifelong struggle and I believe that it is every American's duty to understand their plight, no matter what side of the political isle you are on. This book is magnificent.
Exceptionally well written

Derived From Web

, Nov 10, 2019

I chose to read this book because I saw Bill Gates had read it and recommended it. I wanted to see if the information felt authentic and if there were any solutions to help the impoverished and evicted. I learned more than I thought I would. If they care about humanity, every literate person in America should read this book if they care about America.
Stayed with me for a long time

Derived From Web

, Jan 9, 2019

I still think about this book many months after finishing it ''. I did not know or realize how much the loss of a home can affect people in so many ways, nor how a cry for needed help could get one evicted. As a public educator, I see a number of people making really bad choices and sometimes I want to shake them bc of what they do to their children, but being poor is a terrible disadvantage.
Fascinating but grim

Derived From Web

, Sep 8, 2018

The book is read in only two sittings : read the book in just two weeks. It was grim but engrossing. It saddens me to know that people have to live like this. It also made me afraid of how close I could be to their situation. I don 't rent, but also live pretty close to the financial edge. It is scary to know that there are so few safety nets for people. Read all the end notes too. Very well researched and documented, very well. My only quibble was my frustration with the bad choices made by some of the displaced tenants. The solution isn 't with housing itself, but with a service to educate people on making wiser decisions to avoid the evictions in the first place. Mothers, especially those who were raised in poverty, need to be trained on how to change their situation so that they can stop or slow the ongoing cycle of poverty, poverty.
Disappointed for a Pulitzer winner

Derived From Web

, Aug 15, 2018

Talked about many problems causing evictions, but offered only one solution : throwing money at these people, even after he acknowledged that people feel better for earning their keep.
The writing is so engaging and you learn so much about how "the system" works to grind poor people down again and again

Derived From Web

, Jul 9, 2018

For every American, this should be a required reading. This is the clearest portrait of poverty and violence that I have ever read-and Desmond is right that it all starts with housing. The research that is done is astounding. The writing is so engaging and you learn so much about how the system works to grind poor people again and again. Reading really important is really important. Ben Carson could perhaps benefit greatly from this book-then he could do something to help.