Buy 3 Get 1 Free
Our Best Sale Yet! Add 4 Books Priced Under $5 To Your Cart     Learn more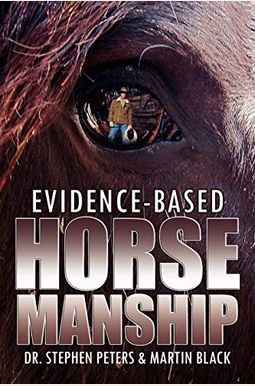 
 
Evidence-Based Horsemanship
Book Overview
Most horsemen agree that timing, feel, and balance are the holy trinity of horsemanship. They are also key elements of this book. The timing couldn't be better. We are in the midst of a revival of interest in horsemanship. People are hungry for factual information and intelligent conversation. The feel of the book is genuinely refreshing and original. It is unpretentious, straight forward and informative. The balance is brilliant: scientific facts and the empirical evidence to support those facts assembled by two highly respected professionals in their respective disciplines. (RANDY RIEMAN)
Frequently Asked Questions About Evidence-Based Horsemanship
Books like Evidence-Based Horsemanship

Book Reviews
(10)
Did you read Evidence-Based Horsemanship? Please provide your feedback and rating to help other readers.
There's a reason why Tom Dorrance and Ray Hunt were two of the most brilliant horsemen to ever grace this planet - they were ...

Derived From Web

, Jun 1, 2022

A MUST read book for horse lovers and trainers! There is a reason why Tom Dorrance and Ray Hunt were two of the most brilliant horsemen on this planet ever. They were cowboys, not scholars, but when we learn the science behind what they knew intuitively from their lifetimes spent with horses. Stephen Peters explains the science and Martin Black gives real life examples of horse behavior. This lucky pairing of scientist and horseman is a much needed information source. This is the best practice of horsemanship, not just theory. As a training trainer who specializes in horses injured by poor training, I highly recommend this.
A very important book!

Derived From Web

, Jun 1, 2022

I am a trainer that summer, working with a couple of horses with very hot nervous systems that started bucking for different reasons. Having studied the subject of human brain imaging over the last few years, I was wondering if there was a book available with cutting edge info comparing the human brain to the horse. Would it be possible to bring the brain of a horse to level 10 from a nervous system level 6 to say a level 6? I got my answers from this book - I read it again and again to absorb all it told and confirmed. There are many things I do in schooling horses because it works for me and is common sense. This book confirmed why my ideas work and also gave me some enlightened approaches to apply. Was so glad to see someone competent say that a quick round of penning can be a mistake. Many thanks to the authors for writing this important edge, cutting book. I hope it brings the horsemanship to a new level.
Predictable Zombie Apocolypse

Derived From Web

, Jun 1, 2022

A concise book of natural facts about how the horse has survived for thousands of years in the wild and how best to apply them to domestic horses to keep them physically and mentally healthy. Too often humans interfere with their own perceptions of what is best for the horse, feeding them in barns, housing them too much grain without enough pasture time to not only graze, but also mobile. This book really helped put some factual basis behind much of how I think horses should be treated to keep them healthy and sane.
Great book that makes it easy to understand what is happening with your horse.

Derived From Web

, Sep 26, 2021

I liked how Dr. Peters broke it down for ease of understanding what can be a complex topic. It helps to understand why the horse is responding the way he or she is, so that you can support them more effectively in learning and bonding.
A breakthrough in my training program

Derived From Web

, Aug 1, 2021

As a 40-year-old horsewoman, I am always looking for ways to communicate with my horses better. This book did 2 things : a) it confirmed my suspicions about why things were working periodically and b) it did and brought results when I tried these techniques. I think that someone has to reach the point of desperation before they try something so unique, but IT WORKS. Not easy, but with practice it can bring an entirely new level to a horseman's communication level with his horse. I have experienced moments when my horse thought before I thought I even responded to the thought. I am a dressage rider so that is important and visualizing a movement before I attempt it brings clarity to myself and my horse. If nothing else opens this book, this book opens possibilities in your training.
Not really finished?

Derived From Web

, Jun 13, 2021

Here there is a lot of good, solid scientific content that is easy to apply if you have a previous understanding of human brain function of horses. I kept hoping that Martin would jump in and offer more examples of what it looks like and this is how you apply it. It was like reading a proposal for a thesis that was not yet polished.
Best Horse behavior book I've read. Short , to the point and easy to understand. This book has a shelf life for any horseman. I would recommend this book ti amateurs and profesionales

Derived From Web

, Feb 20, 2021

Great to read and easy to understand. Great for amateur riders or professionals. Highly recommended.
Amazing equine knowledge

Derived From Web

, Mar 19, 2020

This edited book should be required reading for horsewomen and men. Packed with trustworthy, practical information, based on science and skilled practice. Worth checking out and having in your library.
A MUST READ FOR HORSEMEN

Derived From Web

, Dec 30, 2018

This book gets down to the nitty gritty of how horses do what they do. It gives you an insight into their very soul and lets you understand what goes on in their minds. It is one of the few books that you should read if you are into horses. As far as horses go, Martin Black is right there with Buck Brannaman, Tom Dorrance and a few others.
Our horse trainer recommended this book when we first got our horses

Derived From Web

, Feb 1, 2018

It was perfect for a first time owner and also for a seasoned horseman. It displaced some myths that have been circulating in the horse world for years. It also helped me to read my horses'body language better. The collaboration between these two experts could not have been better. It is the kind of book that you would want to hang as a reference. I read it two years ago and am now ready to read it again.