BLACK FRIDAY DEALS CONTINUE - SAVE 20% AT CHECKOUT WITH CODE CYBERBOOK. Learn more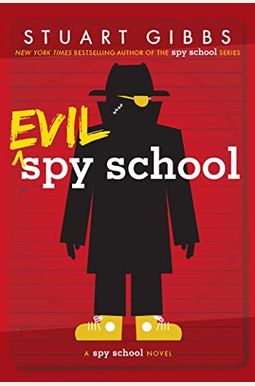 
 
Book Overview
This Description may be from another edition of this product.
When Ben gets kicked out of the CIA s spy school, he enrolls with the enemy. From New York Times bestselling author, Stuart Gibbs, this companion to the Edgar Award nominated Spy School and Spy Camp is rife with action, adventure, and espionage.
During a spy school game of Capture the Flag, twelve-year-old Ben Ripley somehow accidentally shoots a live mortar into the principal s office and immediately gets himself expelled. Not long after going back to the boring old real world, Ben gets recruited by evil crime organization SPYDER.
And he accepts.
As a new student in SPYDER s evil spy school, which trains kids to become bad guys with classes like Counter Counterespionage and Laying Low 101, Ben does some secret spying of his own. He s acting as unofficial undercover agent, and it becomes quickly apparent that SPYDER is planning something very big and very evil.
Ben can tell he s a key part of the plan, but he s not quite sure what the plan is. Can Ben figure out what SPYDER is up to and get word to the good guys without getting caught before it s too late?
Frequently Asked Questions About Evil Spy School
Book Reviews
(9)
Did you read Evil Spy School? Please provide your feedback and rating to help other readers.
I love this series!

Derived From Web

, Feb 14, 2022

I like this series by Stuart. My son, who is 10 years old, would happily read these on his own, but since we still do the whole story thing, I have to keep these put aside for us to read together. Both of us are cracked up by them. Ben Ripley was ousted from Spy School and recruited to Evil Spy School, run by SPYDER, the world's leading evil organization. Ben accepts assuming he's on an undercover mission. Comedy and danger are involved. There are two new characters added to the series, one of which is Nefarious Jones, who Ben meets his first day at Evil Spy School. I was happy to see the ending hint at their return in the next novel. I' ll be reading until the end of this series.
Great Page Turner!!!

Derived From Web

, Feb 14, 2022

I have read the whole series. The best book was the first one. I really liked the characters in this book and the new side ofErica that was shown at the end of the book caught my attention. I would love to see Nefarious and Ashly in a book. I liked the end of the book where I saw the reports of Ben andErica, and I hope there will be another book in this series. I would recommend this to a friend, even though the book was a little overpriced for the kindle version, as they are not using any paper for this.
Good read (subjective to the readers point of view)

Derived From Web

, Feb 14, 2022

I can confirm that this is a book. The words the author wanted on the pages were there. I didn't notice the ink run on the cover and pages, they were in good condition. You have to read the content and story.
All three boy grandkids really liked this series

Derived From Web

, Feb 14, 2022

The three boy grandkids liked this series. They are 10 to 13 years old. First, read SPY school, then SPY camp and finally this book. Three people are waiting for the next sequel. I was told to read these books by all of them. Yes, I did like them. It is fun to talk to the boys about the characters in the books.
ot wasbad

Derived From Web

, Jan 2, 2021

I am not happy with the book, it makes my brain go bunga moar. The brain and me would like a revised version.
Pre teen loves it.

Derived From Web

, Sep 29, 2020

The 11 year old boy loves this series. As he did the others, read it in a couple days. The rest of the books have been ordered. I think I need a new book case for his collection.
Another hit

Derived From Web

, Sep 25, 2019

The first book of this series was great because it was the first book in the series and I love reading it. The second and third books are as good or better than the first one. I was ready to purchase another one. This story is not predictable. There are many twists and turns in a book.
Great middle school series

Derived From Web

, Sep 2, 2017

Our kids love this series. I liked the first two. I would recommend this series to anyone trying to get a reluctant reader to read.
Well worth it if you have a 10 year old!!!!

Derived From Web

, May 29, 2017

My son likes these books. He's not a bad reader, but he's not a good one either. Sometimes we have to find a subject for him to read for pleasure, but we don't have to punish him or anything. He's 10, a normal kid, could sit inside and watch TV or ride his bike outside all day and come back covered in mud or play video games. He sat in his room and finished the book after winning a prize from his teacher. My son is a normal 10 year old boy who sees a squirrel out his window and it is all over for him. The book is long. We immediately purchased the rest of the series. He went on a campaign to force the rest of the house to read them all as well.