Buy 3 Get 1 Free
Our Best Sale Yet! Add 4 Books Priced Under $5 To Your Cart Learn more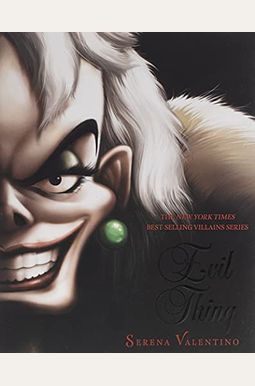 
 
Evil Thing-Villains, Book 7
Book Overview
Cruella De Vil is the perfect villain: stylish, witty, relentless.and possibly cursed.
From her lonely childhood, to her iconic fashion choices, to that fateful car crash (you know the one), Cruella tells all in this marvelous memoir of a woman doomed. Even the cruelest villains have best friends, true loves, and daring dreams. Now it''s Cruella's turn to share hers.
This latest novel by the author of the wildly popular and darkly fascinating Villains series brings readers a tale told by the Evil Thing herself--a tale of the complicated bonds of female friendship, of mothers and daughters, and of burning, destructive desire.
After all, nothing is as simple as black and white.
Frequently bought together
Frequently Asked Questions About Evil Thing-Villains, Book 7
Book Reviews
(15)
Did you read Evil Thing-Villains, Book 7? Please provide your feedback and rating to help other readers.
great addition to the series!

Derived From Web

, Nov 1, 2021

It was a really cool way to tell the story of the actress, Elizabeth Taylor said. In a generous gesture of compassion, the author gave us a backstory of the princess herself. I really enjoyed how this one was told by the writer, J.R. Cruella. It was great to be friends again, said Blair. It's a little odd not having all the usual characters, but I enjoyed it, Morgenthau said. I also found the ending so intriguing, it alluded to her appearing in future books, Sosa said. Also the jade earrings have set us up for a Captain Hook story, and I am so here for it!
Best one of the whole series!!

Derived From Web

, Oct 12, 2021

So I haven't read the final book, but I just finished this last one on Cruella and it was awesome!!!!!!!!!!!!!!!!!!!!!!!!!!!!!! All the books in this series are quick reads, but I usually read a little here and there and finish in a few days, so I don't mind waiting. I finished this one in one sitting, Mr. D'Antonio said. I must say, seriously good. At first I thought I would like it as much as the others because the others are fairy tales, and this is normal people and nothing magical. It was great to be back home, said Blair. There were a few things that seemed to have magical powers, but nothing concrete. I just bored the Lady Tremaine book so we'll see how I like that one in comparison, Mr. Dhaliwal said.
Meh

Derived From Web

, Jun 21, 2021

The book didn't connect with the other books as well as the other books were interlaced, it was a bit disappointing. Only a connection is there from the story books she liked to read and it left on a Clift hanger that makes you think there will be another story to follow, but the next book is Cinderella's story. This was the only book that didn't line up with the movie, which was intentional since cruella told me, but frustrating as the others were a side by side account.
My Favorite Book of the series

Derived From Web

, Mar 4, 2021

wow, I just had to leave a review because I really loved this book, and I can read it alone without needing to read the rest first. The real villain in the story is cruela's mother, whom I was made so mad at several occasions. A mother can be a person's weakness and this was the situation for cruella. I never thought of him as a criminal. She just loved her mother and her only wish was to please her so that her mother could love her and be proud, she said. It was so unfortunate what happened to cruella's husband, Michael Schiavone said. She should have never signed her mother's will. Even after she was told by her mother that she was being left with nothing, Cruella refused to give up the fight. She was the evil one, Michael McKeon said. It is no wonder Cruella went crazy and became obsessed with making the perfect fur coat that would make her mama proud and love her again. My heart felt her pain from having it all to have nothing and having no one left, Tunick said.
Not the best in the series...

Derived From Web

, Feb 7, 2021

I love the Villains Series and I wanted so much to be in love with this one, but it was hard to get through and a bit boring at times. I don't know whether this was an approach to setting the tone for the next books or not but what I missed most was the linking between each series. It's so many of the previous books mentioned 'Hades, help me' or something of the like that I thought that would've been the perfect villain next to do and still link to the overall story line. Obviously, she's a huge fan, but just not of this one.
Just ok if

Derived From Web

, Jan 28, 2021

I am obsessed with the whole series and have loved each and every one of the books, except this one. It doesn't have a strong tie to the others, and the whole premise of Cruella's origin was underwhelming. Maybe if I'd read it as a stand-alone book, I would have been unexcited by the line between good and terrible.
Great additions to a classic tale

Derived From Web

, Nov 6, 2020

It's another successful addition to the Villains series. It's great to get to know these guys before we actually know them. In his autobiography, "Open Range," he said: "I was a constant struggle between two identities. Even though Harrison and Fassett were married, little was woven into her backstory. It brought us full circle in the end and through some of the events in the movie, Tunick said. Great book, said Dr. Robert Heininger, professor of medicine at the University of Pennsylvania.
fun read

Derived From Web

, Aug 20, 2020

I was really happy that Serena made Cruella's story have something to do with her falling in love, Hepburn said. This book was a fun read, and I think that it was written with good creativity, McBride said.
LOVE SERENA VALENTINO

Derived From Web

, Aug 20, 2020

I am a HUGE Disney fan and reading these tales about the villains we love to hate brings so much joy. Thanks for the wonderful work.
It was good but...

Derived From Web

, Aug 13, 2020

If you've read any of the other books, you'll enjoy this one, but it's very loosely tied into the other books and what we've been building to with the sisters and how they're all intertwined. However, Cruella's story was great, no doubt about it, it was just almost totally separate from the rest of the series and gave no foreshadowing as to what character storyline we'll be following next.