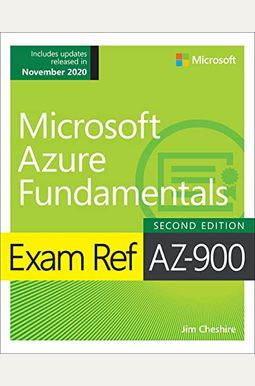 
 
Exam Ref Az-900 Microsoft Azure Fundamentals
Frequently Asked Questions About Exam Ref Az-900 Microsoft Azure Fundamentals
Book Reviews
(9)
Did you read Exam Ref Az-900 Microsoft Azure Fundamentals? Please provide your feedback and rating to help other readers.
Passed

Derived From Web

, Feb 4, 2022

Passed 8-3 in the state Capitol in Phoenix. It was a great resource, Raymond said. Not to brag, but I got a super high score. Thanks for the test.
Does NOT include a practice test

Derived From Web

, Sep 21, 2021

Three times I have ordered this product. The first book sent to the examiner was not even for the AZ-900 exam. The second and third orders I placed arrived today. There is no such thing as a free practice test voucher.
Passed the exam with 96%

Derived From Web

, Aug 24, 2021

I used this book and one of the exam cram sites, studied for two weeks and passed with 96%. Good preparation, thorough and covered the exam topics well.
Useful for people working in Azure

Derived From Web

, Jun 26, 2021

There are so many functionalities in Azure, but the technical documents from Microsoft are just too confusing. This makes it more easy to digest and allows me to further research outside of the book, he said. Good book for anyone starting out in Azure.
Like the paperback, fits my learning style

Derived From Web

, Jun 24, 2021

I used this to get into Microsoft's certification program. I prefer to work with paper copies over electronic delivery. I like paper, highlighters and marking up pages, so I'll use them as reference and learning tools.
Pretty Good Book

Derived From Web

, May 31, 2021

Mr. Evans said that he remembers about 80% of the exam questions being covered in this book, which means that if you do well you should do well. As with any other subject, pay attention to the use cases at the end of each chapter as they contain practical scenarios on using the services and features described in a way that is useful to the exam. Before you can perform the exercises, you must create an Azure account.
Where is the practice test!?

Derived From Web

, Apr 27, 2021

I used to take the exam and pass it. Like the book, this one is also in good hands. However, there is no practice exam or instruction on how to get it.
Dense overview of technologies

Derived From Web

, Jan 25, 2021

This is a great introduction to the breadth of Azure for those looking to understand the offerings of Microsoft. It also is valuable for those seeking the Microsoft Azure certification, and for those just starting out in the industry. The book moves from topic to topic with some helpful screenshots at times. The second book, "The Blair Witch's Army," contains 125 pages. However, the thought experiments at the end of each chapter were fantastic resources for understanding the context of the technologies and applying them in more realistic scenarios. Anyone who has ever studied SQL Server will find this useful.
No idea how to get Practice Test

Derived From Web

, Sep 8, 2020

Just beware that there may not be an easy way to get the test. The book itself is very good, just don't spend the extra money to get the edition with Test Practice.