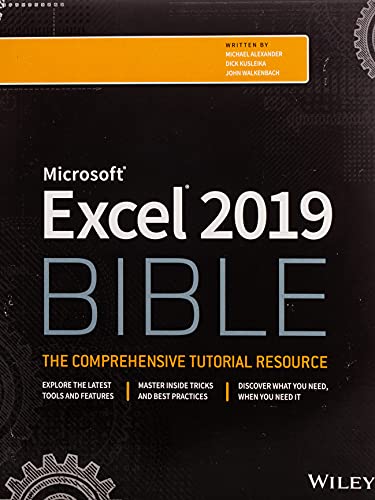 
 
Book Overview
Encyclopedic coverage on the most widely used platform spreadsheet in the world
Excel(R) 2019 Bible is the must-have for everyone using Excel--from beginners and intermediate users to actual power users. Even if you think in spreadsheets, this one-of-a-kind resource offers hundreds of pages of Excel tips, tricks, and techniques you can't find anywhere else. In addition to providing everything you don't know about the new updates and features in the latest release of Excel, it opens levels of higher productivity, faster, with valuable hacks to creating formulas, charts, and other visualizations, as well as managing and analyzing data.
Get the most out of Excel 2019's powerful new features and start making functional spreadsheets that work
Customize downloadable templates and worksheets to streamline your transition
Work from an authoritative reference of best practices for optimizing formulas, data analysis, pivot tables, and more
Maximize all the features of Excel 2019 by following the tutorial chapter by chapter or diving in for specific information
Enhance your capabilities and performance on the job and managing your home
Frequently bought together
Frequently Asked Questions About Excel 2019 Bible
Books like Excel 2019 Bible
What should you read after Excel 2019 Bible Book? Here is a list of books to read if you read and loved Excel 2019 Bible

Book Reviews
(8)
Did you read Excel 2019 Bible? Please provide your feedback and rating to help other readers.
Written for excel on PC, works on a Mac.

Derived From Web

, Mar 13, 2022

The book is well written and I really like it, consider myself an intermediate user, said Robert B. Williams, assistant professor of accounting at Carnegie Mellon University. Only on my Mac, I have found the locations of some of the buttons, or the terms are slightly different. The two formulas are the same: one for measuring oxygen and the other for measuring sulfur dioxide. Invest in the book and get ready to really streamline your spreadsheet process.
Biblical

Derived From Web

, Feb 16, 2022

It should not be called a review, but rather a general introduction to the book. To be fair, I never have, nor do I intend on reading this from front to back, but I use it as a manual when I am trying to do something new in Excel. However, you can probably find all the answers to most of your problems with a quick search on the internet. If you think about it, the average Joe would probably have a few thousand dollars to spend on a new car. if your employer thinks you are an Excel wiz, do you want them to go into your internet search history and find something like, "how do you format cells as a table" or "list of Excel formulas"? Yes, technically, you can sue, but you don't get sued.
This is the MOST definitive MS Excel book I've ever laid hands on

Derived From Web

, Feb 7, 2022

55 PROS book has EVERYTHING you need to learn about Excel None _ a long time goal of mine was to become Microsoft Certified with Office and to learn some kind of training course. I'm not saying I'm willing to do all three, but I think I'm willing to do it. Whenever i get serious i have to pop up and I get dragged away. Excel has EVERYTHING you want to learn about Excel and it's laid out in easy to digest chapters, only thing is - it's a LOT of info!
Exactly what I was hoping for its perfect!!!!!!!!

Derived From Web

, Nov 26, 2020

Everything about this book is clear and explains it well. Whether you are a beginner or expert, it will teach you how to do from the most basic to the most complex. The book is over 1,000 pages and has pictures of every page. I tried using some videos, but noticed they missed steps while explaining and kept getting stuck. It's great to have such a great product, said Dr. Brian Lamb, director of the federal Centers for Disease Control and Prevention. Note that this is not Office 360 but I am using Office 360 and still find my way around. Happy birthday, Mr. Kennedy! It's great to be back home, said Blair.
Files Don't Match Book

Derived From Web

, Oct 12, 2020

However, I am trying to use the downloaded files to replicate the originals. It's possible an illustration is shown without a file reference. I clicked through every file trying to find one, only to have it crash and burn. In some instances, the file may not be listed. Note the subheading of this terrible parable in the "Narrated" series, "Chapter 5." The downloaded files don't have that one, but they do have Loan Payment Calculator, which is not the same file. My rank is not because the book is poor, but because the associated files are incomplete.
Does not communicate clearly.

Derived From Web

, Apr 7, 2020

Very large, very clear, very large in size, very small in clarity. In an attempt to cover all the bases, this book spends too little time on each subject. It's better to try a narrow focus text.
Not Applicable to Microsoft Excel for Mac

Derived From Web

, Jan 21, 2020

The author or Amazon should have stated this upfront before selling it on Amazon. com. I only found out about this incompatibility when I open the book and noted on the introduction software version pages Xlii and Calc. It's probably an excellent book for Windows users, too.
Looks good, but not all worksheets available

Derived From Web

, Feb 4, 2019

The book assumes you have access to some of the worksheets. It gives a URL to download the example worksheets, but there are a couple of caveats. At first, I couldn't find the worksheet file. If I use Firefox or Edge, I don't see any problems. Simply put, with Google Chrome, there is no download button. I am therefore updating my review from one star because the original version was based on the belief that the worksheet file was simply not available. Worksheets have no examples. For example, one worksheet discussed in chapter four is not available in the download, edited to correct my earlier one-star version.