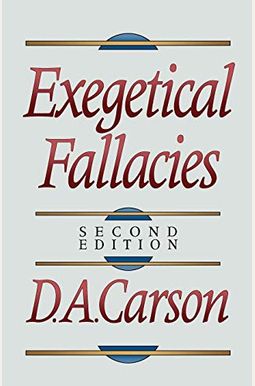 
 
Frequently Asked Questions About Exegetical Fallacies
Book Reviews
(10)
Did you read Exegetical Fallacies? Please provide your feedback and rating to help other readers.
Points out fallacies on one side of an argument, and then makes huge assumptions on the other side.

Derived From Web

, May 27, 2022

The book does indeed point out several types of great fallacies and is that exegetical. I am disappointed that it points out exegetical fallacies on one side of an argument and then presents huge biased debatable positions as fact for the other side of the argument. It digs critically into the analysis of one side of an argument and then glosses over possible errors on the opposing side. It explains well types of fallacies. It seems to take a very biased way in the examples used and points out only fallacies in one side of the argument.
good study but difficult reading

Derived From Web

, May 27, 2022

It is a must have for pastors who are really serious about teaching the word of God with fear and trembling. The theme is extremely difficult and difficult to read, but necessary.
Take your time on this one.

Derived From Web

, May 27, 2022

I thought this was a very good book with excellent examples ''. But I have to admit that most of the examples lean methodically on grammar and linguistic explanations and leave little room for explaining spiritual insight that comes only from meditating the word of God.
Exegetical Fallicies.

Derived From Web

, May 27, 2022

I have no doubt that Dr. Carson knows exactly what he is talking about, in fact, I recently saw him in Boston, but the book is not what I expected, and thus it does not hold my interest. I am hoping that I have some good information gleaned from it by the time I finish it.
Highly recommend

Derived From Web

, Jan 2, 2020

Some Exegetical interpretations of the Scripture have gotten so ingrained in us by constant repetition that I think poor fallsacies should be mandatory reading for anyone who is preaching or teaching the Bible. As others have stated, the middle section on Hebrew and Greek is slightly difficult to follow if you have no experience in these languages, but you can still get something from it. The introduction alone is one of the best things I read that year.
A very well-written and helpful guide

Derived From Web

, Apr 5, 2019

Exegetical fallacies are written very well, clear, concise and to the point. It will serve as a guide for any teacher or preacher in interpreting God's word. It is by no means an exhaustive list of how to interpret Scripture correctly, but is a good guide to get any student of Scripture on the right path. I even came across some errors I have been guilty in the past, but Carson was clear in his reasonings and explanations, encouraging growth in the reader's personal studies.
Very Academic.

Derived From Web

, Oct 29, 2018

Relevant topic for scholars and not for everyone. If written in a more understandable language, more people could profit from the study.
I would recommend this for anyone who wants to learn how to ...

Derived From Web

, Aug 5, 2018

When it comes to exegesis, Carson is a highly recognizable author. This book actually starts with his apology for revealing the fallacies in exegesis that many people make when reading the Word of God. These fallacies also extend into other books as well, such as textbooks, history books, even simple narratives or stories. Many people read and cite Carson's book as authoritative for college-level essays. I would recommend this for anyone who wants to learn how to read the word correctly with the interpretation meant by God, not man.
Thumb on pulse of common mistakes in handling the Word teachers make

Derived From Web

, Jun 9, 2018

This book is helpful in understanding some of the common mistakes we can make in handling the Scriptures at times. The focus of evangelicalism is the winning of souls, but not necessarily cared about exegesis. But it is the duty of the pastors to teach the word to their utmost capacity. This is a good tool to remind those not seminary-trained of some of the common pitfalls that evangelical interpreters fall into.
if you are not an expert in Greek and Hebrew like me then you really cannot know the Bible

Derived From Web

, Jul 10, 2017

His main point is that if you are not an expert in Greek and Hebrew, like me, you can not know the Bible. Shut down and stay while we tell you what it really says. Does point out a common misuse of Greek and Hebrew, which was welcomed.