Buy 3 Get 1 Free
Our Best Sale Yet! Add 4 Books Priced Under $5 To Your Cart     Learn more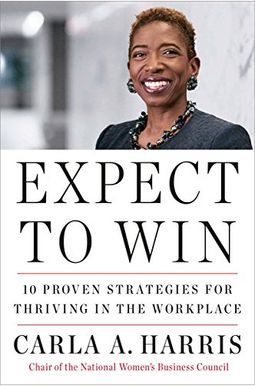  
Expect To Win: Proven Strategies For Success From A Wall Street Vet
Book Overview
Updated in 2017 with a new author's note and chapter on building effective business relationships

Penned by an exceptionally bright woman whose ideas will enlighten you, brighten and brilliantly ignite vision in all who read it. Out of the matrix of her wisdom emerges a book that will revolutionize your life and may very well alter your thinking as we go into a new era of time. A must-read --Bishop T.D. Jakes, New York Times bestselling author of Reposition Yourself: Living Life Without Limits

Carla Harris, one of the most successful and respected women in business, shares advice, tips, and strategies for surviving in any workplace environment. While climbing the corporate ladder, Harris had her own missteps and celebrated numerous victories. She vowed that when she reached senior management, and people came to her for advice, she would provide them with the tools and strategies honed by her experience.
Carla's Pearls have become the centerpiece for her many speeches and television appearances. Now, Carla shares these valuable lessons, including: - Authenticity: The Power is You
- The Ninety-Day Rule
- Perception is the Copilot to Reality
- The Mentor, the Sponsor, the Adviser: Having Them All
- Leverage Your Voice
- Balance is a Necessity: Use Your Passions to Achieve It
- Expect to Win: Show Up with Your Best Self Every Day
Expect to Win
is an inspirational must-read for anyone seeking battle-tested tools for fulfilling their true potential.
Frequently Asked Questions About Expect To Win: Proven Strategies For Success From A Wall Street Vet
Books like Expect To Win: Proven Strategies For Success From A Wall Street Vet
Book Reviews
(16)
Did you read Expect To Win: Proven Strategies For Success From A Wall Street Vet? Please provide your feedback and rating to help other readers.
book is true...read it for ideas on how to deal in the workplace

Derived From Web

, Jun 1, 2022

Here are many good thoughts. It is very true that it is more about who is your buddy at work than on performance. You have to play the game a little bit at least, or you will be shunned. However, sometimes there are unfair advantages that you can NEVER overcome, such as being female... or not the same ethnic background as your boss and friends. Women are valued for sex appeal and deferring to men in the work place... yes it's 2011-but this is still true, no matter what the folks say. Depending on your career goals and pace, you want to move up to... button your shirt to these levels. Work hard and pray that you get a good boss who is not typical ''. This book has good tips for professional environments... but underlying all professionalism.. is bias and sexual tension and unresolved power issues... and yes, I am ticked about it... but this book will give you some great guidelines on how to cover yourself professionally. The rest is murky.
Expect To Win

Derived From Web

, Jun 1, 2022

The book will inspire you to live a better life. If you have been searching for a jump start for yourself, then you must buy today and read Expect To Win! Carla talks about her pearls, learned lessons. My favorite is to climb the corporate ladder in your professional career, don 't be afraid to ask your boss for what you want and expect it. I took this advice and was blessed behind it. I sincerely hope that 2009 brings you many blessings and read it today! 2009 : Jenise La Vel Super Make It SHINE!!!!
Buy It,Read it and change the way you look at situations for the better!!!

Derived From Web

, Jun 1, 2022

Expect to Win is a must read for anyone who wants to learn how to communicate effectively what you want and who you are to others. I do not work on Wall Street, but I am able to apply all the lessons in this book in my everyday life. The author gives you advice and presents an action plan that anyone can follow, I have used Carla's pearls and they work! Believe me, buy it, read it and then live it!
Dynamic Speaker

Derived From Web

, Jun 1, 2022

I recently had the opportunity to speak with her! I was myself an entralled by her message and she was dynamic! Her message is just what women need to hear in the work place to help them change or enhance the perspective of those they work for and work with! AAB is an AB professional baseball organization.
This book will re-energize and uplift you!!

Derived From Web

, Jun 1, 2022

Expect to Win is a book that everyone, regardless of gender or profession, should read. It has sound advice for us all, from the business person to the self-employed entrepreneur. The author's advice is valid today in these tumultuous times, as it is in more bullish markets. I bought it for my 79 year old mother, who read it avidly and says she is learning a lot. Thanks Carla Harris for inspiring us to expect the best and the most each day!!!
Expect to win

Derived From Web

, Jun 1, 2022

All of the examples are real life examples to which I was able to relate.
This is my gift to college graduates every year

Derived From Web

, Jan 2, 2022

But it is never too late to apply these nuggets of wisdom. I use Carla's pearls to help me navigate my journey as a CEO. I share the pearl about the different types of mentors with my mentors. This pearl is also helpful in my business, as I think about how to leverage my relationships. Carla, thank you for this ageless wisdom.
Fantastic and inspiring

Derived From Web

, May 29, 2021

What an amazing and inspiring book i finished reading just. She touches on many topics that are so important for someone who is just starting a career or a little confused about where their career is going. It is a must read for women, especially for young girls, recent graduates.
Great book

Derived From Web

, Apr 29, 2021

Carla is a pearl of the book, but above all for someone who weathered the storm to reach back and let those walking into the storm are priceless.
Strategic and On Point

Derived From Web

, Feb 20, 2021

For close to twenty years, I have worked in corporate finance, over which time I read many business books. This is the first practical and applicable guide to provide a strategy on how to create your brand image at work. How we are perceived by managers and coworkers is critical to our ability to be promoted and rewarded for our contributions in the workplace.