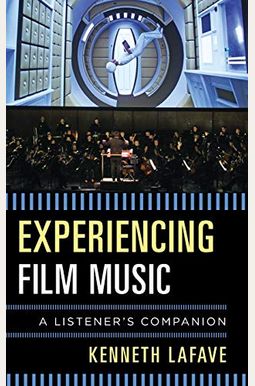 
 
Experiencing Film Music: A Listener's Companion
Book Overview
Of all the elements that combine to make movies, music sometimes seems the forgotten stepchild. Yet it is an integral part of the cinematic experience. Minimized as mere background music, film scores enrich visuals with emotional mood and intensity, underscoring directors' intentions, enhancing audiences' reactions, driving the narrative forward, and sometimes even subverting all three. Trying to imagine The Godfather or Lawrence of Arabia with a different score is as difficult as imagining them featuring a different cast. In Experiencing Film Music: A Listener's Companion, Kenneth LaFave guides the reader through the history, ideas, personalities, and visions that have shaped the music we hear on the big screen. Looking back to the music improvised for early silent movies, LaFave traces the development of the film score from such early epic masterpieces as Max Steiner's work for Gone With the Wind, Bernard Herrmann's musical creations for Alfred Hitchcock's thrillers, Jerry Goldsmith's sonic presentation of Chinatown, and Ennio Morricone's distinctive rewrite of the Western genre, to John Williams' epoch-making Jaws and Star Wars. LaFave also brings readers into the present with looks at the work over the last decade and a half of Hans Zimmer, Alan Silvestre, Carter Brey, and Danny Elfman. Experiencing Film Music: A Listener's Companion opens the ears of film-goers to the nuance behind movie music, laying out in simple, non-technical language how composers and directors map what we hear to what we see-and, not uncommonly, back again.
Frequently Asked Questions About Experiencing Film Music: A Listener's Companion
Book Reviews
(0)
Did you read Experiencing Film Music: A Listener's Companion? Please provide your feedback and rating to help other readers.
No customer reviews for the moment.