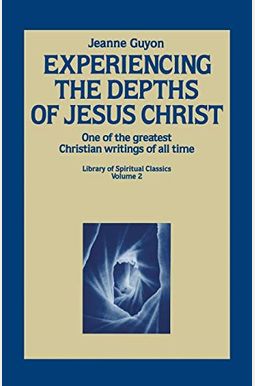 
 
Experiencing The Depths Of Jesus Christ
Book Overview
One of the most influential spiritual books ever penned, even secular historians acknowledge the great impact Experiencing the Depths of Jesus Christ has had in Christian history. Madame Guyon is generally credited, even by her enemies, as being one of the best-known women in church history. Will Durant, in his Story of Civilization, recounts the impact of Jeanne Guyon's life and writings on French history. At one time this book was publicly burned in France and yet it has also been received by seeking Christians as one of the most helpful and powerful Christian books ever written. Penned by one of Christianity's most famous saints, Jeanne Guyon, it has played a major part in the lives of more famous Christians than perhaps any other Christian book. Here is the very first edition written in modern English. This book will introduce you to a whole new-and deeper-relationship to Jesus Christ.
Frequently Asked Questions About Experiencing The Depths Of Jesus Christ
Books like Experiencing The Depths Of Jesus Christ
Book Reviews
(12)
Did you read Experiencing The Depths Of Jesus Christ? Please provide your feedback and rating to help other readers.
An old book but a very contemporary read. Madam ...

Derived From Web

, May 20, 2022

An old book, but a very contemporary read. Madam Guyon may be the first to put his pen to paper on the subject of practicing his presence. She solves the problem for any believer who finds it difficult to get quite before the Lord in prayer without their mind wandering.
Practical steps to reverently approach God

Derived From Web

, May 20, 2022

Far from being a book answers to your prayers in 3 easy steps. Guyon methodically lays out a practical method of how to approach God with honor and reverence and submission. In our modern lives and scattered thoughts it is more important than ever to heed the advice of this godly woman to return to a quiet and reflective discipline of prayer. For God to listen, we must be willing to speak and obey. Guyon offers essential advice to build a loving life of communion with our Holy Savior for all who are willing to pursue Him, Catholic or Protestant or in between any denimination. She is not focused on doctrine for the sake of doctrine. But it is all for the purpose of building up love and prayer to Jesus Christ alone.
This is a very nice book - they don't try to impress anyone with ...

Derived From Web

, May 20, 2022

This is a very beautiful book - they don 't try to impress anyone with high spiritual ideas. It is simple to read and calming in its easy simplicity.
Classic

Derived From Web

, May 20, 2022

An old classic, which is still relevant today. For those who desire a closer relationship with their Lord, it is a worthwhile read.
Rich Teaching

Derived From Web

, May 20, 2022

This wonderful book is small for anyone who wants to grow spiritually. Experiencing a deep well of Jesus Christ written a long time ago. It is timeless. I would highly recommend it. Wonderful teaching, and rich for spiritual growth.
Deeper relationship with Jesus

Derived From Web

, May 20, 2022

With Jesus, this book took a deeper and more intimate level. A definite must for those who want to go deeper.
Awesome book

Derived From Web

, May 20, 2022

I recommend this book to anyone who has a heart after the Lord and wants to walk in intimacy.
Deep & awakening

Derived From Web

, Oct 14, 2021

This book is more than I expected ; every chapter has a new encounter that unravels inside your heart. It has produced so much longing in my heart to love Jesus just and to desire nothing more than to please Him. It literally revealed the way to shut out all in this life that is not necessary and the intense need to know our Lord more and more and to be consumed by Him. If you are a Christian who feels that he has never been able to realize a true satisfying relationship with God, then look no further, this will open that door for you, along with the Word of God, but even that you will learn here how to feel God's word in your heart and feed it. The best book I have ever purchased!
Beware! This Book Was Not Written By Madame Guyon

Derived From Web

, Jun 13, 2020

It is a rewrite. Very different from the original, I recommend buying the original. I propose a special method of prayer, praying the heart of the father's original classic, short and easy journal edition. It has a blue cover with a picture of praying hands. Another excellent unabridged option is the unabridged collected works of Jeanne Guyon.
For those hungering for a deeeper walk with God

Derived From Web

, May 30, 2017

She was of the Pietistic tradition and one may debate some aspects of her thoughts, especially in light of the perceived dangers of today in all religions from extremism. The essence of her work is helpful and timeless IMHO.