Buy 3 Get 1 Free
Our Best Sale Yet! Add 4 Books Priced Under $5 To Your Cart     Learn more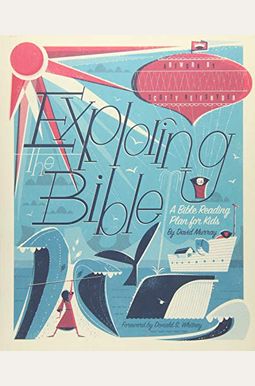 
 
Exploring The Bible: A Bible Reading Plan For Kids
Book Overview
A Journey through the Bible for Kids
Reading the Bible is like taking a trip through God's story, setting out to explore and experience the beautiful views found within. But without a map, it's easy to get lost.
Exploring the Bible leads kids ages 6-12 through the Bible one day at a time over the course of a year. For use alongside any Bible, this workbook will help them see the overarching story of God's Word and lay the foundation for a lifetime of discovering truths about God, humanity, and the gospel.
Each weekly entry includes:
Daily Bible readings
Prayer points
Memory verse
Discussion questions
Space for sermon notes and reflections
Frequently bought together
Frequently Asked Questions About Exploring The Bible: A Bible Reading Plan For Kids
Books like Exploring The Bible: A Bible Reading Plan For Kids
Book Reviews
(10)
Did you read Exploring The Bible: A Bible Reading Plan For Kids? Please provide your feedback and rating to help other readers.
Highly recommend

Derived From Web

, Jan 13, 2022

I received this book for use as the first daily devotional Plan for my 5-year-old daughter for this year. She is able to read on her own book, but I also do it with her together, as I like the book very much. We are only now in week 2. The reading plan is very practical and simple enough to be performed with young children, and I love that the questions directly point to God's Word, that my daughter can learn and hopefully remember a point each day. The questions in the book are simple and the answers are straight from the Bible verses. I've intended to prolong the discussion with my daughter based on the questions and answers. I will publish the other two books by the same author.
Great beginning Bible Study tool

Derived From Web

, Sep 30, 2020

I received this for my 7 and 9 year olds, and is an excellent Bible study tool. It brings them through the high points of Genesis through Revelation to get a bigger picture of the redemptive story arc of the Bible. I love that my children are essentially reading through the Bible, but hitting only age-appropriate texts that still help that larger picture. There are only a few verses to read for 6 days each week and space to take notes on the seventh day of your church's Sunday service. I am not sure if it would hold a preteenteen teen's interest, but I think it is an excellent beginning resource.
Great for kids

Derived From Web

, Sep 22, 2020

This devotional love is a treasure. It is short and perfect for children to begin a devotional life. The daily papers are laid in an easy to follow manner. My children wake up and do this daily and have learned quite a bit. The Sunday site works well. I wish there was a little more space for note taking. The material and the pages are in general sturdy and nice.
Vague and offers no teaching

Derived From Web

, Sep 11, 2020

We do homeschool, and I wanted my daughter to have a Bible lesson each morning that was really engaging. This tells her simply to see a Bible verse, ask one to memorize, copy one question and that's it. It is almost daily work for about 5 minutes. There is no complete paragraph on each verse that would explain what she is reading or give to the Scriptures some kind of relatable lesson. And I don 't like the website for Sermon Notes ''. Not applicable for an 8 yr old who has yet to grasp the concepts taught by the pastor and understanding the vocabulary used by the pastor.
Not deep enough for my sons

Derived From Web

, Jun 25, 2019

I purchased this for my sons to do before school in the mornings. They could just get into this study, honestly. Usually we use the Bible study of the Explorer and we have gone back to it. I think that this one was only a little dry for them and drawn out. For example, every day has a few verses to read and a question to answer. This may be beautiful for a very young elementary child, but for my 5th and 7th grade boys, who have been deeply studying the Bible for years, this was way too simplistic. The Bible study of Explorer is deeper and requires daily more from the children, with a passage, questions and prayer to complete the session. I think that this particular course of study is great for children, who are introduced to the idea of reading the Bible every day, and that is probably the whole purpose of the book. I had two mature boys and needed something more meaty. If I were at my sons just starting out at 5-7, this would be perfect for me.
Simple and Thorough

Derived From Web

, Nov 13, 2018

A few months ago, I started a Bible study with my 2nd grader. It consists of 6 teachings for each week and has a section to complete Sermon notes for Sunday. It takes 5-10 minutes to complete each day, and is able to do it independently. The studies within the book do not have interpretation or explanations. It simply takes ANTASTIC chronological and methodical steps through the Bible by following the major characters and themes. I read it with the NA NIrV version of the Bible so that my child can use the verses independently. I sit together and make sure she understands what she has read, and then there is a question from reading each day. Honestly, I think this should be developed into a Bible study for adults who were not raised knowing the basic stories of the Bible. It would truly be a blessing to have an adult interested in shepherding them through it.
The Best I've ever seen

Derived From Web

, Sep 8, 2018

I would recommend this reading plan for children highly. It is easy to read and doesn 't require reading more than 5 or 6 scriptures a day. To demonstrate to my church class my children how easy it is, we went through the entire week of reading in a class. I think that they were relieved to find out that it didn't take too long. This is a great tool to inspire and encourage children to read their Bible.
Start a daily habit of Bible reading

Derived From Web

, Jul 21, 2018

I bought one for each of my children to start this summer. It gets them to open their Bibles every day. It's great, but a quick tool to develop, what will hopefully become a lifelong habit. Once a week we look at what they have done and review the intro for the next week. I would recommend it highly!
Great little devitional for kids

Derived From Web

, Oct 6, 2017

I received this for my daughter to get into the habit of reading the Bible daily. The lessons are very short, which is good for her and there is a place for her to take notes on the sermon on Sunday. We extended her bedtime so that she can do the devotional so that she is extra excited about it.
More than a moralistic "Christian comic book."

Derived From Web

, Sep 25, 2017

I've found that most Bibles and curricles attach simply moralistic lessons to known Bible stories. On the other hand, this book encourages children to read the Bible for themselves and provides basic questions to direct them to the overarching redemptive narrative found in Scripture. If you're looking for an entertaining Christian - comic - book replacement, this is probably not for you. If you're looking for a great tool for encouraging your children to dig into the truths of the Bible for yourself, I highly recommend this book!