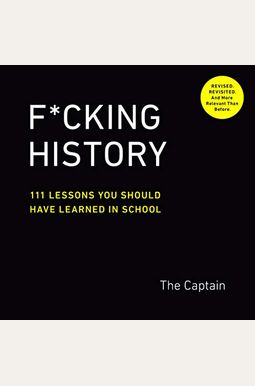  
F*cking History: 111 Lessons You Should Have Learned in School
Book Overview
History that doesn't suck: Smart, crude, and hilariously relevant to modern life.
Those who don't know history are doomed to repeat it. Too bad it's usually boring as sh*t. Enter The Captain, the ultimate storyteller who brings history to life (and to your life) in this hilarious, intelligent, brutally honest, and crude compendium to events that happened before any of us were born. The entries in this compulsively readable book bridge past and present with topics like getting ghosted, handling haters, and why dog owners rule (sorry, cat people). Along the way you'll get a glimpse of Edith Wharton's sex life, dating rituals in Ancient Greece, catfishing in 500 BC, medieval flirting techniques, and squad goals from Catherine the Great. You'll learn why losing yourself in a relationship will make you crazy--like Joanna of Castile, who went from accomplished badass to Joanna the Mad after obsessing over a guy known as Philip the Handsome. You'll discover how Resting Bitch Face has been embraced throughout history (so wear it proudly). And you'll see why it's never a good idea to f*ck with powerful women--from pirate queens to diehard suffragettes to Cleo-f*cking-patra. People in the past were just like us--so learn from life's losers and emulate the badasses. The Captain shows you how.
Frequently Asked Questions About F*cking History: 111 Lessons You Should Have Learned in School
Book Reviews
(18)
Did you read F*cking History: 111 Lessons You Should Have Learned in School? Please provide your feedback and rating to help other readers.
History everyone can enjoy

Derived From Web

, Jan 2, 2021

If youre looking for a book that has history lessons that you havent heard of, life advice, and beautifully drawn pictures, then this is the book for you. This is book historians and people just needing a life can enjoy, too. Some of the stories put your life in perspective. If you have seen the TV show "Drunk History," this book has a very similar way of telling historical stories.
So I read half of the book in one sitting...

Derived From Web

, Dec 29, 2020

I meant to read one story before bedtime as something to bring my mood up, but the power went out a few nights ago and I went through half of the book under a light like no one's business. Super and fun way too how the stories are written, you will wish the author was a friend of your creatives cuz he seems to make anything sound interesting and intriguing. Sad that I'll be done with the book soon but hopefully he keeps producing and we'll keep on buyingin', he said. Great gift to my own self but you should buy it for yourself or for anyone you might think will enjoy some time away from the gloom and doom of present day stuff going on around. Overall, it gave me a feel good vibe while reading and the stories are told in an unique way that you get to learn more about history of mankind.
Entertaining, hilarious and a good pick me up anytime you pick it up.

Derived From Web

, Dec 12, 2020

I've been randomly laughing at this content since the first story of this book was published. In the photo I shared with this review you'll see my friend who couldn't resist flipping through the entire book before I had. She was laughing like a giddy 13 year old boy while simultaneously reading hilarious life-lessons to her daughter. It took her four attempts, through squeals of laughter, to pronounce bone phone a term brand new to her. Once I got my turn with the book, I couldn't keep it to myself. I sent photos of entire stories to my sister, Tinder matches, best friend and almost my ex boyfriend as well, as it was that good. He didn't deserve the laughs and the insight it provides, so I stayed strong.. He didn't deserve the laughs and the insight it provides, so I stayed strong. Inspired by the lovely ladies in this book, I suppose. Anyone who needs a gift idea for anyone? If so, your grandmother would probably appreciate the humor and could relate well to the stories. It's just that I'm not kidding. Good stuff.
The Captain rocks

Derived From Web

, Nov 19, 2020

The author is fricken amazing, his perspective on things and the way he breaks them down just makes sense.
Buy the book!!

Derived From Web

, Nov 11, 2020

I'm not a woman of many words, which makes this book perfect for me. It's funny, insightful, and informative, Levine said. Captain Nemo is a master at keeping it simple. His readings, both in this book and Instagram, brighten my day!! And well, these days we all need a bit of sunshine in our lives. If you'll spend $ on fufu coffee then you can buy this book, you won't regret it!! Patgal35 Sincerely, Patgal35.
You will not be disappointed

Derived From Web

, Nov 11, 2020

I bought the original version for myself, my daughter, my brother and the new version is currently wrapped for my 74 year old mother. This book is an amazing piece of literature that should be, in my opinion, in the hands of all! You deserve it!
Buy it!! Don't hesitate!

Derived From Web

, Sep 7, 2020

This book is everything. It has a sleek cover, is funny, on point and informative, it's all there. You learn so much in the most fun way but also get a great motivation pushkick from it. A great bonus, especially in these times, he said. I'm using it to get through quarantine and it's definitely one purchase I do not regret. Buy it now! It's great to be back home, said Blair.
It's Carlin meets History with a twist

Derived From Web

, Sep 4, 2020

I've been following him on Instagram for a while now and was thrilled when this book dropped. I recommend curling up with this one and a really great single malt scotch.
Bucking fantastic

Derived From Web

, Aug 28, 2020

Looking for some mini history lessons wrapped in wit and served up with a few roasts dedicated to yours truly? If so, read the book.
I'm Reading This Book Twice!

Derived From Web

, Aug 20, 2020

Since reading this book, I now know enough to almost interrupt any overheard conversation with some solid history! This has suddenly made me very popular because everybody thinks I'm smart. You, too, can be as popular as me if you buy this book! Perfect for anyone with a small attention span because it is witty and each fact is brief and to the point, Morgenthau said. Indeed, I enjoy the comparisons to modern life. Captain America is witty, snarky, knowledgeable and FUN!