Buy 3 Get 1 Free
Our Best Sale Yet! Add 4 Books Priced Under $5 To Your Cart     Learn more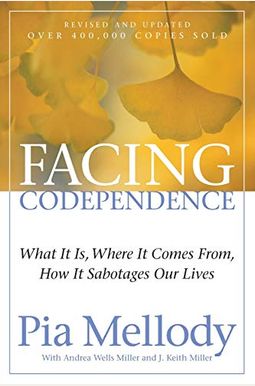 
 
Book Overview
Revised and Updated With Over 600,000 Copies Sold
Pia Mellody creates a framework for identifying codependent thinking, emotions and behaviour and provides an effective approach to recovery. Mellody sets forth five primary adult symptoms of this crippling condition, then traces their origin to emotional, spiritual, intellectual, physical and sexual abuses that occur in childhood. Central to Mellody's approach is the concept that the codependent adult's injured inner child needs healing. Recovery from codependence, therefore, involves clearing up the toxic emotions left over from these painful childhood experiences.
Frequently Asked Questions About Facing Codependence
Books like Facing Codependence
Book Reviews
(12)
Did you read Facing Codependence? Please provide your feedback and rating to help other readers.
It was good

Derived From Web

, Apr 20, 2022

The book is helpful. It could point out things that you didn't know could be causing you grief. It is sometimes difficult to follow, but mostly because this was a suggested reading and not a book. It was very helpful.
Ties up loose ends

Derived From Web

, Apr 20, 2022

I've been reading a lot of books in the hopes of putting together my childhood. This book ties up a lot of loose ends for me. It covers more of the reasons for codependence than any other book I have read. The author covers forms of abuse in detail in her book and ties codependence with addictions in a way that other books don't. I was surprised to see spiritual abuse listed, since I had never thought of it that way, but it fit my case perfectly and explained an aspect of my childhood that I had ignored. The book explains why a lot of child rearing in this society is abusive in its neglect of the child as a person.
Facing Codependency

Derived From Web

, Apr 20, 2022

A heavy book to read. Does not read very quickly. There is a lot of information. There are several pages devoted to Abuse issues related to codependency. It is worth the time to read.
Life-changing b

Derived From Web

, May 5, 2021

The book is exceptional. Every human should read this book. Every parent should read this book. Excellent information.
Potentially triggering for LGBT+ folks

Derived From Web

, Feb 18, 2021

The book doesn't reference any scientific evidence about codependence or trauma. My biggest issue with the book is the commentary on gender identity and queer identity by Mellody. I was hurt by her words as a person who identifies as gay and does not identify with gender expectations. I don't think her experience with femininity is invalid, but I will say that she frames this as the standard for the healing process. She doesn't stop there. She sounds like she's trying to define who gets to be gay, as she sounds like a self-appointed gatekeeper of the queer community.
Waste of time with a dash of homophobia

Derived From Web

, Feb 6, 2020

The book makes you feel like you need to read it, but doesn't offer any real solutions. The author uses general conditions where both sides are caused bydependency. Either you have no confidence or too much. Codependency is the cause of nearly every mood condition listed by her. Everyone is dependent. One of the stories will ring a bell when it starts off strong. There are some great insights in the first few chapters. She doesn't offer any solutions before she leaves. It's mostly just her opinion and observation. You realize she's full of baloney halfway through. I threw it in the trash when she said homosexuality is caused by sexual abuse.
Not worth it, even if you are beginner level in your recovery

Derived From Web

, Oct 27, 2018

I was sent an old version of the book, which was filled with superstition. Codependency is a survival mechanism and so studying childhood trauma in scientific research has given me more answers. Every one's journey is different and I respect her journey but it doesn't shed a light on me. It is a story of hers, ideas of hers not a thorough understanding of your own story and what's the treatment for your case. I don't like to throw away books, but I did.
Taking the understanding of co-dependence to a next step

Derived From Web

, Sep 30, 2018

About a year into my own co-dependency recovery, I read this book after reading many other books on adult children of alcoholics issues. The book seemed to be very good. It's a moment. You're a co-dependency stance if you don't look at how co-dependency develops in child-hood beyond the basic. The adult viewpoints in the book were also identified with me. In real-life scenarios, she gives examples of what those situations look like when co-dependency develops. I took a lot out of the book. I don't have children of my own, but it will be useful for me in recovery, as well as for how I help in raising my nieces and nephews.
I'm never good at writing reviews but I finished this book and ...

Derived From Web

, May 23, 2018

I finished this book and wanted to say that it changed my life, but I am not good at writing reviews. I wish I could hug the person who wrote it because I now know how to control my behaviors, instead of having them control my life. I am finally at peace with my life because of this book. I bought a few copies for friends of mine who had gone through the same things as me, and I have recommended this book to everyone. Thank you so much, I appreciate it! The book is wonderful. It was the best book I have ever read.
Buying this book is the first step toward your freedom

Derived From Web

, Oct 17, 2017

The book will change the life of anyone struggling with codependence. It has changed the way my husband and I view issues in our lives. We have not understood the underlying problems and have been unable to face many areas. From childhood wounds and abuse to symptoms of adulthood, Pia will give you insight into why you act the way that you do. We act the way that we do. We are in need of healing and an awareness of what is going on inside of us so that we can move forward in our lives and break free of the shackles that have held us in bondage for so long. Don't let your fear stop you from facing your demons. Buying this book will be the first step in your journey towards freedom.