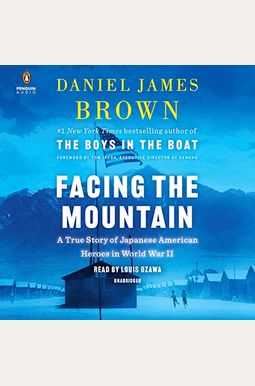  
Facing the Mountain: A True Story of Japanese American Heroes in World War II
Book Overview
A NEW YORK TIMES BESTSELER

Masterly. An epic story of four Japanese-American families and their sons who volunteered for military service and displayed uncommon heroism. Propulsive and gripping, in part because of Mr. Brown's ability to make us care deeply about the fates of these individual soldiers.a page-turner. - Wall Street Journal

A masterwork of American history that will change the way we look at World War I.--Adam Makos, author of A Higher Call

From the #1 New York Times bestselling author of The Boys in the Boat, a gripping World War I saga of patriotism, highlighting the contributions and sacrifices that Japanese immigrants and their American-born children made for the sake of the nation: the courageous Japanese-American Army unit that overcame brutal odds in Europe; their families, incarcerated back home; and a young man who refused to surrender his constitutional rights, even if it meant imprisonment.
They came from across the continent and Hawaii. Their parents taught them to embrace both their Japanese heritage and the ways of America. They faced bigotry, yet they believed in their bright futures as American citizens. But within days of Pearl Harbor, the FBI was ransacking their houses and locking up their fathers. And within
Read More chevron_right
Frequently Asked Questions About Facing the Mountain: A True Story of Japanese American Heroes in World War II
Book Reviews
(7)
Did you read Facing the Mountain: A True Story of Japanese American Heroes in World War II? Please provide your feedback and rating to help other readers.
Loyalty and Patriotism was proven

Derived From Web

, Feb 2, 2022

This story told the true story of how the Japanese Americans were treated as a race and how they struggled as Americans to prove their loyalty.
Brilliant

Derived From Web

, Oct 13, 2021

Daniel Brown does not disappoint with Daniel Brown. He is one of the best writers of our time. He is one of the finest writers of our time. His books tell stories that we must study, especially this one.
Book review - Facing the Mountain

Derived From Web

, Jul 31, 2021

This book was very interesting. It shed light on WWII... The discrimination against the Japanese Americans and their dying dedication to this country is shocking and yet their dying dedication to it.
An Incredible Read!

Derived From Web

, May 30, 2021

This first book caught me with its incredible sentence and didn 't let go until I finished it today. I learned how painful and really criminal this country's treatment of citizens of oriental descent was and how even this was amplified by Pearl Harbor. Afterwards, how heroically sons of Japanese Americans fought in the European theater in World War II, in spite of their anger at how their country treated them and their parents, and how paltry was our recognition of their sacrifice until relatively recently. A must-read for anyone who cares about American history, and especially the story of our participation in WW II, or the roots of anti-oriental xenophobia of today. I found the whole story deeply moving and thought-provoking ''. Don 't miss it!
Regret never discussing the war with my Dad

Derived From Web

, May 27, 2021

As a 3rd generation Japanese-American and son of a highly decorated 442nd member, I learned so much of my father and my mother's struggles that they never discussed. Though he remained in the army for 20 years, the discrimination and war experiences were never discussed. What an eye opener!! !
A profound read

Derived From Web

, May 21, 2021

As a former army chaplain and combat veteran, I know the struggles my family went through more deeply. I want to thank the author for including the Chaplains and their experiences. I want to thank the author for including the Chaplains and their experiences. As a sansei, I grew up with the stories of the isei and nisei, but this book gave me new insights and things to ponder.
Jaw Dropping Amazing!!

Derived From Web

, May 12, 2021

Daniel Brown is a master storyteller, and Daniel Brown is a master storyteller. He took a highly complex episode in American history and painted an exquisite masterpiece. He artfully draws you into the personal lives of our war heroes, then leads you on a gut-wrenching journey through the horrific battlefields of Europe. A truly surreal and humbling experience. Almost impossible to comprehend how these war heroes survived, persevered and succeeded during and after WWII is almost impossible to comprehend. This is one of those rare books that comes in your life once and makes you appreciate the life we live today.