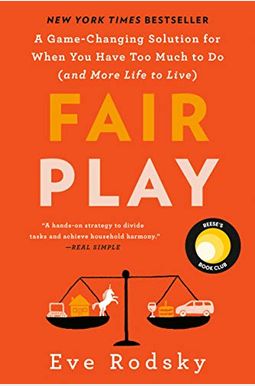  
Fair Play: A Game-Changing Solution for When You Have Too Much to Do (and More Life to Live)
Book Overview
This Description may be from another edition of this product.
A RESE WITHERSPON x HELO SUNSHINE BOK CLUB PICK
A hands-on, real talk guide for navigating the hot-button issues that so many families struggle with.--Reese Witherspoon Tired, stressed, and in need of more help from your partner? Imagine running your household (and life ) in a new way. It started with the Sh*t I Do List. Tired of being the shefault parent responsible for all aspects of her busy household, Eve Rodsky counted up all the unpaid, invisible work she was doing for her family -- and then sent that list to her husband, asking for things to change. His response was. underwhelming. Rodsky realized that simply identifying the issue of unequal labor on the home front wasn't enough: She needed a
solution
to this universal problem. Her sanity, identity, career, and marriage depended on it. The result is Fair Play: a time- and anxiety-saving system that offers couples a completely new way to divvy up chores and responsibilities. Rodsky interviewed more than five hundred men and women from all walks of life to figure out what the invisible work in a family actually entails and how to get it all done efficiently. With four easy-to-follow rules, 100 household tasks, and a series of conversation starters for you and your partner,
Fair Play
helps you prioritize
Read More chevron_right
Frequently bought together
Frequently Asked Questions About Fair Play: A Game-Changing Solution for When You Have Too Much to Do (and More Life to Live)
Book Reviews
(9)
Did you read Fair Play: A Game-Changing Solution for When You Have Too Much to Do (and More Life to Live)? Please provide your feedback and rating to help other readers.
Such a bad reflection on hetero marriages

Derived From Web

, Aug 22, 2021

This was terrible. A husband blamed his spouse for the kids not having clean socks when she was away on a business trip Who would stay in a marriage like this? I wish it addressed different family situations and that it represented healthy relationships.
Are you looking for a book to browbeat your husband with?

Derived From Web

, Feb 27, 2020

This is the book for you! Bringing this book home will make your husband feel better. If you want to make an informed decision about how much work is involved on a daily basis, you need to buy this book. Tell your husband to sit in the hot tub for an hour a day or schedule an appointment with the urologist if he is overwhelmed by the work. This is Bob's spouse. He didn't even read the book. The author did her best to not make men feel bad, but apparently they don't want to hear it.
Great book & concept but where are the cards?

Derived From Web

, Oct 13, 2019

The book and concept are great but where are the cards? The book has a game in it. There are no cards in the book. Are I supposed to make 100 cards? It is!
Most practical book I've read in 2019

Derived From Web

, Oct 6, 2019

I bought this book at the airport and it may be my most practical book of the year. It is highly recommended. I will start giving as a wedding gift. My husband is great and carries a lot of the load, but I end up carrying the thinking and planning in my family. Lots of miscommunication, lots of nagging, and lots of tasks slipping through the cracks is not good for either of us. This book gives a strategy to overcome that and makes it a game so it's fun. I flew through the book in 2 days and created a dashboard in my project management software with all the cards and columns for who gets dealt what card. Looking forward to seeing how this reduces my mental load and helps my husband feel less like I'm his boss for home and work related tasks and more like we are part of a team.
An honest account of modern-day partnerships with real solutions

Derived From Web

, Oct 5, 2019

I am sharing this with my male and female friends who are still recovering from the trauma of transitioning from a pre- kid love affair with 2 equal partners to a full-on family corporation with a ton of competing interests and stress. My husband and I relate to many of the moments in this book. It gives solutions for supporting each other to live a full and rich life. A new way to treat your family is like the most important organizational structure in your life and brings enthusiasm, planning, enthusiasm, compassion and strong communication to the household.
Ready to Play!

Derived From Web

, Oct 3, 2019

This is a must read for any relationship. The details that lead couples to bicker are directly addressed by it. In true partnership, Fair Play is a beautifully written road map to navigate the smooth running of a household. It creates a space for partners to have meaningful conversation that gets overlooked in assigning to-do's. Fair Play is positioned to change household dynamics. The bookstore has not had anything exciting in years.
A must read!!

Derived From Web

, Oct 2, 2019

I really liked this book. It is a must read for any couple who wants to find balance in their lives. The system developed by Eve Rodsky is easy to use and works. I believe the book has changed my life. I learned how to find my space tap dancing.
Grow before you know!

Derived From Web

, Oct 2, 2019

I do not have children. I'm in a committed relationship that is moving toward marriage, children and chaos. The book made for a great conversation with my boyfriend and it was very insightful. We will be able to get a headstart on understanding each other on a different level and build a force prior to marriage and children. There will be some things that we won't see coming. Life will make us win more than we lose if we have a gameplan. I have no children, but I have 4 stars. Some points were not relevant to me. I will give this 10-star rating to you if you give me 5 years.
If Only....

Derived From Web

, Oct 1, 2019

If only I had this book 20 years ago when I was married and going through a divorce. Anyone in a relationship with or without kids should read it. It was a great book. !