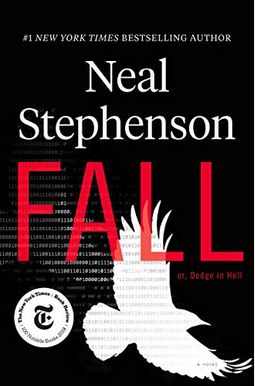  
Book Overview
The #1 New York Times bestselling author of Seveneves, Anathem, Reamde, and Cryptonomicon returns with a wildly inventive and entertaining science fiction thriller--Paradise Lost by way of Philip K. Dick--that unfolds in the near future, in parallel worlds
In the beginning . . .
In his youth, Richard Dodge Forthrast founded Corporation 9592, a gaming company that made him a multibillionaire. Now in his middle years, Dodge appreciates his comfortable, unencumbered life, managing his myriad business interests and spending time with his beloved niece, Zula, and her young daughter, Sophia.
One beautiful autumn day, while he undergoes a routine medical procedure, something goes irrevocably wrong. Dodge is pronounced brain-dead and put on life support, leaving his stunned family and close friends with difficult decisions. Long ago, when a much younger Dodge drew up his will, he stipulated that his body be given to a cryonics company now owned by enigmatic tech entrepreneur Elmo Shepherd. Legally bound to follow the directive despite their misgivings, Dodge's family has his brain scanned and its data structures uploaded and stored in the cloud until it can eventually be revived. No one knows whether a simulated brain will be the same when it is rebooted, or if something Read More chevron_right
Frequently Asked Questions About Fall; Or, Dodge In Hell
Book Reviews
(13)
Did you read Fall; Or, Dodge In Hell? Please provide your feedback and rating to help other readers.
LitRPG + Dante's Inferno + Delany's Dhalgren = Mind Blown (if a bit sleepy)

Derived From Web

, Jan 5, 2022

If you are looking for a great LitRPG novel and a sophisticated follower of REAMDE, this is a beautiful book. It did take me more effort to complete, but there are so many implications to this work that it has always led me to think powerful, new paths of logic. The progression of the plot makes a lot of sense when seen as a whole identifying the developments through each book '' helped me give a nice flow to the work. My takeaways from this book are hard to quantify - inspiring, but also sad and upsetting in a way that other Dystopian novels never made me feel. Having everything and squandering it is so much harder to justify than a losing hand.
Not quite a Fall but a stumble in the miiddle

Derived From Web

, Jan 25, 2020

Another major book by Neal Stephenson, full of technology and a look at a possible near future. The book starts strong and quickly captured my attention, I still can 't think of Moab in the same way anymore. Later on in the computer metaverse '' creation, a critical part of the plot, but difficult to follow. This critical landform creation becomes a tedious element at the end without giving away too much. I wish I could have understood it better ''. The last part of the book is extremely compelling. If you like Stephenson, read it and this could also be a means to introduce yourself to Stephenson's work.
The one star reviews are dead right

Derived From Web

, Dec 26, 2019

I am a HUGE Stephenson fan and Readme is my favorite, I was really looking forward to this book. No spoilers, but it started with Dodge great and then a major plot twist. This is going to be good, Oh. Instead, for a few months now, I have been forcing myself bit by bit to finish this tedious, unreadable slog of a novel. This signal to noise ratio is off the charts with about 100-150 good pages and 700+ pointless filler. PLEASE LISTEN AN EDITOR & GET LISTEN TO THE ADVICE YOU RECEIVE! If someone had forced you to cut this book down to 350 pages, I think it would have been a great book.
whisky tango foxtrot

Derived From Web

, Sep 30, 2019

I got everything back to Zodiac, Hell. The point is that I like Stephenson. I got excited at the Moab part, as it looked like it was about to become really interesting. From there things got terrible to the point where I really did not think I would be able to finish. One of Stephenson's most interesting mysteries is Enoch Root, who declares a mission accomplished and disappears in a magical puff of smoke. I already said I like Stephenson. It's not like I'm shocked that the book went long and needed editing - that is par for the course. But ordinarily, he makes up with tremendous high-level ideas for this. Probably he's raised his game so high that the ideas fly right over my head. I just didn 't get this one. It was a lot of work without a payoff.
Flawed, but deeply thought provoking

Derived From Web

, Jul 11, 2019

And yet -- now that I have some distance from Fall and have had time to consider it generally, and in the context of Stephenson's other works, I find it much deeper and more interesting. Yes, many of the ideas in the book don't connect explicitly, but resonate with each other. The book makes questions about the nature of our reality and poses a deeply interesting argument for intelligent design. This book would not be my first recommendation to an inchoate Stephenson fan. Start with Snow Crash or Seveneves if you like Sci - Fi. And then read the Baroque cycle once you're hooked.
Ponderous

Derived From Web

, Jul 8, 2019

I adore Neal Stephenson. I have read everything he has ever written except The Big U. I have read most of his books several times. Just not into this kind of thing. It is interesting in the way it continues a few of the familial story threads that started in the Baroque Cycle and continued in Cryptonomicon and REAMDE, but fell short conceptually. There are some interesting concepts to be certain, decent characters, but nothing compared to the books mentioned above or Snowcrash or Anathem.
Beware the quicksand.

Derived From Web

, Jul 6, 2019

Spoilers are ahead. I haven t quite finished it yet, but I found this book to be kind of annoying. The great premise was initial. The first part of the book was typical Stephenson and very enjoyable. The creation - allegory gets a bit annoying in the second part. It is like reading Genesis, expanded by 400 pages. Before I started reading, I had kind of expected Dodge to end up in the T & R world. Stephenson has loved all of my books. In their complexity, their imagination and their detail, I found them pretty amazing. By far, this is my least favorite. So far, so good. I 'll change this if the last few hundred pages make me amend my mind.
Is this SciFi or Fantasy? Yes!

Derived From Web

, Jul 6, 2019

The fall is inevitable. Or, Dodge in Hell is by Neal Stephenson this SciFi or fantasy? Neal Stephenson is one of my all-time favorite authors, and this book is why. It moves at an organic pace and allows the plot and the storylines to develop in a very unhurried manner. And what stories and characters are there! I have never read a book that sailed so well into SciFi fantasy and made it work. Just when you think you have it all sorted out, no, you don 't... surprise! And an amazing amount of very real world building, even if these worlds are not really solid. You 'll read the book, then go to Se!
Stephenson has become uneditable; as a result, he is now unreadable.

Derived From Web

, Jun 10, 2019

Unfortunately, Robert A. Heinlein and George R.R. Apparently Martin has become so successful before him, that no editor will stand up to him, and no publisher will force him to accept serious editing. That is the only explanation for this self-indulgent, nonsensical, and boring allegory-cum-digital fairytale. It consists of about 200 pages of some potentially interesting ideas, albeit improbably rendered, and about 600 pages of pointless, unengaging, and off-putting virtual '' pablum. There is no payoff in this novel, either. I doubt that even 1% of the readers who purchase it will read it all the way through. And I say this as a Neal Stephenson fan if you enjoyed the Baroque cycle, Anathem, Seveneves, et. Don 't Buy This Book '' You'll be sorely disappointed at the waste of money and, more importantly, time. And so, the unthinkable has occurred for me, at least once. I will never reorder a Neal Stephenson book, give this one a pass.
Sorry to say...

Derived From Web

, Jun 9, 2019

I'm a fan of . He read through all his books. Favorites are Anathem, Seveneves, Reamde, Cryptononomicon, but also his Quicksilver series. i like fictional short term real weird stuff. Incredibly disappointing, Fall i found sloppy. Too much was placed over the edge. Some excellent thoughts and sentences, some mind-blowing wordings, but overall disappointing. Too much was on a heap of a good thing. Not really thought tru... skipped more pages in his other writings than in his own, without losing sight of the story. I've read it with regret...