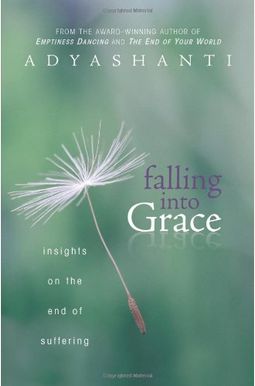 
 
Falling Into Grace: Insights On The End Of Suffering
Product is currently Out of Stock.
You can add it to your wishlist and you will be notified once we receive a copy.
Book Overview
This Description may be from another edition of this product.
Adyashanti asks us to let go of our struggles with life and open to the full promise of spiritual awakening: the end of delusion and the discovery of our essential being. In his 15 years as a spiritual teacher, Adyashanti has found that the simpler the teaching, the greater its power to change our lives.
In Falling into Grace, he shares what he considers fundamental insights that will . spark a revolution in the way we perceive life. Available in CD or book format, here is a progressive inquiry exploring:
The human dilemma--the concept of a separate self and the choice to stop believing the thoughts that perpetuate suffering
- Taking the backward step into the pure potential of the present moment
- Why spiritual awakening can be a disturbing process
- Intimacy and availability--feeling absolute union with every part of our experience
- True autonomy--the unique expression of our own sense of freedom
In the same way that we fall into the arms of a loved one or drop our heads on the pillow at night, we can surrender into the beauty and truth of who and what we really are. Falling into Grace is an investigation into the core of why we suffer. It's also Adyashanti's invitation . to be taken by a moment of grace and fall into a sense of life when it is not separate from you, when life is actually an expression of something indefinable, mysterious, and immense.
Frequently Asked Questions About Falling Into Grace: Insights On The End Of Suffering
Books like Falling Into Grace: Insights On The End Of Suffering
Book Reviews
(12)
Did you read Falling Into Grace: Insights On The End Of Suffering? Please provide your feedback and rating to help other readers.
Powerful, Stimulating Guidance to Meaningful Change

Derived From Web

, Jun 3, 2022

After reading the Kindle sample, I purchased this book concurrently with Loch Kelly's Shift into Freedom ''. For me, it provides the broad and necessary perspective for major, positive change. The text of Loch Kelly provides specific glimpses '' to help facilitate this change. These are two resources that I read again and again, knowing that they will lead me to far more peaceful, contented times.
Every page is diamond like

Derived From Web

, Jun 3, 2022

This is one of the clearest, most pithy introductions to the perennial wisdom I have encountered in many years. It is one of the best contemporary restatements of Buddha's Four Noble Truths, which I have had the good fortune to discover. I can not recommend this book more highly. If you are a seeker, do yourself a favor and read this amazing book. It can be particularly helpful to people in recovery who, like myself, do not relate to the Judeo-Christian notion of a God or even a higher power. Phillip Z. is a renowned American photographer.
Brilliant and helpful

Derived From Web

, Jun 3, 2022

This book is a brilliant explanation of how your mind relates to being aware and how it is possible to lose our identity with the Mindego, thereby recognizing ourselves as being aware. It is like pulling the curtain on what happens in our interior when it is mediation practice or doing the work of Byron Katie. I really got it '' how insane it is to believe your thoughts. In the first place, our ability to remember is amazingly terrible, demonstrated by a research study. He makes it clear how believing in your thoughts creates suffering.
Deep Answers for persistent questions

Derived From Web

, Jun 3, 2022

Adya is what is called enlightenment. Since it can not be described, this was very helpful to eliminate many mental concepts that are not accurate.
Falling into Grace... Superb!

Derived From Web

, Jun 3, 2022

I love everything about Adya because of his amazing clarity in revealing what is ''. This book is no exception because, as you read it, the transmission of such divine knowledge is felt through and through...
Starts out great and then peters out and becomes more religious than ...

Derived From Web

, Jun 3, 2022

Starts great and then peters out and becomes more religious than I expected. I was really impressed with the interview with Oprah and that is partly why I bought the book. The Kindle version also had some lines and words missing. A little disappointed :
I thought it was a great read. I had seen the author on Oprah ...

Derived From Web

, Jun 3, 2022

I thought it was a great read ''.
Total Tranquility

Derived From Web

, Jun 3, 2022

This is my first book by Adyashanti. I enjoyed his teachings and look forward to reading many of his other books as well.
Adya's best

Derived From Web

, Sep 8, 2021

I have now read all or most of Adya's books, listened to a number of videos on YouTube and read materials from his website. I have been on a spiritual path for many years and have found his work to be the most clear, direct and enlightening of all the many spiritual writers I have found. At first, I thought it was too wordy, too repetitive, but each time I come back, I find something I hadn 't noticed before. I think this is because my understanding continues to deepen as I experience more of his teachings, and each new reading revealed things that were hidden until I had realized something else and was prepared to hear what he had to say.
Lacking substance

Derived From Web

, Jun 5, 2020

Most of the insights in this book didn 't stick with me or have much of an impact on my life. Some authors are more skilled in describing an experiential condition than others. This book seemed to be more inspirational rather than educational. What you read from this book depends on who is reading it.