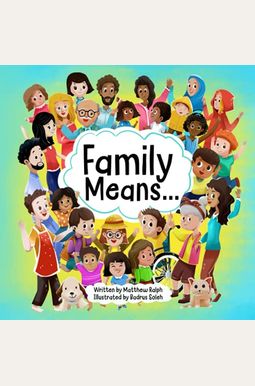 
 
Frequently Asked Questions About Family Means...
Book Reviews
(9)
Did you read Family Means...? Please provide your feedback and rating to help other readers.
DIFFERENT YET ALIKE

Derived From Web

, Jun 25, 2021

This international picture book reveals the plethora of family groups that can form a family. It comprises families of different races, religions and abilities, including those with disabilities. The author emphasizes the properties that families share, rather than physical or surface differences. For example, families share activities, work as a team, learn to love one another, cheer up each other and learn to be happy about one another. At the end of the book there is a space for readers to interact by defining what means to them what family and drawing a picture of their own family. A charming story of bedtime or read Aloud Book for pre-school and elementary school children, families and teachers.
Excellent

Derived From Web

, Jun 21, 2021

Book is awesome! You won 't be disappointed. .
Family Means

Derived From Web

, Jun 10, 2021

The simple wording in this book is perfect for reading to younger children and is perfect for those who are learning to read on their own. The text serves as a great starting point for discussing the wonderful, colorful pictures that depict all kinds of families, not just white, mom and pop families. Both my 3 year old and 7 year old grands enjoyed this book, as they also enjoy the other books that Matthew Ralph read. We read it on an iPad and the format works well.
Loved it!

Derived From Web

, Jun 9, 2021

Every type of family is represented and matches the types of families in my family. The pictures were bright and colorful, and even though my grandson is only 5 months old, the colors captivated his attention. At the end, I also love how you can write what family means to you and draw a picture of your own family.
Cute with amazing illustrations

Derived From Web

, Jun 8, 2021

I believe that it is very important for children to see a lot of diversity and representation in their books, even at a young age. This book does this wonderfully! It has diverse illustrations, a beautiful selection of families. The short, repetitive writing is perfect for those little who just start reading.
Sweet and simple story

Derived From Web

, Jun 7, 2021

A simple and sweet story about what means family. It is a beautiful book to teach children to love their family and appreciate one another. It also asks readers to write what means family to them.
Beautiful book, beautiful message!

Derived From Web

, Jun 6, 2021

This picture book features beautiful illustrations and shares a wonderful message. Families might not all look the same, but families are full of love and acceptance and fun. For children who may not have a traditional family or do not see their style of family presented in a book, this is the one for them!
Loved it

Derived From Web

, Jun 5, 2021

I read it just with my seven-year-old son. The illustrations are fun, colorful and amazing, and represent families of all kinds! If you are looking for a book to teach your children, a classroom or a story time group about different types of families and what means family, then I highly recommend this book. Nicholas said : What do you think of the cover? Nicholas said Cool : Love it, did you like the illustrations? Nicholas said, Yes, they are really good. Do you want to read it again? Nicholas said yes, but get one I can hold.
Adorable book celebrating every family!

Derived From Web

, Jun 5, 2021

This is an adorable book that celebrates families, no matter what they look like. It is a simply illustrated, beautifully written book that lets people see themselves in the story. The book is not excessively spelling out the differences, but let them shine in the illustration. It is so important that children who learn that they are a little different from those around them that it is okay and they are still great! Family is family and this book shows it perfectly.