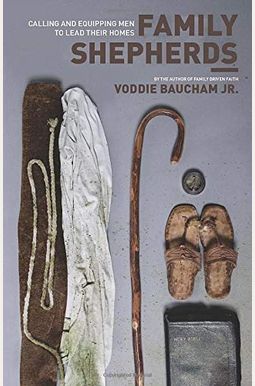 
 
Family Shepherds: Calling And Equipping Men To Lead Their Homes
Book Overview
It's hard to overestimate the importance of the family, and that of fathers in particular. We've heard it said, As the family goes, so goes the nation. But it can also be said that as the father goes, so goes the family. Consequently, Voddie Baucham has set out to teach men how to faithfully shepherd their families.
Derived from Baucham's monthly meetings with men in his church, Family Shepherds calls men to accountability for their God-given responsibilities in their homes. Baucham's clear style and practical approach will spur men to protect their marriage, raise kingdom-minded children, value the synergy between church and home, and navigate difficult family dynamics.
Family Shepherds is a book for any husband or father looking to lead well, and it will serve as an excellent resource for churches looking to equip the men in their congregations.
Frequently Asked Questions About Family Shepherds: Calling And Equipping Men To Lead Their Homes
Books like Family Shepherds: Calling And Equipping Men To Lead Their Homes
Book Reviews
(9)
Did you read Family Shepherds: Calling And Equipping Men To Lead Their Homes? Please provide your feedback and rating to help other readers.
Bringing back male leadership

Derived From Web

, May 15, 2022

What role is the husband in marriage? What is a father really meant to be his children? Is financially providing all there is to be a family-man? Is playing Barbie and doing all I am supposed to do for my children? Today, men are confused and rightfully so. Media has reduced us to bumbling idiots who can t even tie our shows without tripping over the laces. We are characterized as weak at home, on the job, in our love life and in leading our children. In the midst of all this, where do we fit and what do we do? Voddie Baucham has written a great book that explains that the role of a man in his family is essentially to be its shepherd. The shepherd who leads, protects and guides those in his flock. This is a great book for those who are confused by the current anti-Father climate in today's world. This is also a good resource to give men preparing for marriage or parenthood a good gift.
Another great book by Voddie Baucham

Derived From Web

, Jan 29, 2022

A very supportive and challenging book for men and fathers! Voddie does a great job of blending in countless Bible references and citations from various other writers on many different topics contained in the book. I 'll say that Voddie is convicted of his theological convictions and is not afraid to let his confidence be known in his convictions. I like it, however, as it has been challenged by beliefs, but I could see this to be a turnoff for some.
What product?

Derived From Web

, Dec 26, 2021

I found the envelope in my mailbox, but notice that it was very thinnish. I picked it up and noticed that there was NO weight attached to the envelope. I walked it into my house, opened it and, to my surprise, there was absolutely nothing. I wanted to give zero stars, but I had to put at least one star.
Good Overview

Derived From Web

, Jul 15, 2021

This book is a solid intro to the theme of men leading their families well. The chapters are helpful and short.
Excellent book by a reputable pastor/teacher!

Derived From Web

, Sep 15, 2020

This book should be read by every father. Voddie Baucham filled this book with Scriptures and Commandments and personal doctrines, with little or no opinions or biblical thoughts. I can 't recommend it highly enough ''.
Just, Yes

Derived From Web

, Sep 2, 2020

This is one of the most important subjects of modern Christian life. All of Baucham's work in family and manhood are such a gift of God. We need shepherds - men, we need Godly men in the home. As much emphasis is placed on the headship of a man, I have never seen the dignity and importance of a woman given such emphasis when the roles are the sameequal, it is just not the way we were designed. If a husband is not the head of a household, he will not be expected to follow the example of Christ, let alone capable of it. I am really grateful to have met Voddie Baucham as a young man, and would also recommend's shepherd, Tedd Tripp'; s shepherding a child's heart by Stuart Scott. Those two books are certain to be around a lot longer than there authors. I was led to them by Paul Washer and Baucham himself. Hope that helps someone.
A keeper for the Christian bookshelf!

Derived From Web

, Jul 17, 2019

The mission of the shepherd is to point your family in the direction of the good shepherd. This was a challenging quote because at first glance it was a call for me to assume the primary responsibility of leading my family towards Christ without having experienced any precedence of what looks like from my own family. But this book was God's way of bringing me one step closer to the knowledge, motivation and confidence in Him that was needed to step into this role and succeed. Voddie Baucham's chapters on the necessity of praising and teaching the gospel at home, the responsibility of shepherds in marriage and the theologically-sound approach to child training were particularly poignant for this particular season of my life. Definitely a book that I will continue to read and re-read throughout my eventual parenting seasons.
Direct and balanced admonition for fathers to have a multi-generational plan

Derived From Web

, Aug 20, 2018

The Oxford-educated Dr. Baucham takes the balanced approach that we need to have a plan for raising our children and couple it with the ministry of the local church. It is not one or the other, but both necessary to create the most powerful outcome. He appeals to the old and new Testament principles, coupled with his real-world perspective to make a solid case for embracing our God-given responsibilities with purpose. Voddie's passion for building this generation and leading the next is evident throughout the entire process.
Love he book and love Voddie's biblical perspective in the ...

Derived From Web

, Jun 4, 2018

As a student and family pastor, there are things I disagree with Voddie without apologie. I do agree that it is not my job to be the primary disciple maker of youth in the Church, but in my position I get the blessing of equipping families as a whole and helping parents discipline their children. If done right, I think that ChildrenStudent Ministry can help us in the church and in the " Ephesians 4 ", as we are called. Love he book and appreciate Voddie's biblical perspective in the family.