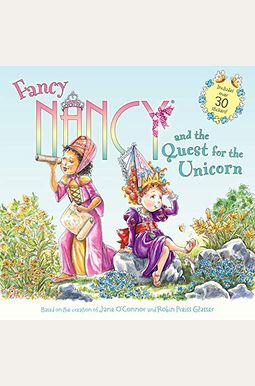 
 
Fancy Nancy And The Quest For The Unicorn: Includes Over 30 Stickers!
Book Overview
Join Fancy Nancy as she embarks on a quest for a unicorn in this fun story from the dazzling bestselling duo Jane O'Connor and Robin Preiss Glasser. Includes a fabulous set of stickers
Nancy and Bree are unicorn experts. (That's a fancy way of saying they know almost everything about them.) When they decide to go on an epic quest to find a unicorn, Freddy and JoJo want to play too.
Together, they follow trails of glitter--but after searching high and low, Freddy and JoJo complain that they are all quested out The big sisters won't quit, and take a guess at what they discover.
Frequently Asked Questions About Fancy Nancy And The Quest For The Unicorn: Includes Over 30 Stickers!
Books like Fancy Nancy And The Quest For The Unicorn: Includes Over 30 Stickers!
Book Reviews
(12)
Did you read Fancy Nancy And The Quest For The Unicorn: Includes Over 30 Stickers!? Please provide your feedback and rating to help other readers.
No Unicorn

Derived From Web

, May 9, 2021

My granddaughter is 5 years old and she likes unicorns. She was disappointed that there wasn't a unicorn in the story. The focus of the story is the hunt. I wouldn't have bought it for her if I knew that. It's just a heads up to other buyers. Kids who enjoy mysteries may like it more.
A Fun Story with Good Educational Purpose

Derived From Web

, Jun 1, 2020

Along the lines of an Easter egg hunt, this delightful story narrates the hunt for a toy. The plot encourages young readers to play games. An even better feature is vocabulary expansion. New words are easily understood. Since there are not many at once, it keeps things interesting. I wouldn't give the book 5 stars because of 2 interrelated details. The book is very thin and flimsy because it is paperback. You don't get much volume for your money because of this. The average coloring book contains more substance. The book should be shipped with some cardboard or other support, instead of just coming in a bag that can be packed into your mailbox and creased. A book that is part of a child's birthday gift is not the best set up.
Not as charming as other Fancy Nancy books

Derived From Web

, Apr 29, 2020

My kids like Fancy Nancy books, but this one was boring. It was hard for them to follow the story of a game within the book because they were distracted by the comment from the dad that 'unicorns aren't real'.
Paperback for Nancy Fans

Derived From Web

, Jan 6, 2020

I gave this along with a Fancy Nancy doll to my niece. The reading level is older kids than three years old, but it was a nice little set that was good for reading to her. The book is a children's book about Fancy Nancy and her search for a mythical creature. I don't think it's a great read but my niece likes it.
Cute book

Derived From Web

, Dec 20, 2019

A cute read for kids. My daughters like this book a lot and we read it a lot.
Magical!!

Derived From Web

, Oct 31, 2019

It was so clever again. The original Fancy Nancy book and the spin-offs are excellent. Our 2 year old was reading a lot. The Fancy Nancy books focus on a beautiful little girl, her best friend and their siblings, and they are healthy. Nancy likes to make the little things in her life grand. Her parents are very supportive of her wonderful personality. It could be better. The books will help your child improve his or her vocabulary by taking simple words and showing the more complex synonym.
Good book!

Derived From Web

, Feb 20, 2019

I bought this book because my daughter loves Fancy Nancy. The stickers are an added bonus.
Love All Things Fancy Nancy In This Home

Derived From Web

, Feb 13, 2019

One of the books my oldest uses while learning to read is this book, my girls love it and make me read it to them all the time. It's not bad to use one of her favorites for school reading log. Good for her to read books that are on a higher reading level. This is the perfect 1 for a parent who teaches her child first grade.
Sub par

Derived From Web

, Jan 10, 2019

The book is not like the ones written by the author. A poor substitute for the rest. The cover is not written by the author.
Ok not great

Derived From Web

, Nov 21, 2018

If you aren't ready for your kids childhood to be over, skip the page or buy a different book.