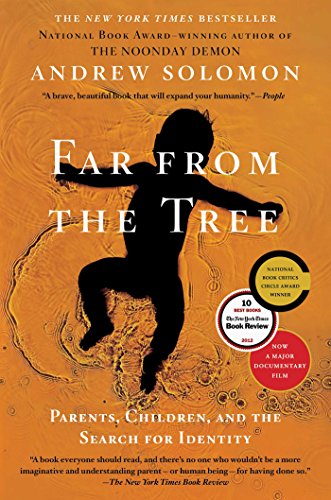 
 
Far from the Tree: Parents, Children, and the Search for Identity
Frequently Asked Questions About Far from the Tree: Parents, Children, and the Search for Identity
#2
Books like Far from the Tree: Parents, Children, and the Search for Identity
What should you read after Far from the Tree: Parents, Children, and the Search for Identity Book? Here is a list of books to read if you read and loved Far from the Tree: Parents, Children, and the Search for Identity
Book Reviews
(10)
Did you read Far from the Tree: Parents, Children, and the Search for Identity? Please provide your feedback and rating to help other readers.
A must read

Derived From Web

, May 13, 2022

I've told everyone who will listen to read this book. It opened my eyes and my heart, especially the chapter on rape children. His use of horizontal and vertical identities is a powerful idea for helping us understand the importance of both and the difference. There are interviews on YouTube and a TED talk if you'd like to hear Mr. Solomon, but that is no substitute for reading the book.
Mandatory Reading for Humans

Derived From Web

, May 13, 2022

Don 't worry about the length of this book, it is mesmerizing and you will wish for additional chapters. Andrew Soloman is a skilled researcher and writes like a fabulous conversationalist. The very essence of parenting and familial love is celebrated and dissected. This book is a skilled examination of the human condition with the exception of Solomans'tendency to digress and relate his own experiences.
Deep and Insightful, but Not For the Layman

Derived From Web

, May 13, 2022

As previous reviewers have noted, Far From the Tree is more of a book than a book, and one of the few books I will admit to reading without having yet read through all the way. Without going into excessive detail, I am a member of a social circle in which many of our group's members are autistic, though I am not. As this was my first real long exposure to autism and those who suffer from it, I wanted to do some reading on the subject, to that end, Andrew Solomon's pen was invaluable, though do not walk away from it with the impression that it is an autism book. It is not that autism is just one of the many factors explored here.
Great Great Great

Derived From Web

, May 13, 2022

It is a great and thoughtful book and I read it slowly, but it has so much great and thoughtful information that I am torn between reading slowly and chewing over the information and reading quickly to find out if there is an outcome. It will have particular implications if you have someone in your life that fits one of these categories, but there are many thought provoking ideas for just about anyone. How do we think about people who are not like us?
An Amazing Book

Derived From Web

, May 13, 2022

Far from the Tree is a totally awesome book and must be huge. I read it for weeks and weeks and I am only 35%. It gives you an intimate understanding of many aspects of disabilities, you could never ask. The stories are interspersed with statistics so that it remains always interesting. It has greatly expanded my understanding of a disability and the many points of view about it, all presented fairly.
An Everest of a read

Derived From Web

, May 13, 2022

What a book is incredibly demanding to read, a true literary and human achievement. If I could contribute 10% of what this book does for humanity, I would be incredibly satisfied. The intellectual powers of the authors are truly impressive, but he never loses the ability to explain the depths of the subject and bring home its impact. A rather remarkable achievement.
Exhaustive but Exhausting

Derived From Web

, Sep 30, 2018

Defying the adage that the apple does not fall far from the tree, Andrew Solomon explores families in which a child lands yards away. Given that all children fall at least some distance from the general tree trunk, the book is also valuable to a parental readership. Solomon asks with openness and compassion if differences should be considered illnesses or identities, curses or blessings, limitations or spurs to growth. When is treatment warranted if ever? The book's main drawback is that it should have been edited down. A lot of work. Better to have a few or crafted composites selected. By contrast, Solomon's last chapter, about the creation of a family — his — is the most memorable.
Turned out to be good for 2 classes

Derived From Web

, Sep 8, 2017

It needed it for a class. It is also not a textbook, so the price is good, and they don 't sell new editions of it every 3 years so that they can jack prices. Here there are some great stories but are so long, and take a lot of time to do so, as assigned reading. I actually laughed and cried reading this ''. And it is one of those books that you do not have to read in order at all. Vignettes are grouped by the original writers.
Highly recommend

Derived From Web

, Jul 20, 2017

Recently I reviewed this book at my book club. It is a very dense book with phenomenal writing, just be aware that it is a lot to get through. This is not in any way light reading! The theme is fascinating. The author takes a look at how children with special needs can change a couple, a family, a parent as well as the outsiders looking in. How do we define disability '' today versus Yesterday? If you want a deeper read this year, highly recommend.
Brilliant, Required Reading for Parents

Derived From Web

, May 1, 2017

This is a must read for any parent who ever asked themselves what I did wrong? Solomon has researched extensively and reported the differences and similarities between parents of children who can not be called normal. Dwarfs, transsexual people, people with down syndrome, children with autism, deaf children -- they all offer challenges to parents in ways that I never imagined. I have taken comfort from knowing that there are many, many more people out there with whom there is an opportunity for shared connection. The hope of humanity has always been in connecting where we can find. I have learned much, felt much, and I have deep gratitude to Solomon for sharing this work with the world. As an aside, this is a thick book, but does not need to be read from cover to cover. Read the first chapter and then choose the chapter that speaks the most to you. Then you can go back and read other chapters.