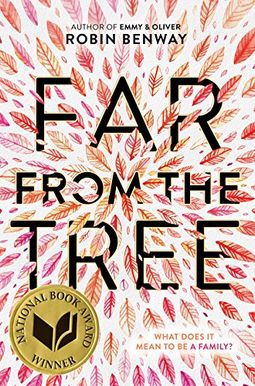 
 
Book Overview
National Book Award Winner, PEN America Award Winner, and New York Times Bestseller
Perfect for fans of This Is Us, Robin Benway's beautiful interweaving story of three very different teenagers connected by blood explores the meaning of family in all its forms--how to find it, how to keep it, and how to love it. This young adult novel is an excellent choice for accelerated tween readers in grades 7 to 8, especially during homeschooling. It's a fun way to keep your child entertained and engaged while not in the classroom.
Being the middle child has its ups and downs.
But for Grace, an only child who was adopted at birth, discovering that she is a middle child is a different ride altogether. After putting her own baby up for adoption, she goes looking for her biological family, including--
Maya, her loudmouthed younger bio sister, who has a lot to say about their newfound family ties. Having grown up the snarky brunette in a house full of chipper redheads, she's quick to search for traces of herself among these not-quite-strangers. And when her adopted family's long-buried problems begin to explode to the surface, Maya can't help but wonder where exactly it is that she belongs.
And Joaquin, their stoic older bio brother, who has no interest Read More chevron_right
Frequently Asked Questions About Far From The Tree
Book Reviews
(12)
Did you read Far From The Tree? Please provide your feedback and rating to help other readers.
A little disappointed

Derived From Web

, Dec 20, 2021

The book is in good condition and arrived fairly quickly. It is, however, an ARC. I intended to give it to someone as part of their Christmas gift, but I don 't feel comfortable giving it to them with the word ARC '' written on the bottom edges. I can peel the promotional copy ''. Not for Sale Stick, but can hardly do anything about the writing. I wish the seller mentioned that it is an ARC and that it had the word marked on the bottom. I can t return it, because I can keep it for my personal library.
Loved this book!

Derived From Web

, Jan 23, 2019

This book is great! So good tabbed has a lot of spots to go back to read when I want to laugh or sad!
Beautiful. I teared up almost every chapter.

Derived From Web

, Oct 22, 2018

Amazingly written by. So raw and emotional.
Full of rich characters and a story full of heart

Derived From Web

, Jul 8, 2018

The pot will strike a chord in both youth and adults alike. It loved her!
Great read

Derived From Web

, Jul 5, 2018

A good way to get your mind off the world around you. And you really feel for the characters 1010.
Enjoyable story, happy ending

Derived From Web

, Jun 29, 2018

I liked this book ''. The Kindle version had two or three typos, but nothing major. I liked the characters mostly. It seemed like the author tried to weave in a couple of themes, but that felt a little heavy-handed. Otherwise, I enjoyed Far from the Tree really. So many feelings were portrayed in a really poignant way and I had misty eyes several times. I love that the perspectives of a foster child and a teen mother were major points of view here because these weren't perspectives I have ever encountered in the books I read, and it made me consider and appreciate these experiences much more deeply than I have ever had before. It made me really grateful for family who took care of me and in turn my own ability to take care of mine, which I had not realized as such a blessing.
Three Things I Loved...

Derived From Web

, Apr 5, 2018

Emotionally : Super emotional. Never cry while reading, but this National Book Award winning book nearly got me. It gave me so many feelings - highs and lows and everything in between, but it never felt overwrought. When it comes to poetry, Robin Benway is a genius. Relationships between Sibling and Notable relationships. Far From the Tree explores adoption and foster care and gives readers a glimpse into several sibling dynamics written so beautifully and with such authenticity. I am very critical when it comes to books that promote care, but I thought this '' present-artificial read as incredibly realistic. 3. The authors of the three original movies are: Beautiful Writing '', Richard & Hall. In Far From the Tree we get three third person points of view, and while they are distinct, they are equally funny and affecting and evocative.
Great weekend read

Derived From Web

, Apr 3, 2018

I liked all the characters and the plot was pretty well developed.
Heartwarming

Derived From Web

, Jan 18, 2018

Heartwarming perspective on adoption and what actually connects people and what truly makes a family. Shows the raw emotions of gaining and growing, but losing and growing.
Worth reading

Derived From Web

, Jan 16, 2018

I chose this reading because I am a social worker in the adoption field. The author touched many great points and truths.