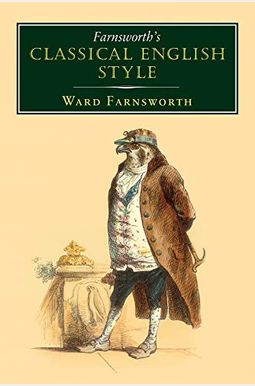  
Farnsworth's Classical English Style
Book Overview
An original and absorbing guide to English style. Get it if you can.--Wall Street Journal
Say it with style--on paper or in person.
This book explains why the best writing sounds that way, with hundreds of examples from Lincoln, Churchill, Douglass, and other masters of the language. As Farnsworth says, Explaining a precept may take just a few words, but only examples can make it familiar to the ear. So we will consider examples from writers and orators who all have lessons to teach. Farnsworth shows how small choices about words, sentences, and paragraphs put force into writing and speech that have stood the test of time. What was the secret? Knowledge of choices in the selection of words, the arrangement of sentences, the creation of a cadence. Now that knowledge can be yours through hundreds of examples of the very best use of rhetorical devices, classical cadence patterns, hyperbole and much more. This is must for anyone who wants to speak or write with clear, persuasive, enjoyable, unforgettable style. A storehouse of effective writing, showing the techniques you may freely adapt to make music of your own.--
The Baltimore Sun
Frequently Asked Questions About Farnsworth's Classical English Style
Book Reviews
(7)
Did you read Farnsworth's Classical English Style? Please provide your feedback and rating to help other readers.
For dedicated wordsmiths

Derived From Web

, Jan 1, 2022

Some interesting parts and some food for thought, but details and intensive writing and narrow focus on some wordlanguage histories will appeal the most to dedicated language history buffs. I enjoyed reading and glancing through some parts. Here is the problem, but too much for me. It is my personal reaction, so it's my personal reaction.
Speak up

Derived From Web

, Aug 23, 2021

I have just begun reading this book, but I enjoy every page. Today, the language is better with speed. This book goes into the history of the language. Examples of speeches made by historical figures illustrate the various points, so that I thought it was fun as well as educational to read.
A great read

Derived From Web

, Jul 25, 2020

Farnsworth does a great job of using example and analogy to emphasize the classical English style. He also crafts enjoyable analyses of nuanced and rule-breaking styles while still acknowledging other widely accepted style rules. As a student of law, I found this book both useful and fascinating.
You will not stop thinking about how great sentences are constructed.

Derived From Web

, Jul 14, 2020

However, it will take you longer to read than you may think at first. I kept pausing to admire the structure of the wonderful examples that Farnsworth has collected to illustrate the concepts he addresses. If you like good writing, you will continue to think long after reading them.
The quotes kept me reading

Derived From Web

, Jul 6, 2020

I expected this to be a useful guide, but was surprised to find it humorous, even provoking. Farnsworth does a great job of organizing and explaining more styles and variations in style than I could ever have named. But it's the many examples he provides that keep the book alive. Often I found myself more entangled in their message than in the stylistic nuances that the quotations presented. That is probably Farnsworth's intent to capture and hold our attention with examples of how style drives a writer's meaning and purpose home. Simply exposing us to these classical examples in such a quantity helps develop a feel for what great style is supposed to do. Even if you don't understand or care what a particular word pattern is called, you've been exposed to the power of these patterns. You may find yourself using these patters unconsciously. Which is probably how many of the cited authors and orators came to use these styles themselves.
Prompt arrival of product as described

Derived From Web

, Jun 16, 2020

The seller delivered the product fast and unbelievably. It was in good shape and arrived exactly as described.
Great read from the beginning

Derived From Web

, May 24, 2020

I have the book Rhetoric by Farnsworth, which I find interesting as a reference text : This book, however, caught my interest from the very beginning, as it jumps right into the modern derivation of Saxon English by helpfully displaying a list of Latinate words versus Historical. As a professor of college writing and English for foreign students, I believe that this will be a very handy reference. Once learners have a certain grasp of a language, it is always useful to show them by such examples how interesting and manageable English is for communication purposes. In other reading, I have never seen such a direct, useful example of long vs. short. We are always admonished to keep it interesting and meaningful, but his exposition on why is so short and direct. I also love his cover art, which seems so suitable for the content. It was well done.