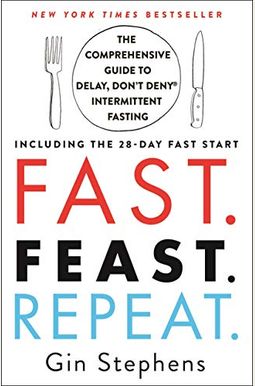 
 
Fast. Feast. Repeat.: The Comprehensive Guide To Delay, Don't Deny Intermittent Fasting--Including The 28-Day Fast Start
Book Overview
Gin Stephens' intermittent fasting protocol is the culmination of three years of following the latest IF and autophagy research out of top universities, as well as coaching tens of thousands of people via her online communities.
Once an adopter has determined an effective fasting window, they transition to a consistent schedule, utilizing Stephens' tips and tricks until IF becomes a forever lifestyle. The personal aspect of the book, featuring Stephens' home-grown success story, is buttressed with case histories, some with over 100 pounds lost and kept off.
Fast. Feast. Repeat. is divided into four sections. Fast covers the science behind fasting and announces the end of the calorie. Feast, focuses on food choices. Food quality matters when weight loss is a goal, while still allowing treats It discusses appetite correction and how to avoid diet brain. Repeat explains how to turn intermittent fasting into a long-term lifestyle. In The Clean Fast Protocol, readers will learn how to track their progress in multiple ways, how to use the secrets of mindset to help them stay on the right track and how to troubleshoot if they aren't finding success.
Fast. Feast. Repeat. is not only a guide to moving toward an intermittent fasting lifestyle, but is a permission book: eating is every bit as important as fasting on Stephens' plan
Frequently Asked Questions About Fast. Feast. Repeat.: The Comprehensive Guide To Delay, Don't Deny Intermittent Fasting--Including The 28-Day Fast Start
Book Reviews
(4)
Did you read Fast. Feast. Repeat.: The Comprehensive Guide To Delay, Don't Deny Intermittent Fasting--Including The 28-Day Fast Start? Please provide your feedback and rating to help other readers.
The Fasting Bible! ❤

Derived From Web

, Jun 25, 2020

I have been following Gin Stephens for 15 months and have read all her books, implemented her strategies into my life and I have lost 75 pounds. I'm forever grateful that she and her Facebook communities saved me. It is fast. It is a feast. Go on. It is an in depth, step by step guide to fast, with lots of chapters on things such as alternate day fast, why we fast, and the health benefits. The toolbox chapter is my favorite because it has all the little changes you can try if you find yourself in a stall. This is a quick and easy read because of all the info and Gin's teacher style language. The 28 day F.A.S.T. will be pleasantly surprised by new fasters. It provides a lot of love, reassurance, and guidance to nail your first month. I can't recommend it enough. Fast on, friends.
No Need To Look Elsewhere... THIS IS THE BOOK

Derived From Web

, Jun 17, 2020

If you want to lose weight and improve your health, then this is the book for you. I have been a yo- yo dieter for 50 years. I stumbled across it 3 years ago. Gin's first book, Delay, Don't Deny changed my life. Her current book is an encyclopedia with all the information you will need to make intermittent fasting work for you. I am eternally grateful to this sweet peach from Augusta, GA. She is making a difference in the Obesity epidemic. You want this book?
Beware: This book could change your life!

Derived From Web

, Jun 17, 2020

The book lays out the what, why and how of a intermittent fast lifestyle. I' ve been set free from over 40 years of diet mentality and struggle, and this is the go to resource. It can change your life.
Get healthy thru Intermittent Fasting!

Derived From Web

, Jun 16, 2020

Every question you could ask about fast is fully explained in each chapter. It took me three days to read this book because there was so much information. I made notes that were important to me at this point in my fast. Our mindset is so important in every decision we make, and I was reminded of this by Gin Stephens in the book! This book is for people who want to never want to Diet again. It is not about what you eat, it is about when and how often you eat! Intermittent fast lets your body take a break from eating. Having a healthy, lean body and having an eating window that works for you is what it is about. You' re going to be very happy that you picked up this book and devoured it!