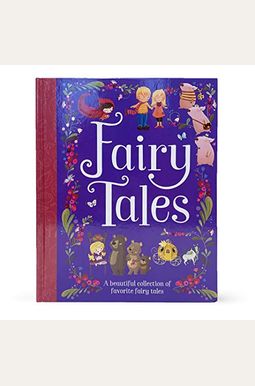 
 
Favorite Fairy Tales: Nine Classic Stories To Enchant And Delight (Treasuries)
Book Overview
Dive into the magical worlds of your most beloved fairytales with this adorable storytime treasure both kiddos and their grown-ups will enjoy. Young readers will be whisked away to 8 wondrous adventures designed to entertain and spark one's imagination. This deluxe treasure trove of stories celebrates all the well-loved classics including: The Gingerbread Man, Cinderella, Goldilocks and the Three Bears, Little Red Riding Hood, Sleeping Beauty, Snow White, Hansel and Gretel, and The Three Little Pigs. An enchanting collection of favorites little ones will love
Playful illustrations and beautifully written tales will create a smile from ear to ear
Tales included: The Gingerbread Man, Cinderella, Goldilocks and the Three Bears, Little Red Riding Hood, Sleeping Beauty, Snow White, Hansel and Gretel, and The Three Little Pigs
Bond over the classic fairy tale favorites you grew up with as a child with your little one
Perfect gift for any occasion: birthdays, holidays, and more
Collect all titles available in the Parragon Treasury Collection including Five Minute Stories and Mother Goose
Frequently Asked Questions About Favorite Fairy Tales: Nine Classic Stories To Enchant And Delight (Treasuries)
Book Reviews
(9)
Did you read Favorite Fairy Tales: Nine Classic Stories To Enchant And Delight (Treasuries)? Please provide your feedback and rating to help other readers.
Great Fairy Tale book for my 5 year old.

Derived From Web

, Apr 20, 2020

The book exceeded my expectations in regards to the ending of the stories and the illustrations, Mary. I'm partial to the ending of the story. It's just that little red riding hood never talked to strangers again and the ginger bread man was eaten. I wish this book had more stories or that they had a sequel book like the other popular fairy tales. Very well written and well-illustrated story for children to understand and enjoy, too. My daughter absolutely loved it and jumped up and down upon receiving it.
Some of the Art is Not the Best, Kid Loves It Still

Derived From Web

, Feb 20, 2020

It's written in a way that my 2.5 yo can easily understand. Some of the illustrations made me wonder if there were artist substitutions or if somebody way oversold themselves, but overall a cute book, I guess. Of course, my least favorite story is probably "The Snow Queen" by Charlotte Bronte. Some days it is the only book we read, so it has grown on me.
Perfect, just perfect

Derived From Web

, Feb 18, 2020

Indeed, I was left unsatisfied with most fairy tale books my kids had read because they either had too long or too short stories to fill the time. It's a good read, Michael Gross, of the Penguin Random House, said of the book. It has all the right elements of a good story, plus some excellent illustration, he said. It's great to have your kids love it and I myself love to read it to them. In fact, I had tried to find a part 2 or something by this publisher but couldn't find it. The only complaint I have is that there were only nine stories in the book. Now I have a complaint, and I really wish they had another book with more stories, one I am more than willing to pay for and have in my collection.
The nostalgia!

Derived From Web

, Jul 19, 2019

I love these stories, Rowling said. A great artist, too. I think it all brings me back to my childhood, how I remembered these stories. My children are engaged and are being creative, too.
Good Intro to classic fairy tales

Derived From Web

, Jul 18, 2019

The stories are definitely for a younger audience but it works great as an intro to the stories and a fun little bedtime story book.
Beautiful Illustrations

Derived From Web

, Apr 8, 2019

It is a book that will be talked about for years to come. There are only a handful of stories in here, so don't buy it thinking there are 20+. There are just a handful of known stories of the Beatles, McCartney said. It's just that the people who created it weren't scary. It's a present for my niece who is 5.
Toddler loves it

Derived From Web

, Mar 23, 2019

It's just that the instructions are not too complicated, but also not overly simple. It's got some dark elements to it, but come on, you know what the stories are about and what you're buying. After a second of looking at a dead body, the princes fall in love, with the help of a witch. My 3 year old LOVES fairy tales, this is teaching her some vocabulary beyond her basic story books.
4-Year-Old Loves These Stories!

Derived From Web

, Mar 13, 2019

He was already really into the Gingerbread Man story from this series, so it was a no brainer to buy this collection for him. He really likes being read to at night, and these are a lot of fun for him, too. He is drawn to this kind of artwork, and they are just the right length, Tunick said.
Too scary for young children

Derived From Web

, Feb 22, 2019

I had high hope for this because it has such adorable illustrations, said Dr. Katherine H. Rosenthal, director of the Children's Hospital at Montefiore. However, the stories in this book really scared my 3 year old daughter. Another image shows the gingerbread man being eaten by the fox with a scared expression on his face. It's great to be able to play with your friends, said Dr. Aronov, "but it's probably best for a 5 or 6 year old."