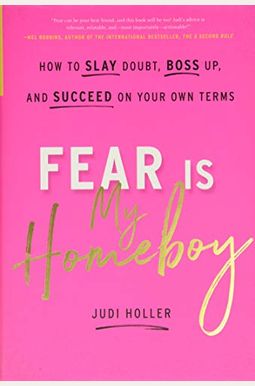 
 
Fear Is My Homeboy: How To Slay Doubt, Boss Up, And Succeed On Your Own Terms
Book Overview
If you love empowering non-fiction books like You are a Badass by Jen Sincero, Girl Wash Your Face by Rachel Hollis, or 5-Second Rule by Mel Robbins you'll love Fear Is My Homeboy.
In Fear Is My Homeboy, author Judi Holler has a message: It's time to stop letting fear boss you around so you can start leveling up personally and professionally. This is a book for people who believe that they deserve more. Holler focuses on helping the reader shut down self-doubt so they can start taking action. After reading this book Judi promises that you will get braver, bolder, and more confident in your natural-born badassery.
Inspired by her improv theatre background at The Second City Training Center's Conservatory in Chicago and building off her decade of speaking, sales, and marketing experience, in addition to her current role as a business owner, Holler's book is your own personal life coach and cheerleader. In it she shares valuable, actionable advice on how to accept--and even embrace--fear, so readers can start to live more balanced, successful, and fulfilling lives. Holler's mission: to stop fear from stealing your opportunities so you can start connecting in powerful and profitable ways.
If you enjoyed the book then you'll love Judi's weekly Podcast: The FearBoss Show You can listen in and subscribe on iTunes and Spotify to keep the fear party going
Frequently Asked Questions About Fear Is My Homeboy: How To Slay Doubt, Boss Up, And Succeed On Your Own Terms
Books like Fear Is My Homeboy: How To Slay Doubt, Boss Up, And Succeed On Your Own Terms
Book Reviews
(17)
Did you read Fear Is My Homeboy: How To Slay Doubt, Boss Up, And Succeed On Your Own Terms? Please provide your feedback and rating to help other readers.
Be a Fear Boss

Derived From Web

, Jun 16, 2021

It really helped me build up my mindset and change my self-confidence. Judi, I love it!
Worth a read. Fear is a choice.

Derived From Web

, Oct 8, 2020

The book enjoyed. Several great reminders : The author is beat and gives advice from experience and her own successes.
Freaking amazing!!! Such a good motivational book for even just 5 minutes.

Derived From Web

, Aug 20, 2020

I loved this audio book so much that I got the paper version! The audio version has this cool podcast '' q and a st at the end of each chapter, which is also super cool.
You HAVE to buy this book. 10/10

Derived From Web

, Aug 19, 2020

One of the best books I ever read is hands down. The 1010 would absolutely recommend. I actually reached out to Judi on her personal Instagram account and sent a voice message back in response. She's the real deal and I'm SO glad I bought it. Worth every penny. The writing style is extremely easy to read and follow. I can 't wait to finish this book. It is so hard to put down.
Don't let self-doubt stop you!!

Derived From Web

, Jul 29, 2020

This book speaks to my soul! I have a three hour layover today, at an airport three hours from my home, after a vacation with my son to see the family. It was frustrating in the first moments, but I became quickly grateful for the situation. Had we not been stuck for three hours in an airport, I wouldn t have done much reading. It was truly a blessing to disguise the universe's telling me to slow down for a moment. I hope you have as many nuggets of wisdom as I soak up. If you could see my book, there are highlighted passages, circles, stars and notes on the sides. This book gets so much love from me! You get to choose what wisdom nuggets to soak into your life. Make it this book + soak these nuggets. You won 't be disappointed.
This book will motivation you into action!

Derived From Web

, Jun 16, 2020

There were so many great nuggets in this book that led me to take action with ideas that have been swirling in my head for years and months. I love how she allowed fear to be part of your life instead of shutting it out. She made it a guest of honor and taught you how to live with fear, without giving it any power. I highly recommend this book if you ever feel overwhelmed or stuck with fear!
Love it!

Derived From Web

, May 7, 2020

This book is exactly what I need to get out of my funk and stop being so damned self-doubt! She tells it like it is and it comes together just fine. If you need a little push to get out of your comfort zone and do what you have been dreaming about is def a book to push you... Love Love Love!
A Must READ

Derived From Web

, Mar 31, 2020

Audible downloaded this book to Audible and could not stop listening to it! Everything she said hit me like a ton of bricks! I have listened to Fear is My Homeboy twice not once! I then had to buy the hardcover so that I could highlight like every damn page. For sure, a book must be read!
Get over yourself

Derived From Web

, Feb 18, 2020

How about you work on something instead of reading another book about why you aren 't working on something?
Must Read

Derived From Web

, Feb 18, 2020

A must read for anyone who needs motivation to kick off their life. I already recommended it to so many friends. The book itself is aesthetically pleasing in both cover and interior pages. Inside, there are so many gold nuggets. She goes through several ways that fear affects your life and how to embrace fear and not run away from it. At the end of each chapter, there are ways to apply the principles.