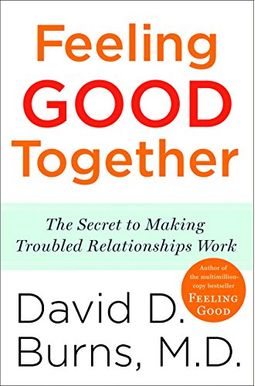  
Feeling Good Together: The Secret to Making Troubled Relationships Work
Book Overview
Based on twenty-five years of clinical experience and groundbreaking research on more than 1,000 individuals, Feeling Good Together presents an entirely new theory of why we have so much trouble getting along with each other, and provides simple, powerful techniques to make relationships work.

We all have someone we can't get along with--whether it's a friend or colleague who complains constantly; a relentlessly critical boss; an obnoxious neighbor; a teenager who pouts and slams doors, all the while insisting she's not upset; or a loving, but irritating spouse. In Feeling Good Together, Dr. David Burns presents Cognitive Interpersonal Therapy, a radical new approach that will help you transform troubled, conflicted relationships into successful, happy ones.
Dr. Burns' method for improving these relationships is easy and surprisingly effective. In
Feeling Good Together,
you'll learn how to: - Stop pointing fingers at everyone else and start looking at yourself.
- Pinpoint the exact cause of the problem with any person you're not getting along with.
- And solve virtually any kind of relationship conflict almost instantly. Filled with helpful examples and brilliant, user-friendly tools such as the Relationship Satisfaction Test, the Relationship Journal, the Five Secrets of Effective Communication, the Intimacy Exercise,
Read More chevron_right
Frequently bought together
Frequently Asked Questions About Feeling Good Together: The Secret to Making Troubled Relationships Work
Books like Feeling Good Together: The Secret to Making Troubled Relationships Work
Book Reviews
(13)
Did you read Feeling Good Together: The Secret to Making Troubled Relationships Work? Please provide your feedback and rating to help other readers.
Not an easy solution

Derived From Web

, May 17, 2022

This book provides a formula for having more rewarding conversations that lead to a greater understanding versus locking us into conflict. Everything seems very rational and logical and I am just beginning to try to put it into practice. The only negative could be that I suspect that it will be very difficult to put every element into practice, especially in the heat of the moment. And it appears that if you do not get every element right, the whole thing might not work.
David Burn's book

Derived From Web

, May 17, 2022

For me, this was a very interesting and important book. I have used some of the techniques described and they are very helpful, Dr. Walt Jensen, MD.
Feeling good

Derived From Web

, May 17, 2022

This is one of the best books I have read in the Fiend of Psychology and Receptive Cognitive Therapy. It is useful for both health professionals and patients. When you read it it makes you feel good, so it is really a book of feeling good.
Great author and great book!

Derived From Web

, May 17, 2022

I enjoy this author ''. This book has very helpful tips to help you communicate with others.
love it - do the exercises!

Derived From Web

, May 17, 2022

A very wise woman recommended to me this book. She thought that it could help me improve my family relationships. So far, I have been reading it with my boyfriend and doing the exercises together. We loved it, it really made a difference in our relationship. I loved it so much that I bought 3 copies and I also bought some of his other books! It will actually help if you do the EXERCISES only. That is my number one tip.
Helps non-troubled relationships also.

Derived From Web

, May 17, 2022

This is a good book for couples who want to improve their relationships, whether they are troubled or not. You have to be willing to do things that do not seem natural and may initially seem uncomfortable, but the techniques work. Keeping them going is probably the hardest part.
Looks helpful so far, possibly a breakthrough

Derived From Web

, May 17, 2022

I have read only 3 chapters so far, but this looks like it may be part of a real solution for me to improve my communication skills.
I gave this 5 stars as it IS a good book. However I have read so many of ...

Derived From Web

, May 17, 2022

However, I have read so many of these kinds of books that this one is more like a review for what I already know. In all, a good read and many helpful suggestions.
Poorly written.

Derived From Web

, Mar 30, 2021

Some of the ideas are interesting, but mostly he tells you that your relationship problems are your fault and you need to try harder to understand the other person. This can work if you are really difficult or insensitive, but if you have already extended an olive branch for peace without results, this book will probably not help. His main message is that you can not change anybody but yourself.
How are you making it worse?

Derived From Web

, Dec 11, 2020

As a mental health professional, having read and enjoyed Dr. Burn's other book, I mainly ordered this for a friend. He and his wife are allegedly locked in a dysfunctional struggle and their once happy home life is now a miserable wreck. To hear him tell it, the problem is entirely hers, which I had already suspected was not the case. The book focuses on how one partner can potentially improve the situation, even if the other person is not interested in change. Nothing magical about communication techniques. There has to be quite a commitment to remove old patterns. There has to be quite a lot of motivation, there are no secrets and many relationships are not going to work. But this book may give you a few ideas, but isn't disappointing compared to Feeling Good, his earlier work.