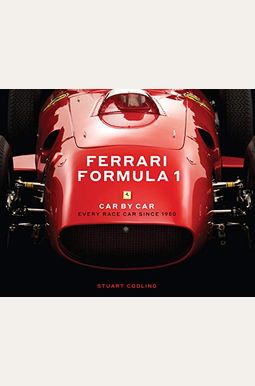 
 
Ferrari Formula 1 Car By Car: Every Race Car Since 1950
Book Overview
Ferrari Formula 1 Car by Car presents all of Ferrari's F1 cars in chronological order, featuring an overview of each car's significant features, technical specifications, and its competition record accompanied by historic and contemporary images. Published to coincide with the 70th anniversary of F1 and Ferrari's participation in it, the book wraps up with a full competition record for all of the cars.
Ferrari has been a top Formula 1 competitor since the series' inception in 1950. From its first dedicated racer, the 125, through the transition to rear-engine cars to today's technological powerhouses, Ferrari has never rested on it laurels.
The longest running team in F1
, Ferrari has a record 16 constructor's titles. Its cars have been
driven by some of the greatest racers of all time
including Michael Schumacher, Gilles Villeneuve, Phil Hill, Niki Lauda, Kimi Raikkonen, Fernando Alonso, and more.
Ferrari Formula 1 Car by Car
is
the complete reference
to all of the amazing red racers that have cemented Ferrari's reputation as the dominant manufacturer in F1 history.
Frequently Asked Questions About Ferrari Formula 1 Car By Car: Every Race Car Since 1950
Book Reviews
(7)
Did you read Ferrari Formula 1 Car By Car: Every Race Car Since 1950? Please provide your feedback and rating to help other readers.
Conveys the history of Ferrari through beautiful pictures.

Derived From Web

, Dec 17, 2021

This coffee table style book delves into the history of Alfa Romeo when it was just an aftermarket racing outfit that would work on Ferrari cars and turn them into race cars. The book compressed the history from 1918 to 1950 into one or two pages. After World War Two was finished, Ferraris began to produce racing cars for Formula One. This book has an extraordinary photography and one or two lengthy paragraphs about the story behind each. For motorsport fans, this book is a must-read. This book is extremely enjoyable as well, and I highly recommend it if you are looking for a beautiful coffee table style book for someone who loves racing cars. Slowly, the city became too political and taxing.
Ferrari

Derived From Web

, Aug 14, 2021

The Ferrari - Car is my favorite Formula One - car of my husband. This book is done beautifully with a wide range of photographs from the beginning to current times. There is also more information than anyone could gather on their own. And it's all in one book! In the back of the book there is even a timeline section. It breaks the year and the drivers. This book is one that is something that a formula _ 1 fan can appreciate, but also it has been an enjoyable read for my husband and my son. My husbands been able to teach him about Formula One and some of the history behind the vehicles and drivers. It has been a great bonding activity for them. The book is also hardcover and large, so it makes for a beautiful coffee table book.
Wonderful Book for Collectors and Fans

Derived From Web

, Aug 8, 2021

Since 1950, Ferrari Formula 1 Car by Car Every Race Car, Hardcover -- May 25, 2021 My teen son is like most teen boys in that he loves cars and he loves to read about cars. I have started delivering these collector books on cars to him. He loves the book Ferrari with all the information and wonderful pictures. The book is really well written with each chapter covering a different decade of Ferraris. The book is a great hardcover book that is perfect for Ferrari fans and makes a beautiful coffee table book. Seas the Day ''.
arrived vacuum sealed in pristine condition

Derived From Web

, Jul 31, 2021

This arrived fully wrapped in vacuum - sealed plastic, so that even if something else was in the package with it, pages could never have been damaged. I appreciate very much that the seller cares for the quality of their book. And you can also tell that when you open it, you can tell that. It is full of photos and stories and history. Here and there are little bits of course. Nothing overly deep, so it's the perfect book for car lovers to set on a coffee table to randomly flipped through. The photos are great and the history is perfect for a race lover.
Availability.

Derived From Web

, Jul 6, 2021

07052021 Is the book available in this catalog viewed before? If you have the time to advise cost, please let me know. The copy I received recently contains the same chapter 3, my copy is a different year. The car shown in this catalog and the lyrics of this chapter 3 are missing in my copy. This car is only shown by a single overhead photo and an accompanying caption inserted on the photo. In my copy I found nothing else. So, advise yourself. Thank You ''. LKN has also named Daniel S. Walker and LKN.
Perfect Gift For Ferrari Formula 1 Fans

Derived From Web

, Jul 1, 2021

This Ferrari Formula 1 Car by Car Every Race Car since 1950 makes the perfect gift for Ferrari fans of Formula 1. The 12x10 hardcover looks beautiful with its excellent photographs and feels thick and substantial. This is more than a coffee table book with pretty pictures. It is a researched history that covers Ferrari's F1 races since 1950. While it may not be as deep as serious car racing aficionados may like, there is still plenty to enjoy for both the F1 newbie and the long-term fan. The book comes plastic wrapped, so there is no problem with bent or damaged pages in shipping. I think that fans of Ferrari Formula 1 racing or anyone who appreciates the beautiful design and engineering of these powerful, precision vehicles would enjoy this book.
Gorgeous Coffee Table Book

Derived From Web

, Jun 29, 2021

Since 1950, Ferrari Formula 1 Car by Car Every Race Car is sure that serious Ferrari nerds will find fault with this beautiful coffee table book, but the casual car enthusiast will be more than happy with this volume. The images and graphics are beautiful to look at and explain the history of the race car, its symbols and the races. The book also touches the technology and reasoning behind the designs, as well as what worked and what didn 't. Again, someone with more knowledge about these subjects will probably understand this better than I can help you to enjoy this book more than just the pictures.