Buy 3 Get 1 Free
Our Best Sale Yet! Add 4 Books Priced Under $5 To Your Cart     Learn more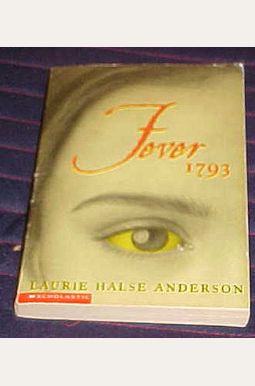  
Book Overview
This Description may be from another edition of this product.
From Fever 1793
Where's Polly? I asked as I dropped the bucket down the well. Did you pass by the blacksmith's?
I spoke with her mother, with Mistress Logan, Mother answered softly, looking at her neat rows of carrots.
And? I waved a mosquito away from my face.
It happened quickly. Polly sewed by candlelight after dinner. Her mother repeated that over and over, 'she sewed by candlelight after dinner.' And then she collapsed.
I released the handle and the bucket splashed, a distant sound.
Matilda, Polly's dead.
August 1793. Fourteen-year-old Mattie Cook is ambitious, adventurous, and sick to death of listening to her mother. Mattie has plans of her own. She wants to turn the Cook Coffeehouse into the finest business in Philadelphia, the capital of the new United States.
But the waterfront is abuzz with reports of disease. Fever spreads from the docks and creeps toward Mattie's home, threatening everything she holds dear.
As the cemeteries fill with fever victims, fear turns to panic, and thousands flee the city. Then tragedy strikes the coffeehouse, and Mattie is trapped in a living nightmare. Suddenly, her struggle to build a better life must give way to something even more important -- the fight to stay alive.
Frequently bought together
Frequently Asked Questions About Fever 1793
Book Reviews
(14)
Did you read Fever 1793? Please provide your feedback and rating to help other readers.
Realistic and moving

Derived From Web

, Apr 20, 2022

I read this book with my daughter for her summer reading assignment with my daughter. I enjoyed it more! I think I enjoyed it more! I've enjoyed it! I love historical fiction and this book was very interesting in describing the 1793 yellow fever plague in Philadelphia through the eyes of the young 14-year-old Mattie Cook. She lives in her mother and paternal grandfather with her mother and her paternal grandfather. They run a coffee house in its house when the fever strikes the cities of its citizens either through death or exodus to the country. This book shows very realistically this very devastating time, while also making you care for Mattie and her family. I have always loved history and I love to learn it through historical fiction. It is informative and at the same time entertaining. This book is appropriate for readers of all ages.
My 11 year old daughter and I loved this book!

Derived From Web

, Apr 20, 2022

My daughter and I loved this book so much! My daughter could identify particularly with the protagonist because they are close in age. Very interesting discussion about the yellow feucht epidemic in Philadelphia in 1793.
A world falls apart

Derived From Web

, Apr 20, 2022

Fever, 1793 tells the riveting story of a young girl during the yellow fever epidemic that engulfed Philadelphia in 1793. Mattie's safe and secure world crumbles around her as the fever takes hold of the thriving city. The novel opens each chapter with a quote from the period, drawing the reader into the times Mattie lived in. Mattie will enjoy reading about Mattie's struggles to survive in this new environment and will be intrigued by Mattie's transformation from a strong young girl to a bonded young woman.
This is a young adult book,but

Derived From Web

, Apr 20, 2022

This is supposedly a young adult book, but I'm 70 and I really enjoyed it. The Yellow Fever epidemic is very frightening to anyone who lived through it, and our heroine makes the reader comprehend all aspects of it. The writer develops Matty's. Without the reader being aware of it, it comes of age without the reader being aware of it. At the end, one sees the changes and is surprised. I'm afraid to say more or I will ruin the story. Anyone will enjoy this book.
Nice Youth Book

Derived From Web

, Apr 20, 2022

This is a great book for children to read. It is a yellow historical fiction centered around the beautiful fever epidemic of Philladelphia in 1793. I read about Dolly Madison and the loss of her husband and son to Yellow Fever. This story does a nice job of describing the setting and context of the epidemic, as well as showing the hard work that everyone did during that time. The characters were a little flat and idealistic. The appropriate reading speed for young teens is fast.
There should be more YA Historical Fiction which is this written this well...

Derived From Web

, Dec 1, 2021

Apparently, Fever 1793 by Laurie Halse Anderson spurred some middle schools to have Yellow Fever Days after it was released in 2011. While I can 't speak from personal experience, I can see the value in bringing history to life for the YA crowd. I freely admit, I did not realize that Fever was a YA book until after I was invested in the narrative. I was also invested by Hook. Our young heroine, Mattie, struggles under the restrictions of her overprotective mother and seeks refuge in her grandfather's indulgence, as they work to keep the family coffee house afloat in post-colonial Philadelphia. Mattie's journey to independence and the discovery of her own personal strength begins when she learns of the untimely death of a friend, Polly. It isn 't long before the Yellow Fever runs rampant through the streets of the city, leaving Mattie and her family having to make difficult decisions about survival. Worth the read for any American history middle school students you might know.
Excellent historical book

Derived From Web

, Aug 11, 2021

Paige, 11yo received a review from my daughter Paige, 11yo. Paige.s. reading IG - Account for Paige.s. reading for more book reviews! In the summer of 1793, Mattie is fighting for her life and her family's life because of an epidemic of the yellow fever. Will she and her family survive this epidemic? Will she, her family and her friends survive? Fun facts : I read this book with my mother. I found the cover really cool and there are some old English words in this book. It was a devastating time, the description in this book was very realistic and it's well-written. It was informative and I would like to learn more about this epidemic.
Fascinating Read

Derived From Web

, Dec 2, 2020

I purchased this novel at the beginning of the Pandemic and found it interesting to see how another virus has influenced life in another time in American history. I read it before my daughter, as I thought it might be a little overwhelming, as we go through this right now. There are some scary realities that might be better for children to read after all that has passed. But great plotting and characters are involved. A historical novel for the middle grade or young adults at first rate.
Loved this!

Derived From Web

, Jul 8, 2019

I can 't put a YA book down for the first time in a long time, because I couldn 't put a YA book down! Mattie was even in circumstances I have certainly not encountered myself as a character, even though I was completely relatable. I chose this book to read with my teenaged niece because she loves American history and I am so glad I chose it. The story is engaging, believable and comfortably educational. From beginning to end, I felt like I was on the adventure with Mattie and found myself rooting for her from beginning to end. Anderson looks forward to reading other works by Ms. Anderson.
Only written for children under 10

Derived From Web

, Mar 17, 2019

So dumbed down ''. This must be a book for children. I don 't know how the author can make such an exciting subject to be anything but. If you are over the age of 10, BEware, DO NOT BUY THIS CHILDREN 'S BOOK.