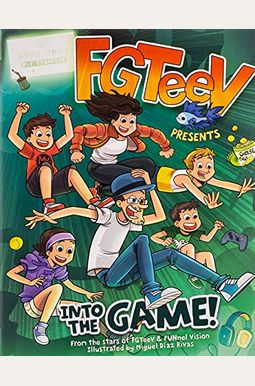 
 
FGTeeV Presents: Into the Game!
Book Overview
It's game time Press start on Into the Game, the awesome-packed, New York Times bestselling graphic novel adventure by YouTube's favorite family of gamers, FGTeeV

The FGTeeV family gamers have played hundreds of games together. Which is why Moomy decides to make a new game called My Pet Fish. Just one problem: the game is SUPER boring. And one other problem: Moomy and Duddy accidentally got sucked into it--and now they're trapped
It's up to the kids, Lexi, Mike, Chase, and Shawn, to jump into the gaming console and rescue their parents. But first, they have to battle their way through their favorite games until they find the one their parents are stuck in. Can the kids take on a vicious pack of vampire prairie dogs, flying doody diapers, some spooky ghouls, and one incredibly dull fish before Moomy and Duddy are bored to death?
Game like never before in this exhilarating graphic novel adventure from YouTube sensation FGTeeV, with more than 11 million subscribers and over 11 billion views
Frequently Asked Questions About FGTeeV Presents: Into the Game!
Book Reviews
(14)
Did you read FGTeeV Presents: Into the Game!? Please provide your feedback and rating to help other readers.
Awesome

Derived From Web

, Dec 28, 2021

My son is in the second grade and really struggled to read. He would always practice reading, and then tell him that it was time to cry. But since he discovered the graphic books FGTeeV, he has been really excited to read. He pushes himself to read them on his own, and I even caught him reading to his friends. It's really cool that they took something that he really likes to watch on YouTube and transform it into something that helps him grow and develop academically as well.
Good story !! Great pictures !! bad binding of book :(

Derived From Web

, Jun 14, 2021

The book itself is great! Story and pictures all wonderful is that the books are falling out and pages are spinning, maybe just a problem with some, but not cool, my son loves this book and I have to tape it to keep it together.
Great book for kids and helps gets them to read!

Derived From Web

, Jun 13, 2020

Couldn 't wait for the book. The children love the story and the artwork is wonderful. A great purchase and highly recommended.
Party in the elevator!

Derived From Web

, Apr 12, 2020

Dude was sooo happy to receive this for his birthday. Mom and Dad love the wonderful story-telling graphics and really helps him to get into reading.
Perfect for FGTEEV fans!

Derived From Web

, Mar 22, 2020

There isn 't a day where he doesn 't get his daily dose of FGTEEV on YouTube. When he saw on the FGTEEV channel that this book was released, he immediately let me know that he must have it lol. I read and ordered the day we received it he was in his room reading! He has probably read this book a million times by now, he loves the story and the pictures and every time he tells me about the book he notices something different! This would be a great gift for FGTEEV fans!
Awesome!!!!

Derived From Web

, Feb 14, 2020

High quality : Beyond '' impressed me greatly.
Made my daughter happy

Derived From Web

, Jan 26, 2020

My daughter was so excited to receive this book! I am so glad that they came with a book for her to read because I try to limit her screen time, and she loves reading. She started reading it as soon as I gave it to her, didn 't stop until she finished the book and then started again. She is a big fan of FGTeeV. They are a nice and fun family.
KEPT HIM ENGAGED

Derived From Web

, Jan 18, 2020

I can 't stop raving about this book!!! It is well written and because he is such a super fan of the FGTeeV channel, he knew how to play the character's roll.
Kids must have on the bookshelf!

Derived From Web

, Jan 11, 2020

My 7 year old loves Funnel Vision and I dont mind either! Awesome family, I am glad they came with a book for my boys to enjoy. History is great and if you follow FGeeTV, you know the humor and families fun ways. The book itself is a great hardcover with the removable paper cover I dunno... Inside the comic book style so easy to zoom with the kiddos! A+ :
The book for any hardcore FGTeeV fan!

Derived From Web

, Jan 8, 2020

A lot bigger than I expected and great quality. Shows the whole family at their coolest and most goofy, just like in their videos! I really enjoyed reading it to my daughter, a fun wholesome way to chill and bond without being glued to a screen. Thanks Fgteev family, you guys did it again!