Buy 3 Get 1 Free
Our Best Sale Yet! Add 4 Books Priced Under $5 To Your Cart     Learn more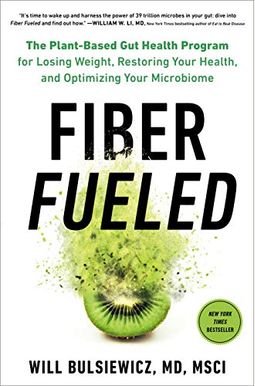  
Fiber Fueled: The Plant-Based Gut Health Program For Losing Weight, Restoring Your Health, And Optimizing Your Microbiome
Book Overview
The instant New York Times, USA Today, and Publisher's Weekly bestseller
A bold new plant-based plan that challenges popular keto and paleo diets, from an award-winning gastroenterologist. The benefits of restrictive diets like paleo and keto have been touted for more than a decade, but as renowned gastroenterologist Dr. Will Bulsiewicz, or Dr. B, illuminates in this groundbreaking book, the explosion of studies on the microbiome makes it abundantly clear that elimination diets are in fact hazardous to our health. What studies clearly now show--and what Dr. B preaches with his patients--is that gut health is the key to boosting our metabolism, balancing our hormones, and taming the inflammation that causes a host of diseases. And the scientifically proven way to fuel our guts is with dietary fiber from an abundant variety of colorful plants. Forget about the fiber your grandmother used to take--the cutting-edge science on fiber is incredibly exciting. As Dr. B explains, fiber energizes our gut microbes to create powerhouse postbiotics called short-chain fatty acids (SCFAs) that are essential to our health. SCFAs are scientifically proven to promote weight loss, repair leaky gut, strengthen the microbiome, optimize the immune system, reduce food sensitivities, lower cholesterol, reverse type 2 diabetes, improve brain function, and even
Read More chevron_right
Frequently Asked Questions About Fiber Fueled: The Plant-Based Gut Health Program For Losing Weight, Restoring Your Health, And Optimizing Your Microbiome
Book Reviews
(13)
Did you read Fiber Fueled: The Plant-Based Gut Health Program For Losing Weight, Restoring Your Health, And Optimizing Your Microbiome? Please provide your feedback and rating to help other readers.
Dr. B is an expert on this subject.

Derived From Web

, Oct 20, 2021

I have been following Dr. B for a long time and I was looking forward to this book being released. It is easy to read and has a lot of scientific knowledge. This is a must read if you want to take care of yourself. Many people do not know that lack of Fiber in their diet can lead to diseases. I recommend watching some interviews with Dr. B.
First half of the book is great info

Derived From Web

, May 4, 2021

The first half of the book has a lot of good info. If he actually eats his recipes, they take forever to put together, and are only so-so tasting, he must either have a cook or do nothing. It's unrealistic to expect people to cook unfamiliar food that takes forever. Adding dishes to your rotation would make sense, but the recipes take forever. Buying or borrowing from the library is still worth it.
Packed with valuable info, written with humor

Derived From Web

, Jan 14, 2021

I like the humor in this, and the info is valuable as well. There are several pages marked with highlighting. 'Dr.' B' is an entertaining and enlightening speaker, and I've watched several of his appearances and he speaks in easy to understand terms. This book will be of great interest to you.
This book changed my life

Derived From Web

, Sep 28, 2020

I'm obsessed with plant diversity and the recipes are amazing, so I'm making my friends read it and cook with it. It's changed my relationship with food. I've always been interested in nutrition, but this is really about health and change from the ground up, and it feels amazing to eat this way, have more energy, resolve persistent digestive problems, and to spread that message to others.
A DR who actually knows his stuff

Derived From Web

, Sep 27, 2020

99% of MDs are not qualified to talk about nutrition. They only get a few weeks of nutrition in Ned school. As Gi Doc who lives what he teaches, Dr B knows his stuff. Everything I read was accurate. The funniest thing about the book is his humor. Great job Dr B!
Needs editing; life changing and awesome

Derived From Web

, Sep 4, 2020

I think this is going to change my life after years of wrongly restricting my food. I can not give 5 stars as there is some editing to be done. There are some odd things in the grocery list for Week 3. There are some things left out like a spaghetti squash and farro. I have to make another trip to the store if I don't write out the recipes ahead. I don't eat breakfast and only cook for 1 so I'm wasting a lot of food. I am learning how to freeze and skip cooking. The recipes are enjoyable and time consuming, but I like the gradual reintroduction of fiber and FODMAP foods. 4.5 stars! !
New information and fun to read

Derived From Web

, Aug 11, 2020

I am glad I picked it up. There was still a lot of new information here, and I was well-read in the plant-based nutrition genre. The author inspired me to change my diet, and after a few days I am seeing results. Paleo days are over for me. The author has wit and writing style that makes the science parts easy to understand. I will recommend this book to my friends and family.
The major flaw...

Derived From Web

, Jun 5, 2020

Science and research is something I love. The meal plan is unrealistic. You can spend hundreds of a week on the grocery list, which is pages long with many unidentifiable ingredients. I am confused by this unrealistic approach. Why not show that eating plant-based is affordable and accessible for everyone?
Love/Hate relationship with book

Derived From Web

, May 22, 2020

I like to learn more from this book, but I have been eating plant based for years. The writing style of the first part of the book was enjoyable. It became too technical for most people, including me. Seemed to go on and on. I lost interest in the 4 week eating plan when I got to it. The weekly shopping list has around 70 items that are difficult to find. Most of the recipes are too complicated and people will not be willing to do this 3 times a day. I was aware that I should have waited for real reviews. The message is good and needs to be told, but it isn't sustainable. I apologize for wasting my money.
Eat all the plants!

Derived From Web

, May 16, 2020

I can't put the book down. I bought the audiobook to listen to while I walk, in case I missed something. It has a lot of information and science backed facts. I have been plant based for two years and eat very healthy, but reading this book inspired me to keep working hard to get as much plant based goodness into my diet as I can every single day. Thank you, Dr B, for all of your hard work in writing this book.