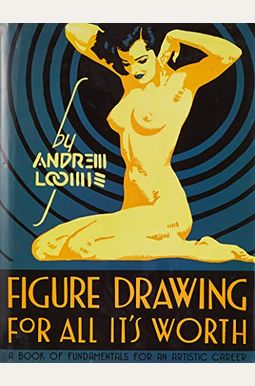 
 
Figure Drawing: For All It's Worth
Book Overview
The illustrator Andrew Loomis (1892-1959) is revered among artists - including comics superstar Alex Ross - for his mastery of figure drawing and clean, Realist style.
His hugely influential series of art instruction books have never been bettered, and
Figure Drawing
is the first in Titan's programme of facsimile editions, returning these classic titles to print for the first time in decades.
Frequently bought together
Frequently Asked Questions About Figure Drawing: For All It's Worth
Books like Figure Drawing: For All It's Worth
What should you read after Figure Drawing: For All It's Worth Book? Here is a list of books to read if you read and loved Figure Drawing: For All It's Worth
Book Reviews
(16)
Did you read Figure Drawing: For All It's Worth? Please provide your feedback and rating to help other readers.
my worst understanding in art

Derived From Web

, May 11, 2022

I consider myself a self-taught artist due to the fact that I have taken art every year to hughschool, but all I have ever taken from these classes is redundant, let's learn the color wheel! But what I really wanted to grow from Ive gotten through YouTube and deviantart Not even half way through this first chapter, I am in shock that for the first time in my life, I learned perspective in a way that hits home and how to actually use it. TWO PAGES gave me a better understanding of how to use horizons, my worst understanding of art. I feel my understanging of realism is ok, but I have been limited to portraits of the single person. I am so excited to see this book and to see what else it can show me!
Excellent Quality! MUST-OWN Figure DRAWING BOOK

Derived From Web

, May 11, 2022

I had the PDF version for a while, but the print quality of the actual book is much better... It's like comparing a handy-cam version of a movie to the Blu - ray. The book is also one of the best character drawing books out there... Probably the best for teaching many basic ideas... That is said... I still prefer Glenn Vilppu's approach to drawing a figure for the absolute beginner. Where I would say that Loomis would be a great secondary supplement to these teachings... And of course, there is Bridgeman and Hogarth... But Loomis is definitely one of the essentials of true figure drawing...
Worthwhile Purchase!

Derived From Web

, May 11, 2022

It's Loomis again - what can I say??? He is wonderful in explaining the techniques of drawing. Most artists can't draw well, and this book will help eliminate this problem.
Brilliant

Derived From Web

, May 11, 2022

I believe that truly new teachers are not measured by what they are able to teach, but by the amazing questions and curiosity they implant in your mind. For a few days I struggle with the very first chapter in figure drawing for all its worth, being frustrated and feeling cheated for buying this book with no clear instructions. It now occurs to me what Andrew Loomis was trying to do. I see the brilliant only now in this master of drawing. To feel your great knowledge rather than to memorize it just. RIP, you are truly an amazing teacher.
An ICONIC book in figure drawing.

Derived From Web

, May 11, 2022

I was pleased to see this book back in print form. It was my guide to drawing in the mid 1950s. In the last half century, nothing surpassed it. Emeritus Professor Jerry Williams, UofO.
Husband loved it

Derived From Web

, May 11, 2022

He can not get enough of the advices and techniques of this book. He is very talented, but the book helps him draw better. His pictures now look more real. He says that he has picked up some nice shading techniques and tricks from this book.
do what I do not what I say

Derived From Web

, Jul 13, 2021

I find Loomis's advice is not as helpful as doing what he did. Very useful collection of drawings and style to copy and analyze. I do not agree with his rules, though he was successful with them. But you can not argue with his drawings. He covers a wealth of topics from shadow to perspective, which helps you think about how you will handle them. The examples in each area are great. Of all the books out there on character drawing, I would buy this first.
NOT the best book to learn with.

Derived From Web

, May 17, 2021

I came into it with a decent ability to draw. The techniques described in this confusing book are not well described or demonstrated and won 't get you where you want to be. It is a lot of work for a very little payoff. I can not imagine learning from this task as a beginner. This book is completely overrated.
This is a great book for sculptors or 3D sculptors.

Derived From Web

, Apr 3, 2021

I am not an artist into drawing or a professional one. My only take on this book is that it showed me how to properly use lighting to create depth in my character's body, sculpting my limbs, feet, ear, etc... The amount of details that Andrew Loomis showed should be a number one book for any 3D sculptors. I am a video game developer who bought this book only to become familiar with the general human anatomy. If you are into 3D sculpting, I recommend having this book as references.
Good book for intermediate artist

Derived From Web

, Jul 3, 2020

Great book, but I would say that it is at least intermediate for a great artist. This book has amazing detail for a artist who needs to pay attention in art to details. Every artist needs this in the library.