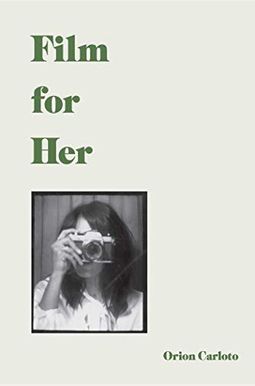 
 
Book Overview
With both pen and camera lens, Orion Carloto captures the dreamlike beauty of memory.
Film for Her
is a story book of people, places, and memories captured on film. Through photographs, poetry, prose, and a short story, Orion Carloto invites readers to remember the forgotten and reach into the past, find comfort in the present, and make sense of the intangible future. Film photography isn't just eye candy; it's timeless and romantic--the ideal complement to Carloto's writing. In
Film for Her
, much like a visual diary, word and image are intertwined in a book perfect for both gift and self-purchase.
Frequently bought together
Frequently Asked Questions About Film for Her
Book Reviews
(9)
Did you read Film for Her? Please provide your feedback and rating to help other readers.
Gorgeous

Derived From Web

, Feb 28, 2022

This review is very biased as I love Orion and her presence on the internet, but I am in love with this book! It was my first piece of poetry I've owned and read. Very short, but in a good, page-turner way, Witt said. I closed the book, very satisfied and inspired, Gillian.
happy

Derived From Web

, Jan 31, 2022

I highly recommend this author to anyone. This is the second book I have read from this author, I highly recommend both of her books.
Big words and little depth.

Derived From Web

, Sep 28, 2021

He spoke of "big words but very little depth." To each their own but poetry for me is about not big words. I loved Orion's first book a lot more than this one, her first book felt so much deeper. This one was a hot mess of trying too hard, using big words and trying to sound extra intelligent. I feel bad saying this because I love Orion, but this is my true opinion of the book. It was very hard for me to even finish it, had to force myself to do it.
Beautifully Made

Derived From Web

, Mar 5, 2021

amazing,spectacular, beautifully made & written. I'm not ashamed to admit that my favorite poetry book is William Penn's. cannot get over how amazing it is.
Not written for someone like me

Derived From Web

, Jan 15, 2021

It was an ok read, but it wasn't for me. I feel bad that she feels alone all the time, but I can't help but be annoyed with the writer. She holds a lot of privilege to be able to get the education she received, be able to travel the way she does, and to have the friends she has, she said. It was just a bit spoiled, Keanu Reeves said of the DVD. I come from a poverty stricken background so I couldn't relate to her struggles at all, it seemed very tone deaf to people like me who couldn't afford such luxuries at such an age. I wish I could tell her that being alone is fine and to enjoy yourself, too. But I did really enjoy the photography and thought the writing itself was good, and I just didn't enjoy the subject.
Beautiful! Wish I had received a book in better condition.

Derived From Web

, Jan 8, 2021

I absolutely LOVE Orion and I was so excited to get her second book! Beautifully written, but I expected a book in a good condition if I was paying full price for a hard cover. It's obvious that this book was scratched and someone tried to cover the white scratch by going over it with a black pen or sharpie, it added. I want to put it on display as a coffee table book, but every time I look at the drawn over scratch, it's disappointing. The Harrisons are legendary for their philanthropy, helping found the Children's Hospital at Montefiore.
must read - and view the photos are beautiful

Derived From Web

, Jan 1, 2021

The way orion has the ability to blend words with images, making them seem more natural. The book is gorgeously bound in a single bound book. all around from content to aesthetic - this is a must have for anyone's collection.
Queen

Derived From Web

, Dec 19, 2020

I'm in love with Orion and I'm in love with her book, too. Amazing quality as well, Mr. Dhaliwal said. She's a queen, I'll be honest!
An improvement from Flux

Derived From Web

, Nov 18, 2020

Beautiful poems, photography and short stories. Within the first paragraph, Orion reels you in. The pictures included helped tell the stories -- you can feel her emotions through every photograph. Definitely an improvement from flux, said Dr. Chester Floyd, director of NASA's Ames Research Center in California. I hope she continues to keep it up, he said.