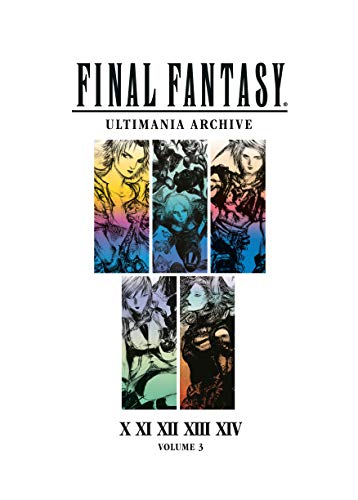 
 
Final Fantasy Ultimania Archive Volume 3
Book Overview
The journey through the creation of the groundbreaking video games continues with this breathtaking volume, featuring hundreds of pieces of concept art, design notes, and creator retrospectives from the original team behind the making of Final Fantasy X, Final Fantasy XI, Final Fantasy XI, Final Fantasy XI, and Final Fantasy XIV.
Art, commentary, and lore from a transformative era in the indispensable role-playing franchise, collected in a beautifully printed 300-plus-page hardcover. Foray into one of gaming's most iconic properties, exploring beautiful art and incisive commentary behind five of the most memorable entries in the
Final Fantasy
saga.
Final Fantasy Ultimania Archive Volume 3
authentically translates original Japanese source material to present unparalleled access for a Western audience. This incredible tome is a must-have addition to any
Final Fantasy
enthusiast's collection.
Frequently Asked Questions About Final Fantasy Ultimania Archive Volume 3
#1

#2

#3
Books like Final Fantasy Ultimania Archive Volume 3
What should you read after Final Fantasy Ultimania Archive Volume 3 Book? Here is a list of books to read if you read and loved Final Fantasy Ultimania Archive Volume 3
#6.5
Book Reviews
(7)
Did you read Final Fantasy Ultimania Archive Volume 3? Please provide your feedback and rating to help other readers.
Better than Expected

Derived From Web

, Jun 28, 2021

Everything about this book is very nice. It came in much larger than I thought it would. The image quality is superb and the paper it's printed on isn't cheap, low paper weight. The details that go into the book are incredible. Definitely recommend! I bought them on a lightning deal for $20. Keeping my eyes on the other Volumes and will definitely look to purchase someday if they come in at roughly the same price.
very detailed

Derived From Web

, Jan 17, 2020

My husband is a final fantasy buff, and this was his Christmas present. He loved the book, the artwork was well done and the book quality was good.
It's a neat art book for any and all fans

Derived From Web

, Dec 22, 2019

I got this a gift and I saw the reviews saying there were dents in the book and corners. It was a gamble, but I took a chance and went with it. The book itself is substantial and more than I thought it was going to be. The corner came slightly bent and there was a dent in the front. It doesn't take away from the book, and it's contents. It's not as bad as the other reviews, at least.
A perfect compliment to volumes 1&2

Derived From Web

, Jul 20, 2019

If you have even a mild interest in Final Fantasy, you'll want to pick this up, especially if you've already bought Volumes 1&2. The only gripe I have with this volume is that it stops short of including FFXV. Otherwise, perfection. Amazing art, great information, and quality 100% binding and printing. Love it.
Amazing Ultimania Vol. 3!!! But...super disappointed about FFXIV's section...

Derived From Web

, Jul 17, 2019

The book is divided into four sections: XI, XII, and XIV. Good detail on all of them, except for FFXIV, but I'll get to that later. You'll spend hours reading it cause of how much they put in each game. I never played FFXI but I loved how detailed each part was. Now.... FFXIV... oh god I'm so disappointed. There are literally 20 pages left in the book, and it just ends. No details on a lot of ARR, and absolutely none on HW and SB. I do hope they make another one with HW and SB and FFXV because i want more stuff from them.
Missing a lot for half of the games covered

Derived From Web

, Jun 13, 2019

I now have all 3 books and honestly this is the only one that disappoints. Some Amazon reviewers have also said that it's true. Material samples taken from 11 and 14 are extremely light in terms of their weight. Granted both can and do have their own books just on them, it still feels like a cop out to have them be almost just an afterthought. All of the other games have all of the summonsprimalsavatarswhatever they are called in that game. Other things omitted from 11 and 14 could have shown more of the job art, more weapons graphics, more of the work that is already out there. And, having said that, FF!2 also is missing material. It has three of the 12 summonses. Only 3 pictures were taken with the zeppelin. Also, for the expansions of 11, 12, 14 and 3, none of the players will get coverage. I could see leaving out the online games IF you fully covered the offline games, but even then they were light for this book. What's there?
If you're a fan of the online games, a little disappointing...

Derived From Web

, Jun 11, 2019

I have the other two Ultimania books, and this is very similar in terms of content and quality, Simon says. What I found most depressing, however, was the sections covering the online games, XIV and XI. It feels like a lot of stuff got left out of the XI section, and XIV is laughably bad. Ten pages in a 334-page book. It's just that nobody said it was an exaggeration. If you're a fan of X, XII, and XIII, you won't be disappointed, but if you are a fan of XIV you might be better served by buying the Japanese art books for that specific game.