Buy 3 Get 1 Free
Our Best Sale Yet! Add 4 Books Priced Under $5 To Your Cart Learn more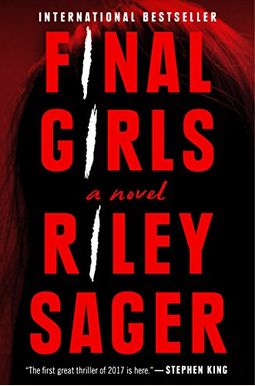  
Book Overview
THE NATIONAL AND INTERNATIONAL BESTSELER
WINER OF THE 2018 INTERNATIONAL THRILER WRITERS AWARD FOR BEST HARDCOVER NOVEL The first great thriller of 2017 is here:
Final Girls
, by Riley Sager. If you liked
Gone Girl
, you'll like this.--Stephen King Ten years ago, college student Quincy Carpenter went on vacation with five friends and came back alone, the only survivor of a horror movie-scale massacre. In an instant, she became a member of a club no one wants to belong to--a group of similar survivors known in the press as the Final Girls: Lisa, who lost nine sorority sisters to a college dropout's knife; Sam, who went up against the Sack Man during her shift at the Nightlight Inn; and now Quincy, who ran bleeding through the woods to escape Pine Cottage and the man she refers to only as Him. The three girls are all attempting to put their nightmares behind them and, with that, one another. Despite the media's attempts, they never meet. Now, Quincy is doing well--maybe even great, thanks to her Xanax prescription. She has a caring almost-fianc , Jeff; a popular baking blog; a beautiful apartment; and a therapeutic presence in Coop, the police officer who saved her life all those years ago. Her memory won't even allow her to recall the events of that night; the past is in the past. That is until Lisa, the first Final Girl, is found
Read More chevron_right
Frequently bought together
Frequently Asked Questions About Final Girls
Book Reviews
(10)
Did you read Final Girls? Please provide your feedback and rating to help other readers.
Some really good twists

Derived From Web

, Jun 13, 2021

I really liked this book ''. I love the author and this book didn 't disappoint. It has an old horror feel with the Camp massacre, but then it gets more modern. I did not see the twist at the end, which was so good! I'm glad I read this book!
Not Bad, But Not Good, Either

Derived From Web

, Jul 8, 2020

I wanted to like this story ''. It came highly recommended by a friend whose taste I trust. It had, however, a familiar setup. But -- then steered in a different direction, so it raised my hopes. Ultimately, it turned out fairly predictable. I was not impressed enough with the writing to want to read more of the author's work.
Awful

Derived From Web

, Jun 16, 2020

I forced myself to finish it, hoping that it would get better. It didn't. Boring and slow. A slasher storyline with zero likeable characters.
Stranger Things

Derived From Web

, Feb 16, 2020

Does anyone have common sense? A stranger you have never met or spoken to shows up at your door and you invite them to live with you because you feel bad for them? Sam already knew that the so called Quincy was not who she said she was, dumb give away that she was someone else and we have a dead Quincy who refuses to listen to her bf, who told her something was wrong. Instead, she goes on wild goose chases with a mentally ill woman because she doesn 't have any friends. This book was so simple once she began remembering, that she could tell who did the killings.
Great book!

Derived From Web

, Jan 13, 2020

This book was actually written with a great deal of WOW. Surprisingly quick pace, suspenseful and plenty of twists and turns. I was really ready for a good book, and was not disappointed. I kept you up all night because I couldn t put it down. It was well worth the purchase. After the closing, I looked immediately at the author so that I could get more good books.
If you have a functional brain, you'll see the end to this story.

Derived From Web

, Jan 7, 2020

I got pretty bored pretty soon '', I guess. The main character behaved in a totally unbelievable fashion. Over and over and OVER, she kept doing stupid things. Suspend reality, pretend the author doesn't have her character saying the things she does, read it for the gore, and you might find a shred of pleasure. The more you read the more annoying it gets. I refuse to believe that the majority of people in this world are that stupid. Would YOU behave like that? I doubt it ''. I bought the book Sorry, I bought the book ''. At least now I know what author is not to buy in the future.
Another great read !

Derived From Web

, Dec 30, 2019

Dec 2019 : Dec 2019, Dec 2019. Luckily, I found a sale for this book for $1.99. The first half of the book was good. I couldn 't imagine where it was leading the rest of the way, which kept me turning the pages. A couple of big twists I didn't see coming. Good ending.
Not that great.

Derived From Web

, Nov 1, 2018

The main character was not fleshed enough, nor was she very likable or unlikable for this matter. She existed just like that. And also did not seem very smart. I was '' not impressed. The first half of the book was very slow. I skimmed the last half pages just so I could hurry up and finish the book. Won won't recommend this to friends and family.
Somewhat riveting, but lost me toward the end

Derived From Web

, Oct 5, 2018

From the sample I read, I found it riveting. And it certainly started that way. But then it started in a different direction, and the only reason I kept reading was because I wanted to confirm my suspicions about who killed these women who survived such a carnage. Well, I was wrong. I gave the book three stars for captivating me, but deducted two for some of the things that happened.
Slow start, very fast ending

Derived From Web

, Sep 5, 2017

This book was just okay. It sped for the first three quarters and then the final just dragged through all the great reveals and conclusions. While the ending made me somewhat for the slow start, nothing could make me like the characters. I just did not like any of them.